Sales Have Ended
Registrations are closed
Thank you for registering for the Games and Competitions of Linde Oktoberfest Tulsa! More information to come - be prepared to make this year the best ever! Remember, registration does NOT include admission - please purchase admission separately. Also, please check out our Golden Rules - no backpacks or bags larger than 13" x 15" x 6". Thank you! Games and Competitions Committee
Sales Have Ended
Registrations are closed
Thank you for registering for the Games and Competitions of Linde Oktoberfest Tulsa! More information to come - be prepared to make this year the best ever! Remember, registration does NOT include admission - please purchase admission separately. Also, please check out our Golden Rules - no backpacks or bags larger than 13" x 15" x 6". Thank you! Games and Competitions Committee
Description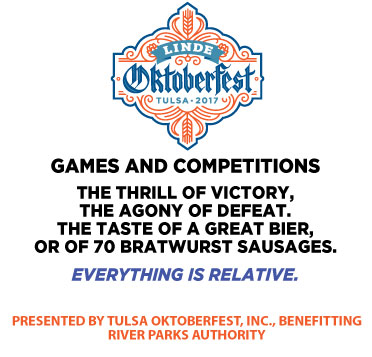 Welcome to the Linde Oktoberfest Tulsa Games and Competitions!
Check out the Games and Competitions below and then click, "REGISTER," (the green button, above right), to register.
Remember, registration is FREE but you will need to purchase a GA admission to enter the Wiesn to compete.
Click HERE for information on all of the great Linde Oktoberfest Tulsa packages!
---
Dachshund Dash Race - Watch Your Wiener Run!
Wiener dogs are already funny to look at. Now try watching over 75 of them zig, zag, jump, and generally get confused in a test of speed and intelligence! Ok, we're being dramatic. The pups just need to run 80 feet from one end of the Dash to the other. Do you have dachshund with a need for speed and a nose for the finish line? Sound easy enough? Start training your wiener dog now! Dogs wear numbers and compete in heats of four or more. Dogs in each heat are escorted on leash the full length of the course to encourage wagering by spectators. Winners receive Festival Money and prizes:
First – $150 Festival Money and wiener dog hat crown (must be worn throughout Oktoberfest)
Second – $100 Festival Money and one-of-a-kind Oktoberfest logo dog bowl
Third – $50 Festival Money and use of the wiener dog outhouse.
Winning races will be nationally televised on ESPN (Enter Special Pups Now) network (YouTube).
NOTE: Competition is FREE to enter, but pre-registration required and admission ticket must be purchased separately (dogs get in free). Click here for a complete set of rules
LOCATION/DATE/TIME: GAMES ARENA. Sunday, October 22, 2:20 PM
---
Dachshund Costume Parade
This is an incredible way to show off your weiner and your absolute desire to dress them up and take them out. This costume parade will stop all traffic along the HauptStrasse! Starts at 1:00 PM in the Oktoberfest Games and Competitions Arena. Prizes for the best costume awarded by our internationally recognized wiener dog costume judging officials.
NOTE: The Costume Parade is FREE to enter, but pre-registration is encouraged and admission ticket must be purchased separately (dogs get in free).
LOCATION/DATE/TIME - GAMES ARENA, Sunday, October 22, 1:20 PM
---
Bier Barrel Race
The Games Arena becomes our own center of the universe Saturday for true fans of the beer keg. Why? Because it is ground zero for the legendary Bier Barrel Race! The intense back-and-forth barrel-rolling action is enough to make anyone dizzy with excitement. The race involves teams rolling empty wooden barrels around a course, and the fastest time wins. Points deducted for straying off course and knocking over spectators.
Registration only, and teams are four people. This is a relay race.
LOCATION/DATE/TIME: GAMES ARENA, Saturday, October 21, 7:20 PM
---
MassKrug Carry
Don't cry over spilled bier! Traditionally one of the most accessible Oktoberfest games for novices, the Krug Carry contestants are scored on speed AND spillage. Carrying up to 35 pounds of bier quickly and safely across the course can be difficult, but the winnings at the end of the competition hopefully makes it worth the effort!
Watch professional servers show you how in their own Invitational Krug Race Tournament, and then make it work. Teams are two people. This is a relay race.
LOCATION/DATE/TIME: GAMES ARENA, Saturday, October 21, 8:20 PM
---
Strong Stein Competition
Do you have what it takes to Hoist one of our MassKrugs for serious swag? Are you Bavarian Strong? This competition of strength pits contestants against beer steins…as in, "How long can you hold out 34 ounces of beer?" The best part? You can win some serious swag!
Preliminary competitions will occur randomly throughout the event, and take place in different tents - check the entertainment schedule. Pre-registration is necessary to compete in the Strong Stein finals. Watch for the pop-up competitions by roving bands of keg karting officials.
LOCATION/DATE/TIME: Various Zelts, Various Times...
---
Opening Parade
Join us on Thursday evening at 6:00 PM to gather and process to Das Glockenspiel for the official tapping of the keg and the opening of the Linde Oktoberfest Tulsa! You must be dressed in traditional Bavarian Trachten to participate. Families, cultural groups and more are invited and feel free to bring your coat of arms, flags, flowers, instruments and more.
LOCATION/DATE/TIME: HAUPTSTRASSE, Thursday, October 19, 5:30 PM
---
Feed your active lifestyle with this great running event, with multiple distance options. And while you're at it, fill your gullet with beer! That is, if you're 21 or over. Every finisher will receive a commemorative Stein along with one free 16-oz beverage token. There will be prizes for the best costume! The start and finish of this race will be smack dab in the center of Linde Oktoberfest, at the Oktoberfest Games and Competitions Arena, and the route takes in a course through the festival grounds.
The Brat Trot One mile Fun Run & Walk will begin at 6:30 p.m. and Lederhosen Lauf 3-Mile will begin at 7 p.m.
NOTE: There is a cost to register, which includes admission, chicken hat, MassKrug and a 16-oz beverage token. Pre-registration is required - CLICK HERE TO REGISTER FOR THE LEDERHOSEN LAUF!
LOCATION/DATE/TIME: Oktoberfest Games and Competitions Arena, 6:20 PM on Thursday evening, right after the 6:00 PM Glockenspiel performance.
---
Siegi's World Championship Bratwurst Eating Championships
Major League Eaters will have an opportunity to throw their weight around in the Warsteiner tent at 5:00 PM on Saturday, October 21, to face down (or face plant) the mighty Siegi's Bratwurst in a 10-minute, bun-free chowdown challenge. The world record is 70 brats, with the champion using a double-brat technique to stack up the numbers early in the event and plates of five brats wiped clean of their bounty with every passing 30 seconds. It is not pretty but it is beautiful! Never been in an eating competition but wanted to try? As a prelude to the Main Event, an Under Card Amateur Championship event will showcase the finest local Tulsa eating talent in a battle for bragging rights. Interested amateur eaters will be able to sign up stage-side immediately before the main event.
Who shall reign this year? Can anyone seize the bratwurst title? Can you? Do you have what it takes—and it takes a lot—to stand at this table on this day and do what you do? This is the Seigi's World Championship Bratwurst Eating Championships. In the crowd or at the table, don't miss it!
TOTAL PRIZE PURSE (ONLY FOR THE MAJOR LEAGUE EVENT and NOT the UNDERCARD...): $4,000! 1st – $2,000, 2nd – $1,000, 3rd – $500, 4th – $350, 5th – $150
MAJOR LEAGUERS...If you think you have what it takes, feel free to register for the Major League Event online. Click the Register button below and scroll to the bottom of the page then click, "Register." Fill out the fields and Major League Eating will be in touch either offering a spot in the competition or placed on a wait list. Further follow-up is via email.
---
Hammerschlagen Competition
Who will be our inaugural champion in 2017? The goal- to drive a nail into a cross-section of wood faster than your opponent.
---
Try your hands at the Mülleimer werfen

(trashcan toss)

.
Teams of two take turns throwing a Strandball (beach ball) into the other team's Mülleimer. Once a ball lands in a can, the can is taken away. First team to knock out all the opponents Mülleimer wins!
---
Leiter golf (aka ladder golf).
Each player tosses all 3 bolas, then the next player tosses all 3 bolas. The first one to 21 without going over is the winner! The top rung is worth 3 points, middle is 2 and bottom rung is 1 point.