Description
GAMERTAG RADIO: A PODCAST STORY
IN COMPETITION FOR "THE LATINO EXPERIENCE IN USA" AWARD
The Dominican Film Festival in New York proudly presents a new Competitive Category in the Film Festival's program called "The Latino Experience in USA" The films selected in the section will compete for "Best Latino-USA Short Film" and "Best Latino-USA Feature Film". This new section is for non-Dominican filmmakers and our goal is to bring audiences and filmmakers together for an experience and to support the magic of filmmaking by the Latino Diaspora in the United States of America. All films must be at least New York City Premieres in English and if the film is in Spanish it must have English subtitles.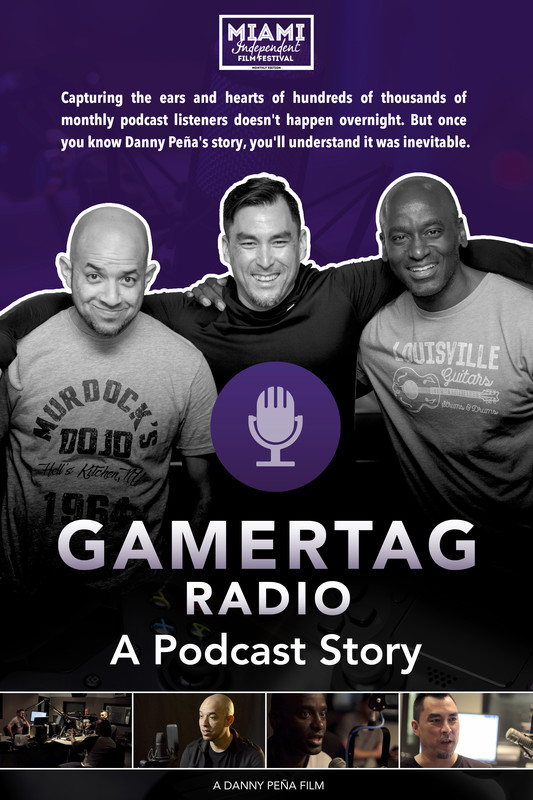 WORLD PREMIERE
Capturing the ears and hearts of hundreds of thousands of monthly podcast listeners doesn't happen overnight. But once you know Danny Peña's story, you'll understand it was inevitable. In The Gamertag Radio Documentary, we hear from Peña, Toledo, Lilly--and others whose lives have been touched by Gamertag Radio--about the shaky origins, deep relationships, and eventual accomplishments of the renowned podcast.
Director / Director: Danny Peña
Country / País: U.S
Producer / Productor: Danny Peña, Niel Guilarte
Screenwriter / Guión: Niel Guilarte, Danny Peña
Director of Photography / Director de Fotografía: Danny Peña
Cast / Intérpretes: Parris Lilly, Peter Toledo
Language / Idioma: Spanish with English subtitules
Year / Año: 2018
Running Time / Duración: 85 Min
Director's Biography:
Founder and Host of Gamertag Radio. Since 2001, Danny Peña has been at the forefront of Internet video game community building. Known for his unmistakable voice and interview skills. Radio broadcasting was a calling for New York-born Peña, the son of Dominican immigrants, who grew up surrounded and inspired by hip-hop and video games, always gravitating toward the camera and the microphone. It was Peña's heavy involvement in the hip-hop scene that taught him to be a promoter, but his heart was always in gaming. That is why, in the Spring of 2005, a few months before iTunes launched its podcast platform, Peña, better known as Godfree in the gaming community, left the hip-hop world to launch Gamertag Radio, the successor of other online radio ventures he had started as a teenager in the 1990s, long before the arrival of smart phones and iPods. Peña is an inductee in the Podcaster Hall of Fame.