Description
We love dressing up for Halloween so much, we want to celebrate all month long. Kick off October with a costume contest to show your Halloween love! Whether it's from Video Games, Anime, Comic Books, and more, fabulous prizes go to the best dressed of the day. Sign up soon, as spaces are limited to 20 contestants only!
Enjoy Exclusive Pre-release Demos and Giveaways from Mega Cat Studios! https://megacatstudios.com/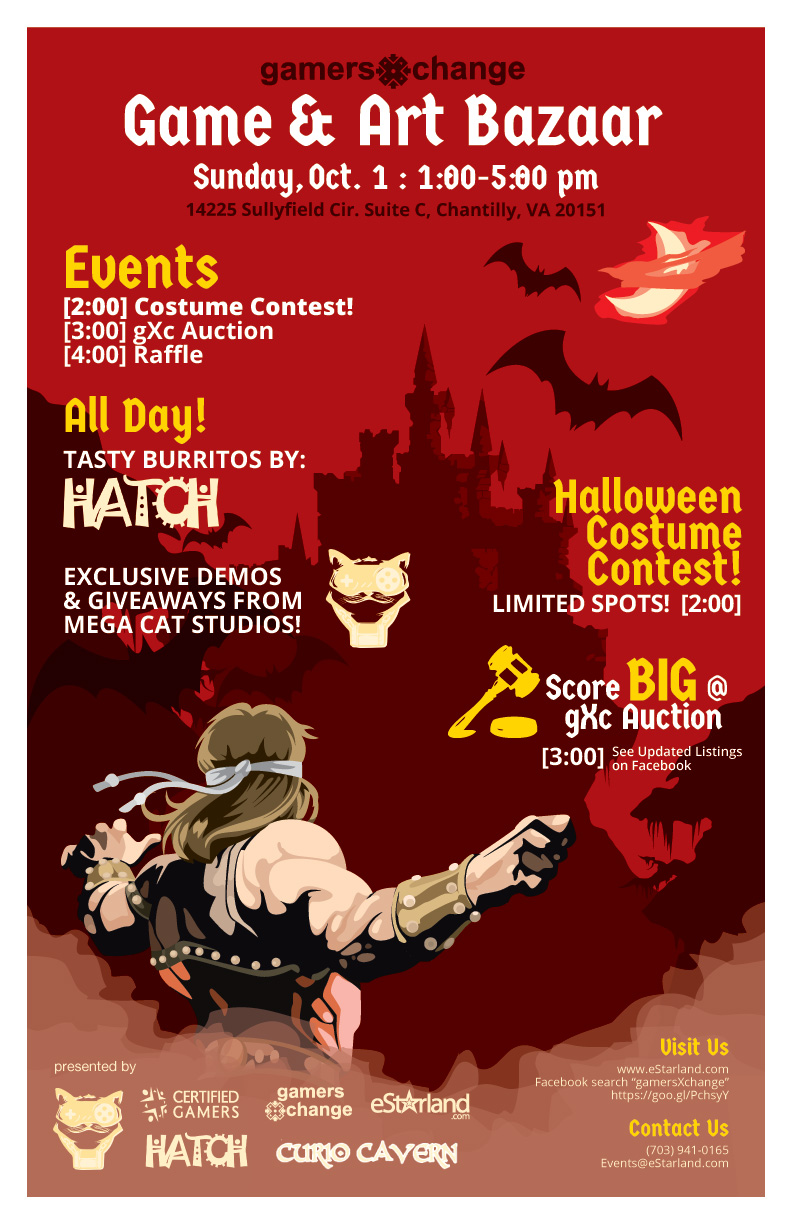 Want to be a vendor? Hurry now and reserve your space while they last! GamersXchange is the best marketplace for gamers around! Join local collectors and vendors to sell directly to the community.
Participate in tournaments, auctions, and get paid all in one afternoon! Win fabulous prizes in contests and raffles! If you are interested in being a vendor come and join us on Sunday, October 1st for all the fun!
Popular items to sell include but are not limited to:
Accessories
Apparel
Art
Bags
Blu-Ray
Board Games
Buttons
Comics
Collectibles
Consoles
Crafts
Drinkware
DVDs
Electronics
Figures
Imports
Jewelry
Keychains
Laptops
Manga
Memorablia
Merchandise
PCs
Perler Beads
Plushes
Posters
Retro Items
Toys
TVs
Unique Items
Video Games
and More!
Can't stay for the whole event? No problem! We offer hourly reservations for full and half tables, so you can sell at your convenience.
We here at gamersXchange make sure this gathering is a great success by providing the following:
• Social Media promotion through Facebook, and Twitter
• Email promotion to customers in VA, MD, DC, DE, PA, and WV.
• In-store promotion
• Contests and giveaways throughout the event
• Cross promotion of the gamersXchange with other local gaming communities.
• Easy set up for all Vendors! We provide chairs, tablecloths, and process payment so you don't have to worry about a thing! Have a special request? Email us at events@estarland.com
• Exclusive in store sales
• FREE ADMISSION for all attendees!
- Fees and Payments-
-15% commission on sales
-Additional 2% commission if pictures of the items you are selling are not provided to us by registration deadline of 6PM September 25th, 2017.
-All customer payments are taken by eStarland. Checks will be provided to each vendor minus commision at the time of vendor closeout.

Addtional information:
Each vendor is allowed one ticket per hour. A vendor may either purchase a ticket for a half table or a full table.
Auction items limited to 2 tickets per seller.
We hope you can make it!
Register to be a vendor ASAP because registration closes 9/25/2017 at 6:00 PM! For any other questions, comments, or concerns please do not hesitate to contact us.
email: events@eStarland.com
phone: 703.941.0165