GamePad Online is a virtual gaming event bringing communities together to celebrate the culture we all love, from the comfort of your home.
About this Event
Is it 2021 yet? Join us for a much need celebration of a brand new year as we bring game streaming, cosplay and industry interviews together for a fantastic watch party hosted by Tazziii!
Gaming communities will be able to come together to celebrate the culture we all love, from the comfort of your home. Just because we're socially distanced doesn't mean we can't be together.
Get your ticket today and you'll be sent a full event schedule and have the event streaming links sent directly to your inbox so you won't miss out on the day!
We'll be streaming across Twitch and YouTube so you get to pick which platform you watch on. Check out our community update video above and stay tuned for more details about the New Year GamePad Online in the coming weeks!
Here are some activities to look forward to:
Friendly Fire tournament for prizes
All ages cosplay showcase
Indie game highlights
Industry interviews
There is more to come so stay tuned to find out what we have in store for the event next year. In the meantime, check out our Discord and meet other attendees as well as the GamePad team.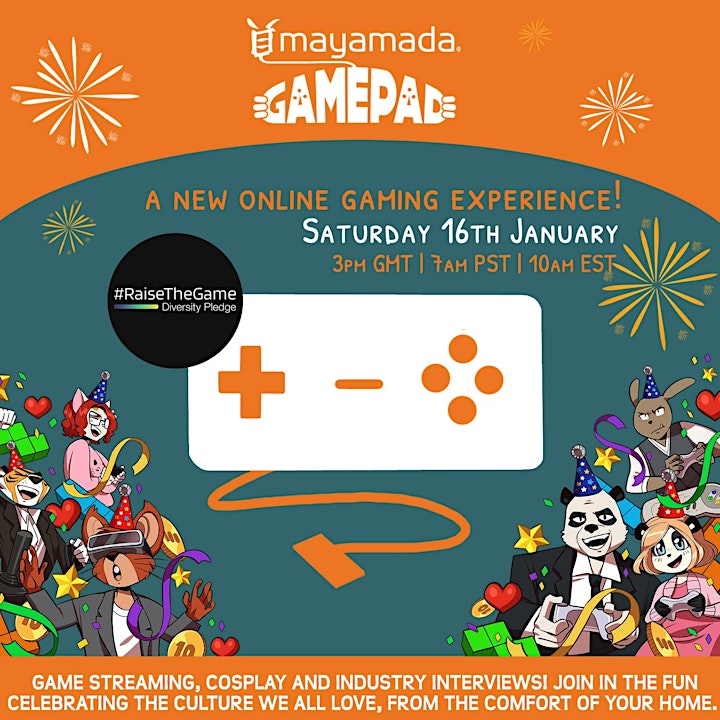 FRIENDLY FIRE COMPETITION
Our Friendly Fire Competition is a major part of the GamePad Online experience and is open for teams of any gaming experience to participate.
Four teams will be selected to take part in a round-robin format with 3 rounds played over 3 different games. At GamePad we want to highlight the fun, team-based spectacle of esports. You'll be able to watch and cheer along over the day, catching the in game action plus post match reactions!
The January Friendly Fire competition will take place at GamePad Online on Saturday 16th January 2021. The three games are as follows:
Swimsanity
Brawlhalla
Rocket League
Thanks to our friends at Decoy Games, each team to enter will get two FREE copies of Swimsanity! You can check out our Story x Story podcast interview with the team to find out more about the game.
COSPLAY INTERVIEW & SHOWCASE
We're really delighted to bring more cosplay fun to GamePad Online in 2021. Whether you are a cosplayer or cosplay photographer, you can submit your latest photos and videos to be showcased during the next GamePad event!
Cosplayers of all experience levels are invited to send your best tips, tricks and advice for the cosplay community. Please keep in mind that all cosplay videos should be suitable for a family-friendly audience. We can wait to see what you're working on!
You'll also be able to catch a live interview with cosplayer Katya Fern aka Wonder Kat from London! She brings to life her favourite characters and is most renown for her Wonder Woman and unique Harley Quinn Play Arts Kai cosplays.
Katya started cosplaying in 2014 growing her craft and passion debuting her costumes around the world and landing as a UOCC finalist. She continues to bringing badass characters into a new light and will be answering your questions at GamePad Online!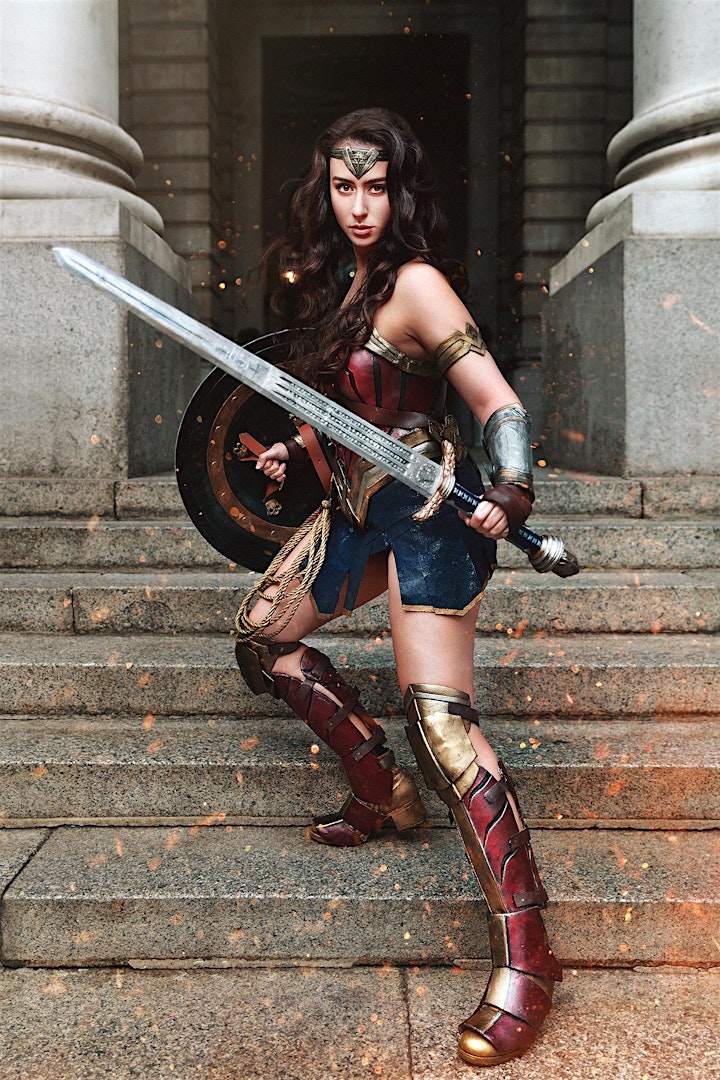 GAMES INDUSTRY INTERVIEWS
As Ukie #RaiseTheGame pledge supporters, we're committed to raising awareness of career opportunities in the video games industry among young people from underrepresented groups.
We provide work experience opportunities form young people to work as part of the GamePad team both behind the scenes and in front of the camera or casting during the gaming competitions.
The GamePad audience will also be able to watch interviews with video game professionals at all level and of all backgrounds. We aim to highlight a diversity of people as well as roles within the industry and you can watch it all during the livestream!
Here are the great interviews we have in store for you...
Adam Campbell - Azoomee / POC In Play
Adam is Co-founder of POC in Play and Director of Product at Azoomee / Da Vinci, the World's fastest growing kids' media company. He is also a member of the British Academy Film & Television Arts (BAFTA) and an award-winning producer. With a career spanning over a decade in video games, he has held previous roles at studios such as Miniclip, SEGA and Jagex.
Jasmine Moore - Frontier Developments
A narrative designer and occasional voice actor, Jas has worked on games across the sci-fi, horror, and fantasy genres. An avid fan of moment-based storytelling, she's passionate about weaving character into game mechanics – especially for nonlinear narrative structures. Outside of work, she enjoys working on her webcomics, polymer sculpting, and crafting small-batch teas.
Johana Riquier - Unity Technologies
Johana is a prominent advocate for the widespread use of Unity Technologies, establishing relationships with new partners and territories. Since joining the gaming industry, you've taken steps to promote and represent minorities in the digital and gaming space. Working to diversify content, content creators, and the community as a whole, particularly in the African and Middle-Eastern gaming industry.
Shanzay Usama - Square Enix
Shanzay joined Square Enix as an Assistant Producer in the London Mobile Studio right before the first lockdown of 2020, where she is working on the new Tomb Raider Reloaded game as well as other unrevealed projects. Having originally studied Pharmacology at UCL and then Law, Shanzay took a traditional route with her studies, only to later follow her love of the creative fields.
She is now dedicated to helping open up this possibility for other people too, whether they are just graduating or an experienced professional looking to move into games, she is willing to dedicate time to individuals who would like a little advice along the way.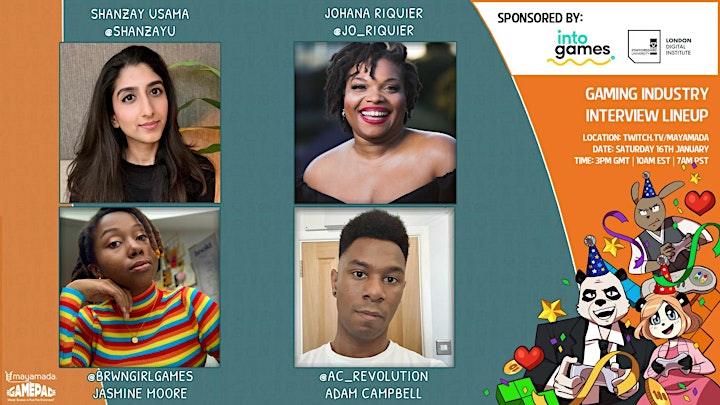 UKIE #RAISETHEGAME PLEDGE
mayamada is a supporter of the UK Interactive Entertainment Association's pledge to inspire diversity and inclusion in the games industry. This means GamePad is not just about entertainment but is also a platform for young people from underrepresented communities to gain valuable work experience as part of our team bringing you this fantastic event!
DISCOVER THE MAYAMADA UNIVERSE
Did you know we also make manga? We're creators of original manga-style comics set within our own universe of anthropomorphic characters. So far we've released 8 different graphic novels and comics and as well as running GamePad, we exhibit at comic conventions across the UK and internationally!
Our work as been featured in Vogue, GQ, NEO Magazine, Mashable, Bleeding Cool and the BBC among others. You can get your hands on a copy of our latest manga with your GamePad Online ticket and have your copy signed by mayamada co-founder Nigel Twumasi!
WHERE WILL WE BE
GamePad Online will be streaming across Twitch and YouTube on Saturday 16th January 2021. Get your tickets and you'll be send a link to tune in on the day.
You can join the live chat on Twitch and YouTube, or join us in the GamePad Discord Community for a behind the scene chat with the mayamada team and collaborators during the day.
MAKING GAMING FUN FOR EVERYONE
GamePad is an experience for everyone to enjoy the video games, meet friends and be part of a community we're growing to promote inclusion and diversity in the games we play and the people who make them.
"People were interacting with others while gaming, and it gave me the opportunity to share time with my children doing what they enjoy." - Sally
"I liked the diversity in terms of age ranges and people, we were all from different backgrounds and ethnicity but all with the same love..." - Miguel
"Great atmosphere, good for the family i.e. No 18 games so everyone could join in. Good fun!" - Tracey
SUPPORTERS OF GAMEPAD
GamePad is made possible by the support of these amazing video game organisations, charities and community groups: