Gameday Tailgate Experience: Jaguars vs. Redskins All-Inclusive Tailgate Pa...
Description
Sunday, December 16th,
9 am
Join Gameday Tailgate Experience for a tailgate at 401 Bryan St. (Tailgater's Parking First Down Lot) before the Jacksonville Jaguars take on the Washington Redskins, hosted by former Jaguars' player John Henderson and CBS Sideline Reporter Jenny Dell, with a special guest performance of "Jaguar Jigg" by G. Sapp!

Gameday Tailgate Experience ("GTE") is a proud partner of the Jacksonville Jaguars and will be hosting their 4 HOUR, ALL-INCLUSIVE, ALL YOU CAN EAT, OPEN BAR tailgates for select games this 2018 football season!
A ticket to the 4-HOUR pre-game tailgate includes unlimited food and a 4 hour open bar! There will be TVs to watch pregame football coverage, live music & entertainment, and family friendly tailgating games and amenities.
Join Gameday Tailgate Experience this season for the best tailgates you will experience this year!!
***Children under 8 are free. Must be 21 and over to get a wristband for alcoholic beverages***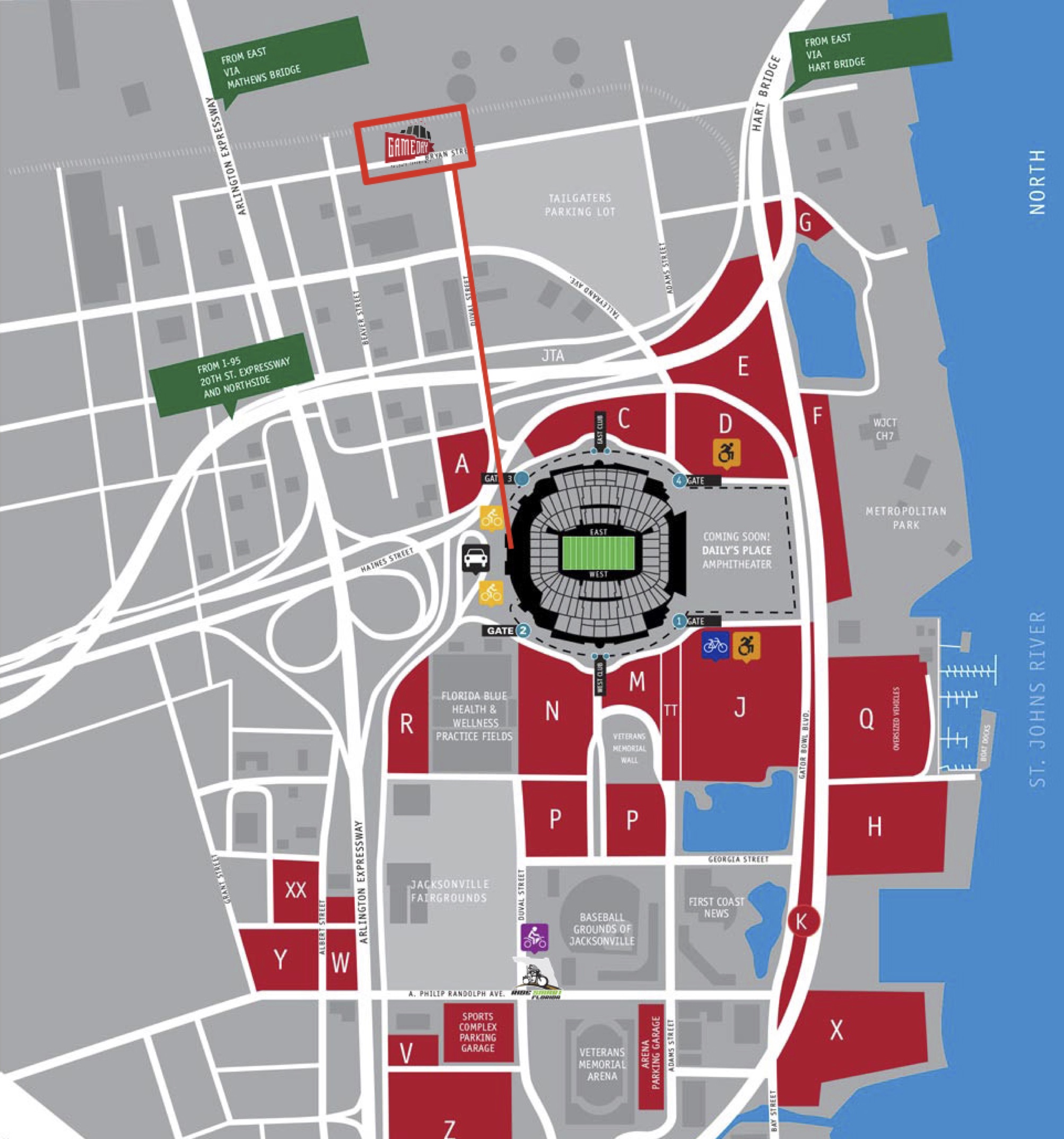 FAQs
Need tickets to the game?
Visit the link below to buy a combined GTE tailgate + Jaguars game ticket!
https://www.fevo.com/edp/Jaguars-vs-Redskins-Tailgate-Party-oBFieZ5
What is included in my ticket?
Your ticket includes acces to all the food and drinks you would like, meeting the hosts, watching TVs, taking pictures in the photobooth, playing games, bidding on sports memorabilia, and much more! There is no extra cost for drinks or food. The only price you will pay is the 1 time cost of your tailgate ticket!
Is parking included?
The tailgate tickets do NOT include parking, but there are plenty of available parking lots across the street from the tailgate on Beaver St.
What do I need to bring to the event?
Your ticket, your friends and family, and your team spirit!
What types of food and drinks are available?
Food in General Admission: hamburgers, hot dogs, veggie burgers, cole slaw, and potato chips. In VIP, there is also: pulled pork sliders from Texas Roadhouse! In the open bar, there will be: domestic beer, red and white wine, vodka, rum, whiskey, and tequila. In VIP, there will also be: import beer, champagne and scotch. Water, soda, juice, and mixers also available
Want to learn more about GTE?
Follow us on social media (@gtepresents), visit our website (www.gtepresents.com), and check out the following video:
https://www.dropbox.com/s/c74132izd9bskl8/GTE_Promo.mp4?dl=0
Questions?
Email us directly at info@gamedaytailgateexperience.com
or
Call us at 800-685-7618
*hosts, athletes, and celebrity guests may be subject to change