Event Information
Refund policy
Refunds up to 1 day before event
Eventbrite's fee is nonrefundable.
A video game needs to be engaging, otherwise it's pointless. Explore human motivation, emotion, & gameflow that make games more fun.
About this event
This Session is Part 3 of a 4-session Masterclass on UX applied to the development of video games. While it can be taken independently from the 3 others, we will draw from a lot of notions tackled in the previous sessions.
Part 3: Engage-ability (3 hours)
Making fun and engaging video games is hard, and with thousands of games being released every year, the competition is fierce. One of the keys to crafting successful video games is to make your game engaging (aka fun).
Engage-ability is about making a game emotional and engaging, which implies a deeper understanding of human motivation and emotion. We will dive into extrinsic motivation (clear goals and rewards), intrinsic motivation (self-determination theory), emotion in design, and the concept of game flow. The "engage-ability" part covers how to successfully onboard players (i.e. first time user experience over, roughly, the first minutes to an hour of play) as well as how to keep players engaged over time, with a specific focus on player motivation. This Part 3 session, along with Part 2, provide participants with a set of ingredients to make their own successful video game recipe (those "ingredients" are relevant to any type of game or platform).
(Not included: Part 1 about brain limitations, Part 2 about usability guidelines, & Part 4 about UX strategy and ethics)
Who is this for?
This Masterclass is targeted to game developers: designers, artists, gameplay/UI programmers, producers, and UX practitioners.
Main takeaways
- Understand why humans do the things they do (motivation).
- Explore how to foster emotional experiences.
- Understand flow in games (onboarding, difficulty curve, & pacing).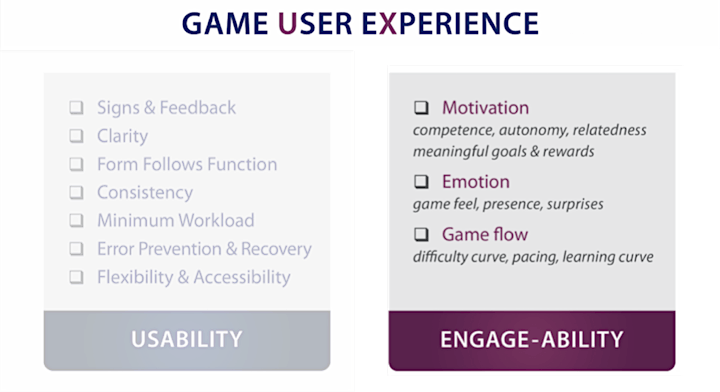 Date and time
Location
Refund policy
Refunds up to 1 day before event
Eventbrite's fee is nonrefundable.
Organizer of Game UX Masterclass - Part 3/4: Engage-ability
Celia Hodent is an expert in the application of cognitive science and psychology to improve products, systems, services, and video games. She currently leads an independent UX consultancy, working with a wide range of international media and enterprise companies.
She works in-depth with companies to help ensure their products are both engaging and successful by considering the entire user experience they will provide to their audience. Celia conducts workshops and provides guidance on the topics of playful learning, ethics, unconscious bias, and inclusion in tech and video games.
Celia holds a PhD in psychology and has over ten years experience in the development of user experience (UX) strategy in the entertainment industry, and more specifically with videogame studios through her work at Ubisoft, LucasArts, and as Director of UX at Epic Games (Fortnite).
Celia is the author of The Gamer's Brain: How Neuroscience and UX can Impact Video Game Design and The Psychology of Video Games.
Twitter: @CeliaHodent
Blog: celiahodent.com