Description
Game Tech Montreal is a free meetup for anyone interested in game development technology. It is an opportunity to spend the evening relaxing and discussing the latest and greatest in game tech. We aim to bring together individuals of all levels be they industry veterans (both AAA and indie) or students looking to learn more about the industry.
The first meetup will be hosted at the WB Games Montreal offices. I would really like to thank them for supporting me with this endeavour. I couldn't have asked for a better venue for the first meetup!
Location
WB Games Montreal,
6th Floor, 888 Boulevard de Maisonneuve Est,
Montreal
Agenda
6.30pm - Doors Open
7:00pm - Presentation:
Wessam Bahnassi - Hyper Void Gameplay Post-Mortem
"Of the biggest advantages of writing a game using entirely custom tech, is that you are free to write things the way you like. In this talk, I will show how I built the gameplay behavior system for the 3D space shooter game Hyper Void using micro-fibers and lots and lots of goto statements, plus a sprinkle of assembly code. Did it work? Well at least the game shipped! Join us to learn the details of how it was done and how it performed at run-time."
7:30pm - Roundtable: Entity Component Systems and data-oriented design
"Entity component systems and data-oriented design are concepts that have come to the forefront recently be it unity's big push towards ECS via their DOTS approach, blizzard's use of an ECS in overwatch or the blog post's from the folks over at 'The Machinery'. Let's discuss the pros and cons of ECS and data-oriented design."
8:00pm - Drinks and Mingle
Have a drink and chat with your fellow guests.
9:00pm - Doors Close
Speaker Details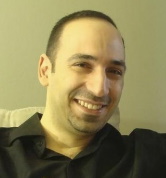 Wessam Bahnassi is a 15+ year industry veteran whose name is associated with titles from major game companies like EA and WBGames. His roster of titles include Batman Arkham Knight and Army of Two among the few. His main speciality is advanced rendering and optimization techniques, and he is a section editor for the the ShaderX and GPU Pro book series. He co-founded INFramez, a Montreal-based game studio that stands unique with its internally-developed game tech. He was the programmer for Hyper Void, the studio's latest game which was praised for its 3D graphics and visual effects, running at 120 FPS native on PS VR.