Description
Join Game On! Sports 4 Girls & Hickman Health for an empowering day featuring boxing, fitness, and team building.
Meet Olympians Libbie Hickman (2000 Olympian in track and field -10,000m) and Janie Wagstaff (1992 Olympic Gold medalist in swimming - 4x100 medley relay) and learn about the impact sports have had on their lives.
Parents and guardians are invited to the final 15 minutes to learn more about the Game On! experience.
TWO SESSIONS
Girls 1st-5th, 9 a.m. - 10:30 a.m.
Girls 6th-8th, 12:00 - 1:30 p.m.
ABOUT GAME ON! SPORTS 4 GIRLS
Game On! Sports 4 Girls offers multi-sport programming that includes summer day camps and school year classes, clinics, events and projects. Since 2007, Chicago-based Game On! has dedicated itself to working specifically with girls grades Pre-K - 10th to foster confidence along with a lifelong commitment to a healthy lifestyle that includes sports and fitness. Focusing on a unique GirlStrong and fun environment, Game On! harnesses the power of sports to shape strong girls that develop into the valued teammates and high achievers of tomorrow. Game On! is about growth as an athlete AND a person.
Our staff includes teachers, coaches and collegiate athletes who share the passion to pass on the gift of sports to young girls. They are all role models who offer incredible inspiration, energy and care.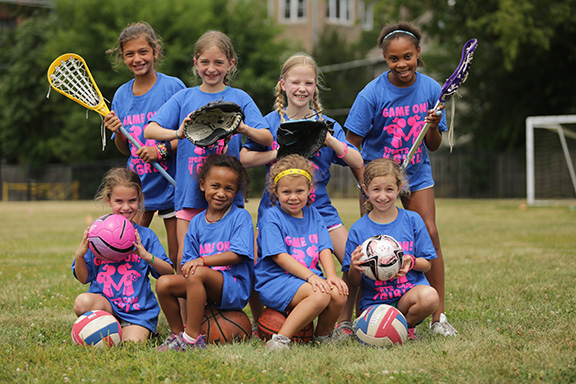 FAQs
Who can come to this event?
This event is open to all girls in grades K-8th.
What should my daughter wear to the event?
Girls should come dressed ready to play in athletic clothes and sneakers (no sandals).
My daughter has severe allergies or a medical condition which may require some intervention. Can she still come?
It has always been the priority of Game On! Sports 4 Girls to do our best to accommodate all girls. Please contact Game On! Sports 4 Girls to discuss at 847-229-9959.
I signed up but cannot come. Can I transfer my ticket to a friend?
No. This event requires a participation waiver from Hickman Health, and other required forms which are specific to the partcipant registered. Therefore, your ticket is non-transferable.
Do I have to bring my printed ticket to the event?
Yes, we would ask that you remember to bring your ticket. But don't worry if you happen to forget as we will have a master list of all attendees. Having the ticket, however, will definitely speed up your sign-in on the day of the event.