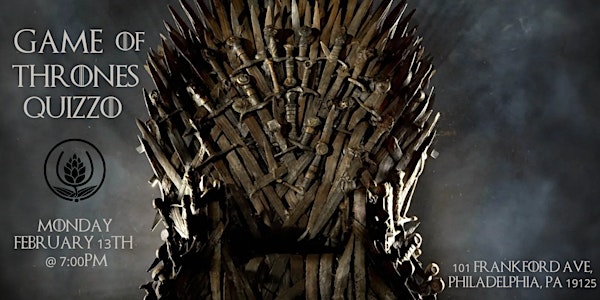 Game of Thrones Quizzo at Source Urban Brewery
"What is dead may never die!"
When and where
Location
Source Urban Brewery 1101 Frankford Avenue Philadelphia, PA 19125
About this event
Raise your poisoned glasses as we celebrate SEVEN seasons of wedding mishaps, family squabbles, and good guys always winning at Game of Thrones Quizzo at Source Urban Brewery on Monday, February 13th at 7:00pm.
We'll be hosting FIVE challenging and unique rounds on all SEVEN seasons. Information is the key. You need to learn your enemies' strengths and strategies. You need to learn which of your friends are not your friends.
RSVP or send a raven at: https://gotsub021323.eventbrite.com
PLEASE ONLY RESERVE SINGLE TICKETS IF YOU ARE PLAYING BY YOURSELF. IF A TEAM, ONE TEAM MEMBER SHOULD GET ALL TICKETS UNDER THEIR NAME.
MAX TEAM SIZE OF 6 - A CONFIRMATION EMAIL WILL BE SENT CLOSER TO THE EVENT, PLEASE NOTE TICKETS CONFIRMATION IS REQUIRED OR YOUR TICKETS MAY BE SUBJECT TO CANCELLATION.
"That's what I do. I drink and I know things."
#theironthrone #thewall #winteriscoming #motherofdragons #lanister #themadking #baratheon #kingslanding #kingofthenorth #dierwolf #arya #got #gameofthrones #jonsnow #hbo #aryastark #daenerystargaryen #forthethrone #sansastark #emiliaclarke #stark #targaryen #winterfell #tyrionlannister #khaleesi #nightking #maisiewilliams #cerseilannister #westeros #housestark #triviatainment #sourcebrewing #sourcebrewingfishtown #philly #philadelphia #southphilly #phillytrivia #whyilovephilly #philadelphiatrivia #philadelphia_citylife #philadelphiaquizzo #phillyquizzo #philadelphia_ig