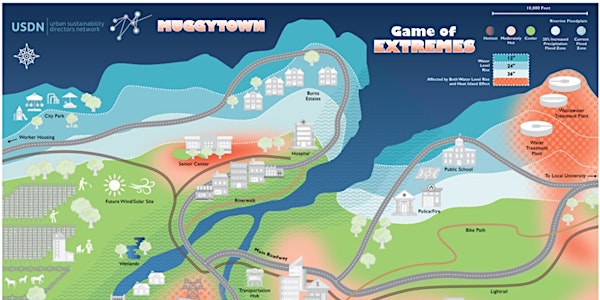 Game of Extremes
Game of Extremes
When and where
Location
Hilo Municipal Golf Course Multipurpose Room 340 Haihai Street Hilo, HI 96720
About this event
Join the County of Hawaiʻi for a "Game of Extremes"!
Faced with climate impacts for a fictional community, participants will decide how to make community assets most resilient. The workshop will be a fun way to learn about climate change, its impacts, and how we can adapt.
This climate resilience training will be hosted by Kristin Baja, the USDN Climate Resilience Officer. She previously served as Baltimore's Climate and Resilience Officer and is responsible for helping cities identify strategic ways to advance climate resilience planning and implementation, and build their capacity to take action. Her role is intended to help to accelerate the implementation of on-the-ground action, while advancing learning, collaboration, and momentum around climate resilience in alignment with GHG reduction, equity, and other goals. Prior to USDN, she served as the Climate and Resilience Planner with the City of Baltimore, Office of Sustainability where she led the city's climate adaptation and equity work including the City's STAR Community Rating System, NFIP Community Rating System, climate communications, climate training, floodplain management, and hazard mitigation efforts. We are very lucky to host Kristin as part of the County's USDN membership.
For questions and more information, contact Michelle Agbigay at (808) 961-8375 or email Michelle.Agbigay@hawaiicounty.gov