Game Design Nirvana - An Evening with John and Brenda

Monday, October 17, 2011 from 6:30 PM to 10:00 PM (PDT)
Event Details
An Evening with John And Brenda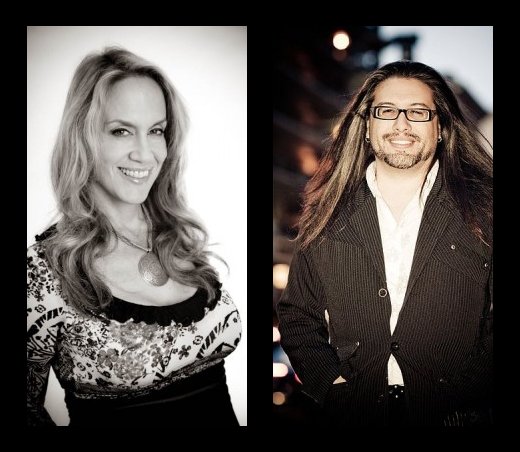 Join us for an Evening of Game Design with John Romero and Brenda Garno Brathwaite.
What would John Romero Do? What does Brenda Garno Brathwaiite Think? This is our chance to ask!

OK does anybody not know who they are or what they have created? For starters John Romero designed what is generally credited as being the first genre proper and full blown archetype of the FPS. Just in case you are unfamiliar with game history scroll down and click on the links. Between the two of them they have designed for console, pc, facebook, mobile over their careers and in many different game genres, in some cases creating or evolving  the genre along the way.
These are top game industry professionals, kind enough to come to a local event when they are convention keynote types. Take advantage of that for your game knowledge!  It is about design, design, design for the evening.
In order to provide maximum focused time for John and Brenda and your game design related questions there will be no Sponsors or Tables accepted for this event. We love our sponsors, really we do and we love our table demo game fun even more however this event is special and it's going to be all John and Brenda and You.

There will be food and refreshments, you don't need to eat beforehand. And yes, of course there will be some time set aside for networking, we are game people after all!

The evening is designed with a large Q&A portion with questions being culled from the audience. We will send out a call for questions beforehand to those registered. Ask and send in what is on your mind.We will also try to take some spontaneous and follow up questions to add depth as time and format permits.
In addition we do have one of the great game speech ranters of all time in Brenda Garno Brathwaite, in case she feels like riffing on a subject, no guarantees on that but one can always hope.
Questions on their current designs with Loot Drop will need to be sensitive to their release schedule and proprietary information.
Enjoy some publicity that is already out there on what these two are and have been up to in their illustrious game design lives. Ticket policy is the typical fully transfereable while not refundable.
http://en.wikipedia.org/wiki/John_Romero
http://en.wikipedia.org/wiki/Brenda_Brathwaite
http://bbrathwaite.wordpress.com/
Bios
John Romero is a game designer, programmer, artist and sequential artist whose work spans over 130 games, 97 of which have been published commercially, including the iconic works Wolfenstein 3D,DOOM and Quake. His latest Facebook game, Ravenwood Fair, has gained roughly a million players a week since its release in late October 2010. He has consulted on four other Facebook titles for the Google-acquired company Slide. He is currently the CEO of social game company, Loot Drop.
Romero is a serial entrepreneur who has founded seven successful companies including companies in the traditional hardcore, MMO and mobile spaces. His contributions and philanthropy within the commercial game industry have led to a myriad of inspired games and the founding of 10 companies. He is considered to be among the world's top game designers, and his products have won every major award.
One of the earliest "indie" developers, Romero began working in the game space in 1979 on mainframes before moving to the Apple II in 1981. He is a completely self-taught programmer, designer and artist, having drawn his inspirations from early Apple II programmers.
Romero's current areas of interest are Facebook games and massively multi-player online (MMO) games as well as social media and its intersection with gaming.
Brenda Garno Brathwaite is a game designer, artist, writer and game developer who entered the video game industry in 1981 at the age of 15. She worked with Sir-tech Software for 18 years on the Wizardry series and later the Jagged Alliance series among others before moving on to work with Atari on Dungeons & Dragons. During this time, Brenda had the opportunity to work alongside legends in the game industry and quite literally apprenticed in the ways of game design moving up through the ranks from lowly acolyte to lead game designer to creative director.
Since her days at Atari, Brenda has worked with a variety of companies, including Electronic Arts, Cyberlore, Firaxis and numerous companies in the social media space. She is presently co-founder, COO and a game designer at Loot Drop. Brenda develops her games both in analog and digital mediums, depending on the needs of the game. She has worked as a system designer, writer, level designer, world designer, lead designer and creative director throughout the years.
Brenda served on the board of the International Game Developers Association (IGDA) until July 2010, and is presently on the advisory board for the International Center for the History of Electronic Games at the Strong Museum of Play and the advisory board for Game Developer Magazine. She was named Woman of the Year by Charisma+2 Magazine in 2010 and also was a nominee in Microsoft's 2010 Women in Games game design awards. In 2009, Train won the coveted Vanguard Award at IndieCade for "pushing the boundaries of game design and showing us what games can do." She was named one of the top 20 most influential women in the game industry by Gamasutra.com in 2008 and of the 100 most influential women in the game industry by Next Generation magazine in 2007. Nerve magazine also called her one of the the 50 artists, actors, authors, activists and icons who are making the world a more stimulating place.
And now just for fun, how many game designers can you name in this picture?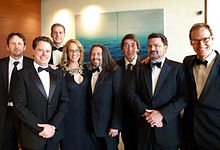 Attendee List
Sort by:

Date

|

First Name
When & Where
1175 Bordeaux Drive
Sunnyvale, 94089


Monday, October 17, 2011 from 6:30 PM to 10:00 PM (PDT)
Add to my calendar