| | |
| --- | --- |
| Game Changers @ the Redmond Marriott & Microsoft Advanta Campus (Bellevue) | |
Event Details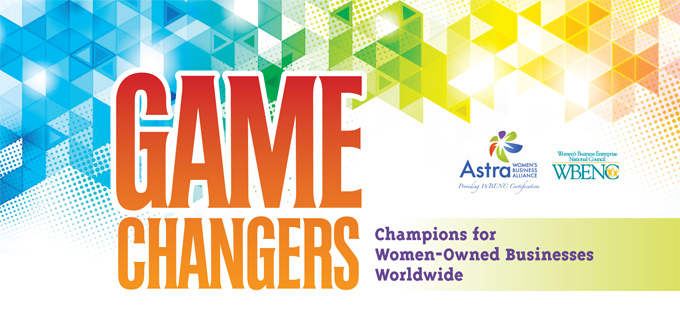 2013 Sponsors

Become a sponsor today! Email Diane McClellland, dimac@astrawba.org or call 971-204-0220.
________________________________________________________________________________________
As the Champions for Women-Owned Businesses Worldwide, Astra Women's Business Alliance knows what it takes to help your enterprise. Show Up. Grow. Win.
We look forward to seeing you in Redmond, WA on October 15th & in Bellevue, WA on October 16th.  The Agenda (see below) is full of opportunities for you to learn from experts, share experiences & generate new ideas. Matchmaker Assignments were emailed to attendeed on October 11th.
Call 971 204 0220 ext 6 if you have any questions.

Our goal is to help you make important connections. The rest is up to you!

All the best!
Team Astra
DIRECTIONS: http://binged.it/1bcYOh5 We will see you at the Redmond Marriott on October 15th & at the Microsoft Campus in Bellevue on October 16th.
AGENDA......
October 15, 2013
Redmond Marriott Hotel - 401 164th Ave NE, Redmond, WA 98052

Game Changers: Industry Groups
1:30 pm - 4:00 pm - Women in Construction - Salon 3
Jean Bjork, Bjork Construction
1:30 pm - 4:00 pm - Women in Manufacturing- Salon 4
Pamela Kan, Bishop Wisecarver
Reception - Sponsored by ICON Information Consultants
5:00 pm - 7:00 pm -  Salon 1

October 16, 2013
Microsoft Campus - Advanta Building B, 3009 160th Avenue SE - Bellevue, WA 98052

Game Changers: Workshops, Luncheon & Matchmaker
8:00 am - Registration and Continental Breakfast
8:30 am - Welcome Remarks - Diane McClelland, Astra President and Fernando Hernandez, Microsoft and Astra Board Chair
8:40 am - "Preparing for the Sales Call"  Presented by Fernando Hernandez and Pamela O'Rourke, ICON Information Consultants
9:45 am - Break
10:00 am - Best Practice Discussion Groups - Join WBEs and Advocates of Women's Business Ownership in guided discussions,where you will share best practices for: Growth Strategies; Business Succession; and Access to Markets
11:00 am - "Gaining Access to New Markets: Global & Government" PANEL: Crystal White, The Boeing Company
Diane Lin, Starbucks Corporation, Mary Jo Juarez, Washington PTAC, MODERATED BY: Sandy Winston, Compusave Strategic Alliance
11:45 pm - Luncheon is served
12:30 pm - Done Deals Awards
1:00 pm - "Change Agents: How to Disrupt in Order to Innovate" Presented by: Linda Bernardi, CEO, Successful Entrepreneur, Author and Speaker
1:45 pm - Break
2:00 pm - Matchmaker Roundtable Discussions*
4:00 pm - Event Ends

Price per person: $250 - No refunds after October 1st, 2013. Let us help you by registering early and letting others know you support this event. Your registration gives you complete access to all events on 16th including the October 15th Reception at the Redmond Marriott (sponsored by WBENC WBE, ICON Consultants). October 16th events are held on campus at Microsoft and include morning workshops, luncheon and afternoon roundtable matchmaker discussions. By registering by October 1st, 2013 you will receive up to three, 30-minute matchmaker roundtable discussion invitations based on the sourcing requests we receive from attendees. Matchmaker assignments will be emailed after October 8th, 2013.
Accommodations: Our Partner Hotel is the Redmond Marriott. 
The room rates are $209 per night with registration cut off of September 23, 2013.To reserve the rooms, call the Redmond Marriott 1-425-498-4000 and mention Astra Room Rate.
Attendee List
Sort by:

Date

|

First Name

|

Last Name
Organizer
Astra Women's Business Alliance
Astra Women's Business Alliance, is a 501(c)(3) non-profit corporation and a regional partner of WBENC. Astra provides WBENC and WOSB National certification to qualified women-owned businesses in the states of Alaska, Idaho, Montana, Northern California, Oregon, & Washington. Astra champions business growth by creating opportunities for contracts with Fortune 500 companies while providing these corporations with highly qualified strategic resources. For more information visit: http://www.astrawba.org.