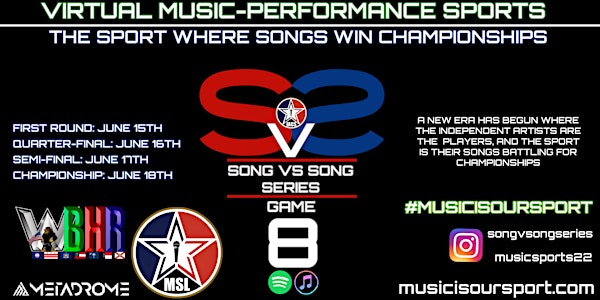 GAME 8: SONG vs SONG SERIES - PLAYER REGISTRATIONS
AN INDEPENDENT ARTIST VIRTUAL SONG VS SONG SPORTS LEAGUE!
Date and time
May 15 · 4am - June 2 · 8:59pm PDT
About this event
18 days 16 hours

Mobile eTicket
SUBMISSIONS RULES:
- Must be an unsigned solo artist or group
- May only use one (1) song
(You will be asked to provide a link to your song in the registration form)
- Song is required to be listed on Spotify or Apple Music
- Song is required to be radio-edited (no exceptions, unedited songs will be automatically disqualified with no refund.)
- Song must be 100% original (No remixes or covers)
- Players pay a one-time $25 competition fee
GAME PRESENTATION:
- Games are contested as single-elimination tournaments, and matches are displayed on our website only using each player's Spotify or Apple Music-listed song. (Example pictured below)
- A game consists of up to 4-rounds (First Round, Quarter-Final, Semi-Final, and championship)
- Matches are scored by judges (scored on 3 categories)
- Public will also be able to vote
- The player that scores the most points advances to the next round
- In the event of a tied score, the votes will be used as the tiebreaker
IMPORTANT NOTE: It is HIGHLY recommended that ALL players compete in every regular season game. This will not only enhance your chances of making the playoffs if you haven't already, but also allows you to continue growing new fans, increasing your streams, earnings, and overall social media buzz. In addition, major label A&Rs, club/radio DJs, music producers, songwriters, and other industry professionals use us to discover new music. It is important to stay consistently active to enhance your chances of any potential opportunities happening.
GAME CHAMPIONS RECEIVE:
- Automatic bid to the playoffs
- Paid up to $500 dollars (payout is determined by the number of submissions received. No payout is warranted if 10 or fewer submissions are received for any game.)
- Competition fee waived for the next game
- Game championship flyer posted all over social media
Note: All players may be asked to participate in pre-game or post-game radio interviews or other marketing activities to promote upcoming games.
RANKINGS/RANKING POINTS:
- Players are ranked based on points earned in each game
- Per each round the player advances, points are earned
- Rankings are updated within 48 hrs after the conclusion of every game
- Ranking determines Wildcard seeds for the micoffs
POSTSEASON: The postseason includes the MICOFFS and the SUPER MIC, the championship game. Postseason games will be performed live in a virtual venue (metaverse). In postseason games, players are scored on both songs and performances. Players must finish in the top 4 to clinch a SUPER MIC berth.
In the SUPER MIC, the top 4 players from the playoffs will face-off for the SUPER MIC CHAMPIONSHIP BELT, $1,000 DOLLARS, and MSL WORLD #1 RANKING.
2023 REGULAR SEASON GAME CHAMPIONS:
GAME ONE: Lundyn Blaq, Norfolk, VA. @lundynblaq
GAME TWO: Cassaun, Kansas City, MO. @cassaun_ishere
GAME THREE: B Menace, Suffolk, VA. @bmenace5
GAME FOUR: Octavia The Great, Portsmouth, VA. @Octavia_thegreat
GAME FIVE: Octavia The Great, Portsmouth, VA. @Octavia_thegreat
GAME SIX: MR RNB, Norfolk, VA. @gregorysingz
ABOUT US: Music-Sports League (MSL) is the governing body of Music-Performance sports and is dedicated to the career development of independent artists. MSL is a 501(c)(3) nonprofit headquartered in Newport News, VA., it's responsible for the administration, and promotion of the Song vs Song Series and Beat vs Beat Series.
MUSIC-SPORTS LEAGUE: 700 Tech Center Pkwy, STE 200-11, Newport News, VA. 23606
CONTACT INFO: info@musicisoursport.com
INTELLECTUAL PROPERTY RIGHTS:
Unless otherwise indicated, the information on this page is our proprietary property, and all source codes, databases, functionality, software, website designs, audio, video, text, photographs, and graphics on the Page (collectively, the "Content") and the trademarks, service marks, and logo contained therein (the "Marks") are owned or controlled by MSL, and are protected by copyright and trademark laws and various other intellectual property rights and unfair competition laws of the United States, foreign jurisdictions, and international conventions.