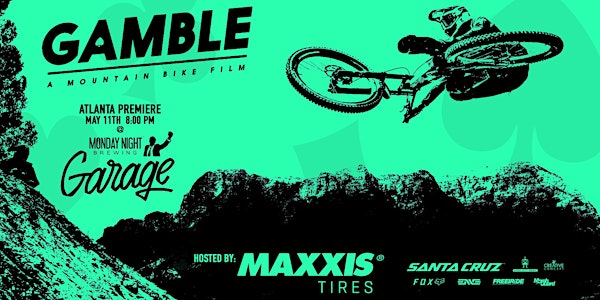 Gamble Film Premiere hosted by Maxxis Tires
When and where
Location
Monday Night Garage 933 Lee Street Southwest Atlanta, GA 30310
Description
Join Maxxis Tires at the Monday Night Garage to celebrate the release of GAMBLE: A Mountain Bike Film! We'll be serving complimentary beers from Monday Night Brewing as well as tacos and snacks from Taqueria del Sol! All ages are invited, but you must be 21 or older to drink.
Note the location! The party is at the Monday Night Garage on Lee Street in South Atlanta. If you go to the West Midtown location on Trabert Ave. you will be very sad because you're in the wrong place!
About the movie
Steel City Media and Creative Concept bring you the much anticipated new feature film 'GAMBLE', priding itself on bringing some of Downhill Mountain Biking's most talented and charismatic riders together, outside of the tape, on tracks tailored for madness.
Narrated by the infamous Alan Ford from 'Snatch' and 'Lock, Stock', the top dogs of downhill have been united round the table once again and they ain't here to mess about.
With the chips well and truly on the table, GAMBLE is about to go all in.
The party starts at 8 PM on Friday, May 11th, with the movie set to begin at 9 PM.