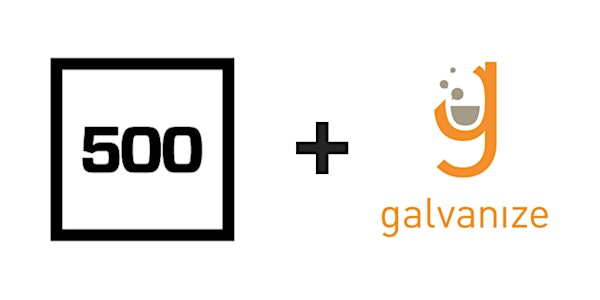 Galvanize Startups 101: Nuts and Bolts, presented by 500 Startups & Galvani...
Event Information
Location
Galvanize San Francisco - Theater, Lower Level
44 Tehama Street
San Francisco, CA 94105
Description
Galvanize and 500 Startups are joining forces to bring a series of immersive workshops designed to help entrepreneurs level up all aspects of how they run their businesses. Driven by investment partners at 500 Startups and experts from the Galvanize network and combining lecture, Q&A, and interactive breakout sessions, participants should expect to come prepared with specific challenges they're facing and to leave with a toolbelt of actions and tactics to drive their startup to the next level.
The first of these workshops - Startups 101: The Nuts and Bolts - covers all the behind-the-scenes aspects of starting and growing a company that won't guarantee success, but will guarantee failure if you get them wrong.
Requirements
In order to ensure all participants are getting maximum value from this session, we're targeting entrepreneurs who have an existing product that has been released in the wild (at least in private beta.)
Agenda
9:00 - 10:00 Welcome and networking
10:00 - 11:00 Legal 101
11:00 - 12:00 Cap tables 101
12:00 - 1:00 Lunch Provided
1:00 - 2:00 Convertible Notes 101
2:00 - 3:00 Raising your seed round
3:00 - 3:15 Break
3:15 - 4:15 Investor & Founder AMA
4:15 - 5:00 General Q&A and Wrap-up
What to Expect
Participants should expect to learn:
How to incorporate a company and what legal pitfalls to watch out for

How to effectively engage with attorneys

How to plan for, structure and manage capitalization, stock allocation, options, preferred shares, etc.

How convertible notes work and how to use them, with plenty of concrete examples

How to approach raising a seed round
Each topic will be approached with a focus on actionable takeaways with plenty of room for interaction and audience-driven Q&A.
Lunch, coffee and snacks will be provided.
What to Bring
Energy, questions, and something to take notes with.

Date and time
Location
Galvanize San Francisco - Theater, Lower Level
44 Tehama Street
San Francisco, CA 94105