Description
Austin is known as the live music capital of the world. Help us protect what makes Austin special. Join us at a fundraiser to support one of Austin's nonprofits that provides low cost healthcare to local musicians, the Health Alliance for Austin Musicians (HAAM).
Galvanize presents an evening of food, drinks, and MUSIC to support local musicians.
MUSICIANS FOR THE EVENING:
**FOOD, DRINK, AND SPONSORS TO BE ANNOUNCED SOON**
Space is limited so make sure to buy your tickets NOW!
100% of ticket sales will be donated to the HAAM.
WHAT IS HAAM?
HAAM provides access to affordable healthcare to low-income, uninsured musicians in the city of Austin, with a focus on prevention and wellness. Many Austin musicians are self-employed and have limited access to health insurance or basic health care. By resolving challenges such as long-neglected teeth to hearing loss, heart problems and depression, HAAM and its partners improve and save musicians' health and lives and enhance Austin's economy and quality of life. Austin is the Live Music Capital of the World, and we aim to keep it that way.
**Parking is $5 in the Northshore garage after 6 PM**
About Galvanize:
Galvanize is the premiere dynamic learning community for technology. With campuses located in booming technology sectors throughout the country, Galvanize provides a community for each the following:
Education - part-time and full-time training in web development, data science, and data engineering

Workspace - whether you're a freelancer, startup, or established business, we provide beautiful spaces with a community dedicated to support your company's growth

Networking - events in the tech industry happen constantly in our campuses, ranging from popular Meetups to multi-day international conferences
To learn more about Galvanize, visit galvanize.com.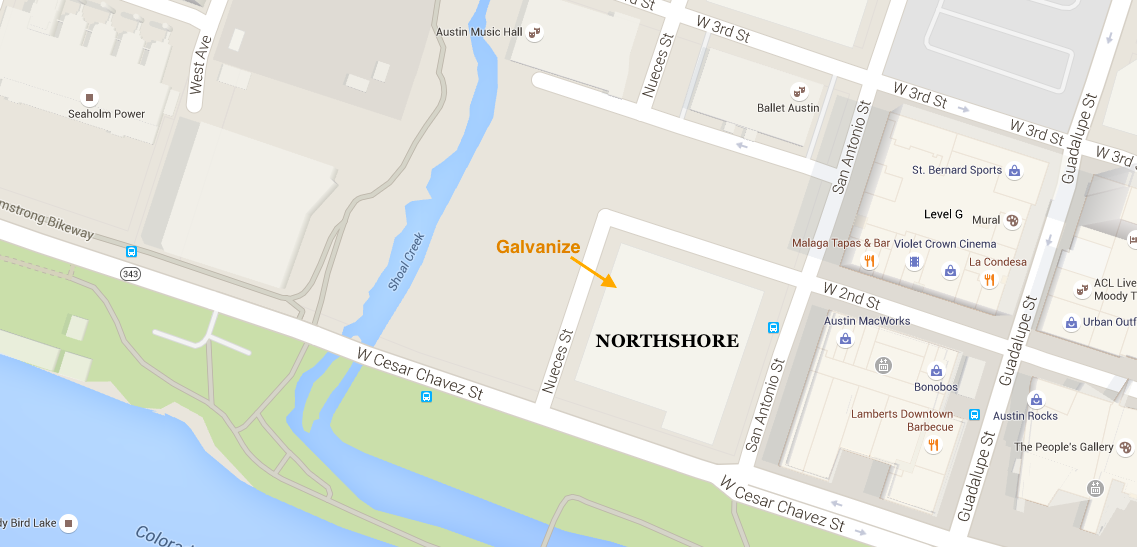 Date and Time
Location
Refund Policy