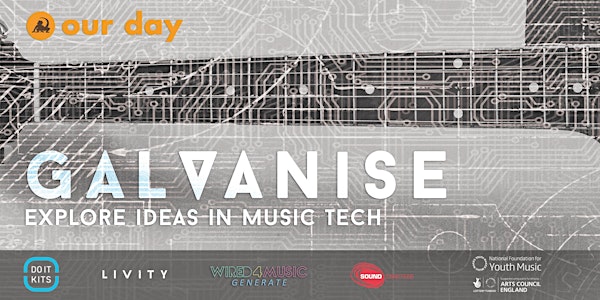 GALVANISE: Explore Ideas in Music Tech
When and where
Location
Brixton Pound Cafe 77 Atlantic Road London SW9 8PU United Kingdom
Description
A day of workshops, talks, performances, and exploring the wonders of music tech with some great professionals. Age group: 16 - 25
Learn how to build an instrument for yourself and so much more with:
Helen Steer of Do It Kits
In Helen's workshops, you'll figure out how to make a variety of instruments and explore the science and technology behind instrument making. You'll leave the session having made an electric guitar, a digital drum and a synthesiser powered by high fives.
Helen is an educator, maker, entrepreneur and award-winning writer. She specialises in getting new technologies into the classroom in a fun, easy way. Helen has published six books for children and has been named Maker in Residence at makerspaces in the UK and China.

Adrian Holder
DJ and technology enthusiast with an affinity for unusual soundscapes. With over ten years of experience Adrian gained a degree in music production and DJ techniques from SSR in London. In 2016, he was awarded Mediaspec for his work. His performances have been seen by audiences at venues such as The Roundhouse in Camden and at various Hackoustic events.
Tim Yates of Hackoustic
Tim Yates is a musician, sound artist, composer and teacher. He is Director of Hackoustic, a hacking group dedicated to exploring acoustics and instrument building. Hackoustic runs a host of different types of events related to acoustic hacking, including festivals, workshops and talks. They also appear as part of larger events and venues such as the Tate Modern, the V&A, Cafe Oto and the Elephant and Castle Maker Faire.
Dr Matthew Yee-King
Dr Matthew Yee-King is a senior research fellow at Goldsmiths College and a computer music composer, performer and researcher who has released his solo compositions on Warp and Rephlex records. He has a DPhil in Computer Science and Artificial Intelligence from Sussex University, wherein he investigated techniques and applications of automated sound synthesis. His musical work covers a range of styles, from the autonomous live improvisers and live coding techniques to electronic dance and listening music. Recently, Matthew's software was featured on Jazz Line Up on BBC Radio 3, where it performed live, autonomously alongside British alto sax player Martin Speake at the Wellcome Trust. His pieces `Livecoding SuperCollider and alto flute' (featuring Finn Peters) and `The Matthew Yee-King simulator' (featuring a simulation of himself, Finn Peters and Paul Hession) were both included in recent annual anthologies from the Computer Music Journal. He is also a committed educator, and has developed online courses about creative coding and web development that have been taken by hundreds of thousands of students.
MORE SPEAKERS TBC
In conjunction with Wired4Music, Sound Connections and Livity.