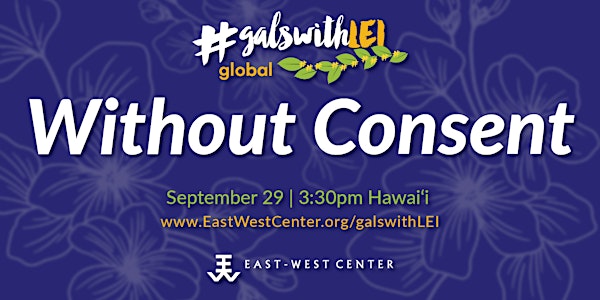 Multiple dates
#galswithLEI Global
#galswithLEI Global celebrates the Leadership, Entrepreneurship, and Inspiration of women business and social entrepreneurs.
Date and time
March 18, 2021 · 6:30pm - September 29, 2022 · 7:45pm PDT
About this event
#galswithLEI is excited to go virtual and connect with a more distributed and diverse audience than ever before. Scheduled to run bi-monthly, #galswithLEI Global leverages the East-West Center's unique access to the world's policymakers, entrepreneurs, community leaders, and artists – virtually uniting these global forces with Hawaii's women leaders to harness their collective experience, ambition, and passion.
Without Consent
Thursday, September 29, 2022 | 3:30-4:45pm Hawaii
Hear from women activists and advocates as they discuss reproductive rights and the pervasiveness of gender-based harassment and violence globally as well as what rights and protections exist on paper vs in practice, and the local and national efforts to expand these rights. Panelists will also share a spark of hope they are seeing amidst the struggle for greater bodily and sexual autonomy that continues to propel them forward.
A recent UN Women report reveals that nearly 750 million women and girls alive today married before their 18th birthday, and 214 to 225 million women who want contraception are unable to access it. Moreover, more than 47,000 women die annually from unsafe abortions while 35% of women globally have experienced gender-based harassment or violence. Policies advancing reproductive rights and protecting women's bodily and sexual autonomy are not only central to their livelihoods and gender equality in both developing and developed economies but increase women's participation in the formal labor force by over 5 percent.
Panelists: (listed in speaking order)
Gloria MALONE, Senior Manager, Vital Strategies and Founder, TeenMomNYC.com, New York, USA
Mallika DUTT, Founder, Breakthrough, New Delhi, India
Samhita MUKHOPADHYAY, Former Executive Editor, Teen Vogue, and Co-editor, Nasty Women: Feminism, Resistance, and Revolution in Trump's America, New York, USA
Rozana ISA, Executive Director, Sisters in Islam, Petaling Jaya, Malaysia
Rachael WONG, Co-founder, Safe Spaces & Workplaces Initiative and Founder & Strategic Advisor, One Shared Future, Hawaii, USA
Moderator: Olie BODY, Founder, Wā Collective and Changing Faces Seminar Alum, Wellington, New Zealand
For bios and headshots, webinar format, and information on future webinars, visit www.eastwestcenter.org/galswithLEI and follow us on Instagram @EWCSeminars for the latest updates!
About the organizer
EWC Seminars offers virtual webinars, short-term dialogue, field study, and reporting opportunities for working professionals in media, politics, government, civil society, and business who are in positions to affect public opinion and influence change in their countries and communities.