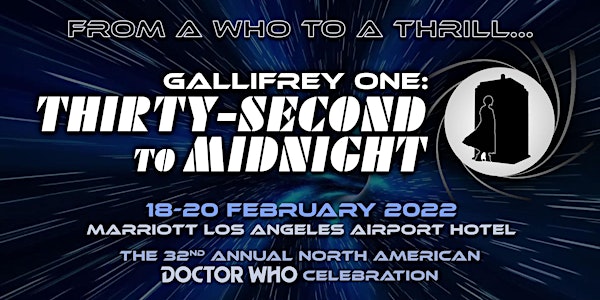 Gallifrey One: Thirty-Second to Midnight
The 32nd North American Doctor Who Celebration
About this event
GALLIFREY ONE: THIRTY-SECOND TO MIDNIGHT (Gallifrey One 2022) is the 32nd and next convention event from Gallifrey One Conventions... the world's largest and longest-running annual Doctor Who fan convention. From our beginnings in 1990, we've welcomed over four hundred guests from Doctor Who, its spinoff shows, and guests from a broad range of the science fiction & fantasy spectrum.
Gallifrey One 2022 takes place February 18-20, 2022 (with our pre-convention Launch Party on Thursday evening February 17 at 8:00pm.) The event was postponed from 2021 due to the worldwide COVID-19 pandemic.
Tickets for Gallifrey One 2022 are now on sale! For complete rules and information about ticket purchases, please visit our website's Convention Registration page.
Please remember that tickets are NON-REFUNDABLE and subject to terms and conditions. We look forward to seeing you in 2022!
IMPORTANT: Buyer may elect to omit the name(s) on the tickets from our online searchable Attendee Database. Opting out of the online Attendee Database makes your tickets ineligible for transfer prior to the convention. Make certain you choose the proper option when purchasing!
Organizer of Gallifrey One: Thirty-Second to Midnight