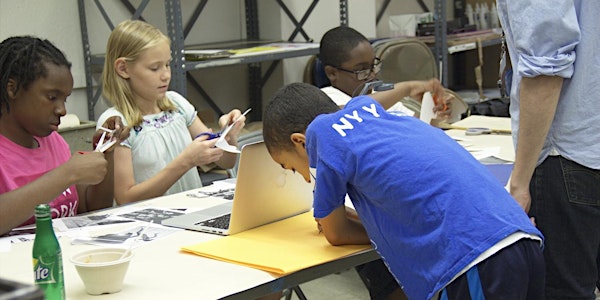 Gallery/Studio Program • Spring 2017• Art classes for ages 6 to adult
When and where
Location
Brooklyn Museum 200 Eastern Parkway Brooklyn, NY 11238
Description
To activate Members-only discount, email membership@brooklynmuseum.org for your promotional code.


General Information
The Gallery/Studio Program offers fun and challenging studio art courses for children, teens, and adults. Be inspired and guided by professional teaching artists, see our collections in a new way, and create your own art with new and traditional materials. All levels of experience welcome!
Members registration opens:
Wednesday, January 4.
General registration opens:
Wednesday, January 18.
Schedule
Saturday classes: March 4–May 13 (no class April 15)
Sunday classes: March 5–May 14 (no class April 16)
All classes are two hours long.


Courses
Ages 6–7
Paint It Blue, and Other Colors Too
Saturdays, 10:30 am–12:30 pm
Dive into a world of color through our exhibition Infinite Blue. Discover the ways artists use color for its power, beauty, and symbolism, and then show what color means to you with your own imaginative drawings and paintings.
Figurative Clay
Sundays, 10:30 a.m.–12:30 pm
Get messy with this introduction to sculptural techniques and materials. Pinch and squeeze to create basic forms, work your way toward whimsical designs, and learn to make clay figure sculptures in the round. Find inspiration in ancient Egyptian statues and Asian ceramics.
Ages 8–10
Build a Better Brooklyn
Saturdays, 10:30 am–12:30 am
What does a better Brooklyn look like? Dream it, draw it, and build it in this class where student will use paint, wood, and cardboard to build a model with classmates. Look at the ways artists use structures and forms to re-imagine the world around them.
Drawing Movement
Sundays, 10:30 am–12:30 pm
Sharpen your observational drawing skills by sketching objects from our collection. Then bring your drawings to life by animating them on iStopMotion. Grab some popcorn and enjoy a screening of everyone's work.
Ages 11–13
Portfolio Development: Drawing and Painting
Saturdays, 1:30–3:30 pm
Expand your portfolio with this drawing and painting class that prepares students for art-focused middle or high schools. Improve your technical abilities in ink, watercolor, graphite, and charcoal. Learn to give and receive feedback to strengthen your work.
Brooklyn Fashionistas
Sundays, 1:30–3:30 pm
Dig through piles of materials and construct a wearable sculpture in this class inspired by the wardrobe of Georgia O'Keeffe and the work of Jae Jarrell. Create colorful and expressive designs using mixed-media, sewing, and printing on fabric.
Ages 14–17
Photography: The Feminist Lens
Saturdays, 1:30–3:30 pm
Explore how the radical black women artists of the 1960s and 1970s, who are represented in the exhibition We Wanted a Revolution, used photography to advance the cause of second-wave feminism. Then learn to take photographs that express your own forward-thinking ideas.
Revolutionary Prints
Sundays, 1:30–3:30 pm
Visit the exhibition We Wanted a Revolution to see how artists have been involved in movements for social change. Learn to draw, collage, and take photos, and then bring all these media together with Adobe Photoshop to make posters that boldly express your own revolutionary message.
Adults
The Color of Portraiture
Saturdays
Session 1: 10:30 am–12:30 pm
Session 2: 1:30-3:30 pm
Explore the ways color manifests itself in a variety of media such as watercolor and water-based oil paint. Take inspiration from the exhibition Infinite Blue and works such as Fred Wilson's Grey Area (Brown Version) and paint portraits rich with color.
Fiber Art and Personal Narrative
Sundays, 10:30 am–12:30 pm
What stories do textiles tell? Be inspired by Georgia O'Keeffe, Faith Ringgold, and Betye Saar and the work they created that combines textiles, identity, and personal narrative. Learn to use techniques such as dyeing, piecing, and image transfer to recycle textiles into works of art that tell your story.
Drawing and Painting the Female Figure
Sundays, 1:30–3:30 pm
Take a trip through time as you explore depictions of female figures in ancient Egyptian sculpture, European painting, and contemporary art. Discuss the ways artists have challenged stereotypes about the role of women throughout history, then sketch and paint from live models to create your own works in acrylics and alternate materials such as metallic pencil.
NOTE: If a class is full, you may contact gallery-studio@brooklynmuseum.org to be added to a waitlist.
Course Fees (Per Course, Supplies Included)*
Members Registration: January 4–March 5
Under 18: $265; Adults: $285
General Registration: January 18–March 5
Under 18: $285; Adults: $305
A Membership discount and priority registration are available to Members at the Insider (formerly Family) level and above for all classes, and at the Individual or Dual levels and above for adult classes.
We have recently refreshed our Membership levels and benefits; Members at our former levels will continue to enjoy the same discounts as always for the duration of your current Membership. To activate Members-only prices, email membership@brooklynmuseum.org for your promotional code.