Actions and Detail Panel
Gallery Talk with Linda Eaton
Sat, January 7, 2017, 2:00 PM – 3:00 PM EST
Description
Gallery Talk with Linda Eaton
Saturday, January 7, 2016 2:00–3:00 pm
The Fabric Workshop and Museum
1214 Arch Street, 8th Floor
Philadelphia, PA 19107
RSVP Suggested, Walk-ins Welcome



About the Event
Join us for a gallery talk by textile scholar Linda Eaton, the John L. & Marjorie P. McGraw Director of Collections and Senior Curator of Textiles at Winterthur Museum. Eaton will present a theoretical and historical perspective on the rarely-seen objects in Ann Hamilton's exhibition habitus. The artist's selection of historical objects dates back to the 18th century and includes literary commonplace books, blankets, textile sample books, dolls, and needlework portfolios borrowed from the Winterthur Museum and Philadelphia collections.
Please note that guests will move throughout the gallery with Eaton during this event. A complimentary reception in the Museum's 6th Floor Studio will follow the gallery talk.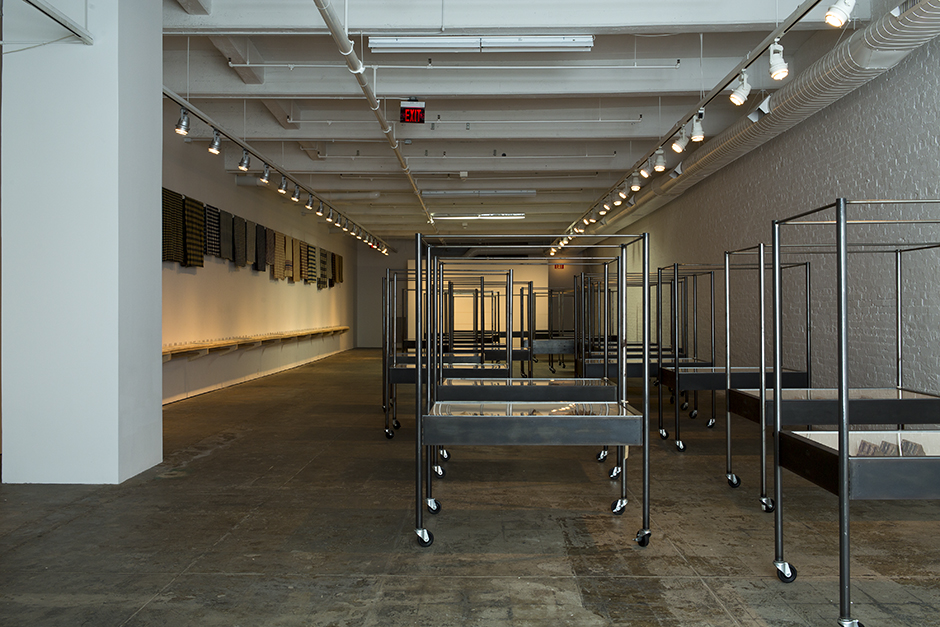 Image: Ann Hamilton • habitus • 2016. Installation at The Fabric Workshop and Museum, made in collaboration with The Fabric Workshop and Museum, Philadelphia. Photo credit:
Carlos Avendaño

.



About Linda Eaton
Linda Eaton is the John L. & Marjorie P. McGraw Director of Collections and Senior Curator of Textiles at Winterthur Museum and teaches in the Winterthur Program in Early American Culture and the Winterthur/University of Delaware Program in Art Conservation. After graduate work at the Textile Conservation Center and the Courtauld Institute of Art, she worked as a textile conservator in Scotland before coming to Winterthur. She has curated a number of exhibitions including Quilts in a Material World (together with a book of the same title), and many exhibitions on embroidery including Needles & Haystacks: Pastoral Imagery in American Needlework, With Cunning Needle: Four Centuries of Embroidery and The Diligent Needle: Instrument of Profit, Pleasure, and Ornament. She worked with Dr. Marla Miller to curate Betsy Ross: The Life Behind the Legend. Her most recent book, Printed Textiles: British and American Printed Cottons and Linens 1750-1850, was published in September 2014. Her exhibition "Embroidery: The Language of Art" opened in May 2016.
About the Exhibition habitus
Cloth making—among the oldest forms of human cultural production—provides inspiration for Ann Hamilton's project, habitus, located at The Fabric Workshop and Museum at 12th and Arch Streets, and Municipal Pier 9 at North Columbus Boulevard and Race Street. habitus weaves text, textile, and image together as mediums for an imaginative and tactile exchange between artist and audience.

The museum's galleries display Hamilton's selection of historical objects—including literary commonplace books, textile sample books, dolls, and needlework portfolios—borrowed from Philadelphia museums and public collections. Printed passages from published writings referencing the social and material life of textiles, and collected through an open call to the public at cloth · a commonplace, will be available free to museum visitors.

In the vast space of Municipal Pier 9 on the Delaware River, visitors propel a field of gigantic cylindrical curtains to billow to gigantic proportion. As cloth swaddles us at birth and covers us in sleep; as a folded blanket can tell a story of trade; as a flag carries the symbol of a nation, Hamilton's multi-venue exhibition habitus invites us to touch and be touched by the fabric of human experience.
For more information about the exhibition and related programming, please visit FWM's website.
Major support for Ann Hamilton: habitus has been provided by The Pew Center for Arts & Heritage, with additional support from The Coby Foundation, Ltd., the John S. and James L. Knight Foundation, The Philadelphia Cultural Fund, the National Endowment for the Arts, the Shipley-Miller Foundation, and the Delaware River Waterfront Corporation, which allowed the use of their warehouse for this project and provided invaluable support.

About The Fabric Workshop and Museum
The Fabric Workshop and Museum
(FWM) was founded in 1977 with a visionary purpose: to stimulate experimentation among leading contemporary artists and to share the process of creating works of art with the public. Providing studio facilities, equipment, and expert technicians, FWM originally invited artists to experiment with fabric and later with a wide range of innovaiev materials and media. From the outset, FWM also served as an education center for Philadelphia's youth who, as printing apprentices, learned technical and vocational skills along with approaches to creative expression. Today, FWM is recordnized as an interationally acclaimed contemproary art museu, distinguished as the only institutin in the United States devoted to creating work with textles and new media in collaboration with artists from diverse artistic backgrounds—including sculpture, installation, video, painting, ceramics, and architecture.