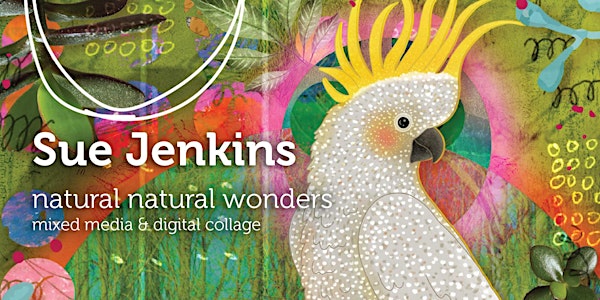 Gallery Talk: Sue Jenkins, Natural Natural Wonders
Celebrate the opening of artist Sue Jenkins' "Natural Natural Wonders" a solo exhibition of nature inspired mixed media and digital collage.
When and where
Location
Marywood University Art Department 2300 Adams Avenue Scranton, PA 18509
About this event
"Natural Natural Wonders" a solo exhibition of new nature inspired mixed media, digital collage, traditional collage, and works on paper by artist Sue Jenkins.
Opening Reception: January 28, 2023 @ 2-5 p.m.
Gallery Talk: THURSDAY February 2, 2023 @ 2 p.m.
Exhibition Dates: Jan 28-Mar 10, 2023
Works are colorful, at times abstract, with a sprinkling of mystery, a dash of solitude, and a touch of surrealist whimsy. Using elements like scanned objects, handmade marks, botanical illustrations, acrylic paints, and cut paper with her photos, the artist crafts richly layered nature inspired worlds filled with plants, animals, and vibrant color. Collectively, the works echo the artist's biophilic yearning to make work that inspires others to embrace earth and live in harmony with all of nature.
Works will remain on view from January 28-March 10, 2023. Included in the exhibition are digital collage prints on canvas, poster prints, reproductions of works on paper, mixed media collage, mixed media on wood panels, and an art/poetry book reclamation project.
Follow the artist on Instagram at https://www.instagram.com/luckychair/
----------------------------------------------------------------------------
The Suraci Gallery is located on the second floor of the Shields Center for Visual Arts (Bldg 13 on the campus map), Marywood University, 2300 Adams Avenue, Scranton, PA 18509
Download a campus map: https://www.marywood.edu/safety/parking/Marywood-University-Campus-Map.pdf
For further information, message the artist here or email gallery@marywood.edu or call 570-348-6278.
This event is FREE and OPEN TO THE PUBLIC. All are welcome.
----------------------------------------------------------------------------
Huge THANK YOU from the artist to everyone who came out to the Opening Reception of Natural Natural Wonders at Marywood U!
FREE Gallery Talk: Thur Feb 2 @ 2-3pm
For more photos of the Opening Reception, visit🌿 https://www.facebook.com/events/681739626940935/682800933501471
#Scranton #PA #NEPA #Art #SueJenkins #NaturalNaturalWonders