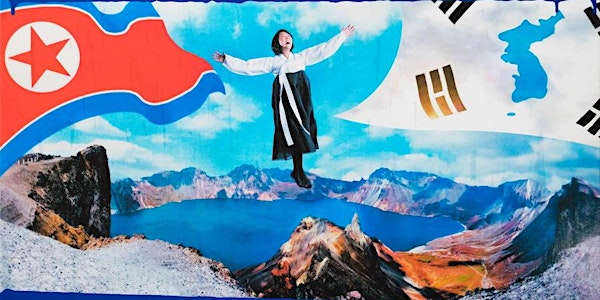 Gallery Talk: Haunted Koreas
Artist Mina Cheon and Critical Theorist Avital Ronell present on the exhibition "Haunted Koreas"
When and where
Location
American University Museum at the Katzen Arts Center 4400 Massachusetts Avenue Northwest Washington, DC 20016
About this event
Artist Mina Cheon and Critical Theorist Avital Ronell will discuss the exhibition "Haunted Koreas" in a gallery talk scheduled for
Saturday, 2:00- 4:00 pm
South Korean new media artist Mina Cheon works for Korean unification with her North Korean alter ego counterpart, Kim Il Soon, through "asynchronous communication." Crossing borders by sending and receiving art between North and South Korea, the artist brings the remnants of her global activism by sharing the recent works from the Inaugural Asia Society Triennial and The Korea Society in New York, respectively, between 2020 and 2021, as a comprehensive solo show for the Alper Initiative for Washington Art at the American University Museum in Washington, DC. The guiding exhibition text, "The History of a Paradoxical Incorporation," by critical theorist Avital Ronell contextualizes the haunted Koreas and the artists' protest for peace.
"Cheon breaks into forbidden territory, a no man's land—certainly a no-woman's land—of contested sovereignty. She slips into No. Korean territory, and recedes back to So. Korean haunts in camouflage, be it as a secretive convoy of art historical teaching or in roguish disguise, as one of "them." Thus her deliberate misappropriations of propagandistic iconography sometimes simulate adherence to an opponent's claims, switching up cues of politically coded assumptions and the righteous bullet points of human rights advocacy. The work attracts a riot of controversy that secretly targets the heart of a dilemma, an ambivalence shared by many who cannot choose sides, yet must choose sides, living in the tensional structure of division, asymmetrically apportioned."
— Avital Ronell
This event will be held in-person at the museum. Learn more about the exhibition.
Image: Mina Cheon (Kim Il Soon), Umma Rises: Towards Global Peace, 2017. Custom IKB blue dip painting on archival digital print on canvas, 30 x 40 in. Courtesy of Mina Cheon Studio.