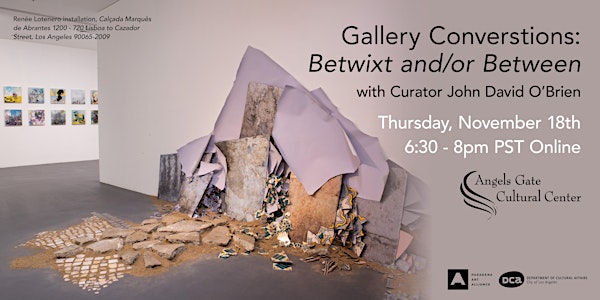 Gallery Conversations: Betwixt and/or Between
Live Artist Discussion and Q&A
About this event
Gallery Conversations: Betwixt and/or Between
Join us for a virtual discussion featuring curator John David O'Brien and the exhibiting artists on Thursday, November 18th from 6:30pm-8pm, Pacific Time online.
Betwixt and/or Between is organized by John David O'Brien, and includes works by Nena Amsler, Fatemeh Burnes, Mark Steven Greenfield, Renée Lotenero, John David O'Brien, Pam Posey, Shirley Tse, Alexis Zoto, and Ismael de Anda III in collaboration with Eugene Ahn.
The artists in this exhibition regularly transit between different worlds, be they inherited, imposed, physical, or philosophical. Betwixt and/or Between seeks to illuminate how these different vital points are connected within the artists, their practice, and ultimately the viewer. Art communicates by unfolding itself into our conscious and unconscious awareness – suggesting that meaning cannot be universally prescribed, as art resides in intersecting spaces of in-between. The artists' work wrestles with this complexity in painting, installation, drawing, sculpture and digital art. This exhibition explores interlocking sets of deliberations that range from formal to stylistic, narrative to personal, and sociological to historical, inviting the viewer into considerations that go beyond the surface.
Betwixt and/or Between is currently on view through December 11th at Angels Gate Cultural Center. More information about the exhibition and AGCC can be found at angelsgateart.org.
Betwixt and/or Between is made possible with generous support from the Pasadena Art Alliance and Department of Cultural Affairs, City of Los Angeles.