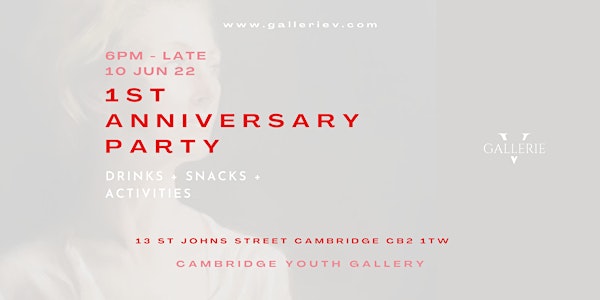 GALLERIE V's FIRST ANNIVERSARY PARTY
Location
GALLERIE V
13 Saint Johns Street
Cambridge
CB2 1TW
United Kingdom
On the 10th of June 6-8PM, we celebrate one year since GALLERIE V's opening. Food and drink, live drawing and guest speakers.
About this event
OUR STORY
Gallerie V is a unique and innovative gallery located in Cambridge.
Our mission is to support, inspire, and educate the local youth art community by providing a platform for them to express their creativity.
We aim to provide an environment for teen and young adult artists who would not normally have the opportunity to display their artwork to the public.
NOT FOR PROFIT
Gallerie V is a not-for-profit space encouraging young artists from the local area to exhibit, experience and contribute to the local arts community.
WHERE ARE WE?
Located in downtown Cambridge, our gallery is in an area that prioritises education, innovative thinking, and of course, the arts. Gallerie V is nestled in the heart of a town full of young aspiring individuals and in a location where millions of people flock each year.
We showcase artwork of many types of mediums and genres. We look forward to displaying a variety of quality pieces.
Our purpose is to bring together young artists and create a community which inspires individuals to unleash their creative potentials. We bring in various guest speakers and artists to educate and motivate individuals on many artistic topics.
We hope to give our artists a sense of accomplishment and pride in their work.