Location
Hilton Dallas Southlake Town Square
1400 Plaza Place
Southlake, TX 76092
Description
---
Saturday, May 20th @ 8:00am-5:00pm & Sunday, May 21st @ 8:00am-5:00pm
---
Your transition plan is your azimuth. Straying a couple of degrees over a stretch of years can result in broken relationships, crushed dreams, financial ruin, lack of purpose, and despair. The longer you spend off-azimuth, the harder it is to get back – but it's never impossible.
We are excited to offer our second seminar and we've rallied some of the brightest minds that have served our men and women in their transition process. We set out on a mission to bring people together and equip them with the necessary tools to transition successfully. This seminar is for any service member that is separating within two years, or a veteran that is still in a transitional period.
Join us for TWO days of networking, and gain the tools to help each other succeed in our next mission.
---
ACCOMMODATIONS
Hilton Hotel - Stylish Sophistication and Texas Hospitality
Hilton Dallas/Southlake Town Square is surrounded by over 200 high-end specialty stores, restaurants, and entertainment venues in the award-winning Southlake Town Square. You're minutes from the entire metroplex! At the hotel, you'll find a spa, outdoor pool, 24-hour fitness center, a great restaurant, as well as inviting rooms. And, with famous Texas hospitality at every turn, you'll be sure to feel right at home!
*Use code RAID19 for block room discount rates. Limited space available. Must book by April 27th. Use this link for booking.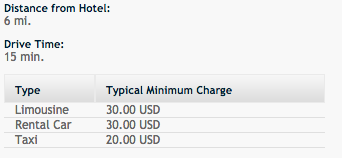 Secondary Hotels
Cambria Southlake DFW - 2104 E State Highway 114, Southlake, TX, US, 76092 / +1 (817) 329-1010
The CAMBRiA Southlake DFW North is an upscale hotel that is thoughtfully designed for how you work, but also how you play. Come get the best of both worlds in Southlake.

Please click here for the Block Room Rate of $119.00/night (limited rooms available). Must book by April 27th. Breakfast buffet add-on available for $14.95 per person. Complimentary shuttle to Southlake Town Square is available - Please schedule with hotel in advance.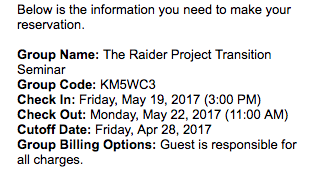 QUESTIONS: Contact us at RPsupport@raiderproject.org or call (910) 803-2159
---
Parking:
Parking Garages: Free and plentiful parking is available in the East and West Garages of the shopping center. These are centrally located on the property north of Town Hall by Harkins Theater and the Hilton Hotel.
Street Parking: Guests are welcome to park in open spaces available street side as well as the many parking lots available throughout Town Square.
Things to do:
Southlake Town Square - Shopping, Restaurants, Movie Theatre & more!
Southlake Town Square is a unique, open-air lifestyle shopping district with more than 120 shops and dozens of fine restaurants in the Dallas-Fort Worth Metroplex whose reputation has been recognized throughout the country. Nestled in the heart of Southlake and within minutes of the DFW International Airport, shoppers can experience a place where today's best brands in fashion and retail meet the charm of a timeless Town Square.
Traditional to contemporary offerings and amenities can be found throughout the 130-acre Town Square. Shoppers can celebrate with friends and savor the diverse options of fine and casual dining. Quaint boutiques to couture clothiers, fine jewelry, an Upscale Hilton Hotel, Harkins Cine Capri Theater, and beautiful water fountains and green space parks are just a glimpse of what makes up the atmosphere of the well-loved shopping district.
The Town Square is kept lively with a year-round calendar of music and special events, including Oktoberfest and the nationally ranked Art in the Square events.
---
RAIDER PROJECT TRANSITION SEMINAR SCHEDULE - TBA
Complimentary breakfast items & lunches are included in the cost of registration.
DAY 1:
8:00 AM: REGISTRATION
9:00 AM: OPENING REMARKS
9:15 AM: NICK KOUMALATSOS, DIRECTOR OF RAIDER PROJECT - 7 STAGES OF TRANSITION
10:00 AM: ALI GILBER, FOUNDER OF METABOLIC GOLF - OPTIMIZING HORMONAL OUTPUT
10:45 AM: DR. JIM RICHARDS, DOCTOR/AUTHOR - UNDERSTANDING YOUR BEHAVIOR
11:45 AM: LUNCH - Q&A PANEL
1:00 PM: KIRK WEISLER, CHIEF MORALE OFFICER - PERSPECTIVE
1:45 PM: JAY FAIN, DIRECTOR OF OPERATIONS, DOI - PERSEVERANCE THROUGH ADVERSITY
2:30 PM: BLAYNE SMITH, EXECUTIVE DIRECTOR, TEAM RWB - INTEGRITY
3:15 PM: GARETT BISCHOFF, CHIEF EDUCATION LIAISON, SONORAN DESERT INSTITUTE - WRAP UP
3:35 PM: BREAK
3:35 - 5:00PM: BREAKOUT SESSIONS
DAY 2:
9:00 AM: OPENING REMARKS
9:15 AM: KARL MONGER, FOUNDER & EXECUTIVE DIRECTOR OF GALLANTFEW - STAYING ON AZIMUTH
10:00 AM: CHRIS FRANKEL, DIRECTOR OF PROGRAMMING TRX - PERFORMANCE & RECOVERY
10:45 AM: SEAN SILVERA, OWNER OF BAPTISTE YOGA - BALANCE AND STRESS RELIEF THROUGH YOGA
11:45 AM: LUNCH - Q&A PANEL
1:00 PM: DR. CAGAN RANDALL, FOUNDER OF CEREBRUM HEALTH CENTER - BRAIN HEALTH
1:45 PM: NICK BARE, OWNER, BARE PERFORMANCE NUTRITION
2:30 PM: DOC ASHBY, AUTHOR OF PATRIOT HEART PRESS - WRAP UP
3:30-4:30 PM: BREAKOUT SESSION
---
To Donate or Become a Sponsor at the Event
The Raider Project is accepting donations for the 2017 Transition Seminar! Please click on the link to be directed to our online donation page: Crowdrise Fundraiser for Transition Seminar
If you would like to become a sponsor and have a booth at this year's seminar, please see the information below. You may also email Jamie at RPsupport@raiderproject.org.