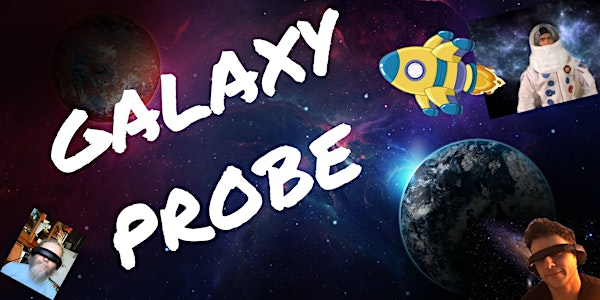 Galaxy Probe Returns (Season 2) by ADEJ
The space journey from the perspective of the bookkeepers, busboys, and unnamed others that make it possible. A space Dramedy by ADEJ.
About this event
The story of those that make the Bold Adventure possible.
Galaxy Probe is the story of those that make the journey possible. Whether it is the crew of the Space Tug or the staff of the Space Liner - this is the other side of the story.
The less famous and less glamorous side.
The story of space exploration told by the everyday people that make it possible.
ADEJ brings the excitement, laughs and everyday reality of the Space Adventure to Zoom.
From past shows:
Cynthia K.: Bravo!
Michael L.: Thanks! That was fun.
Cliff W. to All panelists : Awesome!
Candace : Very fun!
Deborah B.: Thanks to all! Fun!!
Jacqueline : cool!
AAUW: Thank you enjoyed the show!
kbb1554: Enjoyed it
Featuring the cast of ADEJ and guest performers.
A different kinda show for different kinda times. Note - please be prepared to laugh at the absurdity, be intrigued by the mystery and excited by the emotional drama.
Come with ADEJ as they grudgingly smash the alarm clock, get out of bed, and run to another day on the Galaxy Probe.
Sorry about the bad coffee.
But more importantly...
Where do you take your smoke break on a spaceship?
FAQs
Show link is sent one hour before the show begins.