"Galateo: Or the Rules of Polite Behavior"

Thursday, May 7, 2015 from 6:00 PM to 8:00 PM (CDT)
Event Details
"Galateo: Or the Rules of Polite Behavior"
  Presented by editor and translator M. F. Rusnak, in conversation with Professor Armando Maggi, University of Chicago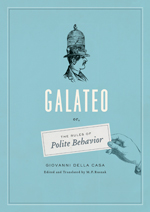 Thursday, May 7th at 6pm
Italian Cultural Institute
"Galateo: Or the Rules of Polite Behavior" (University of Chicago Press, reprint edition October 2014) is a treatise on polite behavior written by Giovanni Della Casa (1503–56) for the benefit of his nephew, a young Florentine destined for greatness.

In the voice of a cranky yet genial old uncle, Della Casa offers the distillation of what he has learned over a lifetime of public service as diplomat and papal nuncio. As relevant today as it was in Renaissance Italy, Galateo deals with subjects as varied as dress codes, charming conversation and off-color jokes, eating habits and hairstyles, and literary language. In its time, Galateo circulated as widely as Machiavelli's Prince and Castiglione's Book of the Courtier. Mirroring what Machiavelli did for promoting political behavior, and what Castiglione did for behavior at court, Della Casa here creates a picture of the refined man caught in a world in which embarrassment and vulgarity prevail. Less a treatise promoting courtly values or a manual of savoir faire, it is rather a meditation on conformity and the law, on perfection and rules, but also an exasperated—often theatrical—reaction to the diverse ways in which people make fools of themselves in everyday social situations.
M. F. Rusnak is a translator, professor, and writer. He lives in Princeton, New Jersey, and Florence, Italy
Armando Maggi is Professor of Italian Literature and the Committee on the History of Culture, as well as the Italian undergraduate adviser at the University of Chicago. His scholarship focuses on two major areas: early modern culture (Renaissance philosophy and demonology, love treatises, art of memory, women writers, female mysticism, Renaissance emblems, baroque culture) and contemporary culture. He is the author of many books, including "Preserving the Spell" (July 2015, University of Chicago Press),  "The Resurrection of the Body: Pier Paolo Pasolini from Saint Paul to Sade (University of Chicago Press, 2009), "In the Company of Demons. Unnatural Veings, Love, and Identity in the Italian Renassiance (University of Chicago Press, 2006), as well as the first critical edition of Lucrezia Marinella's hagiography on St. Catherine of Siena titled "De' gesti heroici" (Ravenna: Longo, 2012).
Presented in collaboration with the Italian Cultural Institute of Chicago and the University of Chicago Press.
This event is free and open to the public.  A reception will follow.
When & Where

Italian Cultural Institute
500 N Michigan Avenue
Suite 1450
Chicago, IL


Thursday, May 7, 2015 from 6:00 PM to 8:00 PM (CDT)
Add to my calendar
Organizer
Italian Cultural Institute of Chicago
500 N Michigan Ave., Suite 1450
Chicago, IL 60611
Currently active in all the major cities of the five continents, the ninety Italian Cultural Institutes serve as an ideal meeting place for intellectuals, artists, and cultural operatives, as well as for ordinary citizens, both Italian and foreign, who wish to establish or maintain a relationship with our country. By acting not only as a showcase and source of current information on Italy, but also as a driving force behind initiatives and projects of cultural cooperation, the Italian Cultural Institute has become a focal point for both the Italian communities abroad and the growing demand for Italian culture throughout the world.

By extending the role of Embassies and Consulates, the Italian Cultural Institutes offer the most effective tools for promoting a worldwide image of Italy as a center of production, preservation, and dissemination of culture from the Classical Age until today. Along with organizing cultural events in a vast array of areas, including art, music, cinema, theatre, dance, fashion, design, and photography, the Italian Cultural Institutes:


Offer the opportunity to learn Italian language and culture through the organization of courses, the management of libraries and the preparation of educational and editorial materials;
Provide the networks and the premises to facilitate the integration of Italian operators in the process of cultural exchange and production at an international level;
Provide information and logistic support to public and private cultural operators, both Italian and foreign;
Continuously support initiatives aimed at promoting an intercultural dialogue based on the principles of democracy and international solidarity.