Description
RKNet Studios & Aary Films Invite you to the USA Premiere of:
"Pyar Mein Kyun"
www.pyarmeinkyun.com | www.facebook.com/PyarMeinKyun
Produced by: Anant Goel, Anurag Jain and Ritesh Parikh
Written/Directed by: Hyder Bilgrami
|On September 25th at the Silas Theater in Manhattan, NYC|
Come Walk the Red Carpet and bask in the Media frenzy !
Feel the glitz and Be a Part of the Glamor !
Experience what it feels like to be a Star !!!
Dress Code:
Men: Black-Tie Optional (Suits or Sherwanis)|Ladies: Formal Indian or American Dresses

About the Film:

Official Film Trailer: http://youtu.be/jn5iflpypS8
Pyar Mein Kyun is the story of Sarah and Abhay, who use their natural charm and beauty to attract each other for reasons other than love, then genuinely fall in love head over heels or do they? Do they live happily thereafter? Romance may have run its course but does the love that develops between Sarah and Abhay stay alive? Does it thrive in the hopes of a happier ending to the romantic thriller? Will Pyar Mein Kyun ultimately be about triumph or tragedy?
Pyar Mein Kyun is a roller-coaster romantic thriller that will make you laugh, make you cry and have you on the edge of your seats!
CAST:
Obaid Kadwani, Khatera Hakimi, Sonny Chatrath, Deena Safi and Michael Dean
Music From theAlbum of VICKY KOHIL, RAZA WAQAR MIRZA OF ARSH THE BAND
TITLE SONG BY UZAIR KHAN, DHEEMA HAWA BY TRISHNA AMIN
DOP/EDITOR HYDER BILGRAM ASSOCIATE DIRECTON SUHIR PONNNCCHAMY
OPERATIVE CAMERMAN AND CHIEF ASSISTANT DIRECTON AJAY LOKA REDDY
GAFFER PRAVEEN ELANKUMARAN, CHEOGRAPHER VIRGO
CASTING DIRECTOR RITA POWERS AND RITESH PARIKH WARDROBE STYLIST SAMINA MUGHAL
MAKE-UP NATASHA KHAN HAIR STYLIST CONNIE J.POONAI
MEDIA AND PUBLICITY NUTAN KALAMDANI, GRAPHIC AND WEB DESIGN SHANKAR GADUPUDI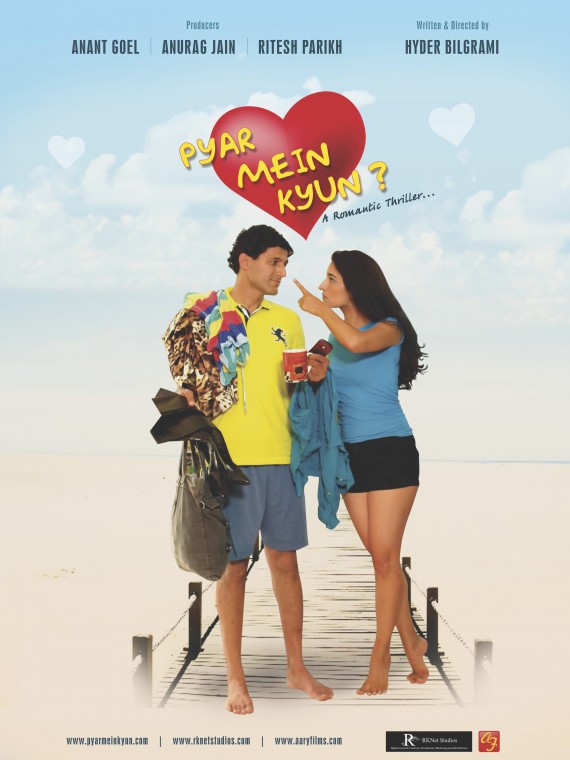 All Media Inquiries Contact: Nutan Kalamdani at nutan@cineviews.com
Other Inquires: Anant Goel: 732-224-0445 or Ritesh Parikh: 732-742-6621
abgoel@rknetstudios.com or ritesh@aaryfilms.com
A portion of the proceeds benefit A Slice of Hope. www.asliceofhope.org
<script type="text/javascript" src="http:/