Gala Opening Concert "Composers in New York"
Description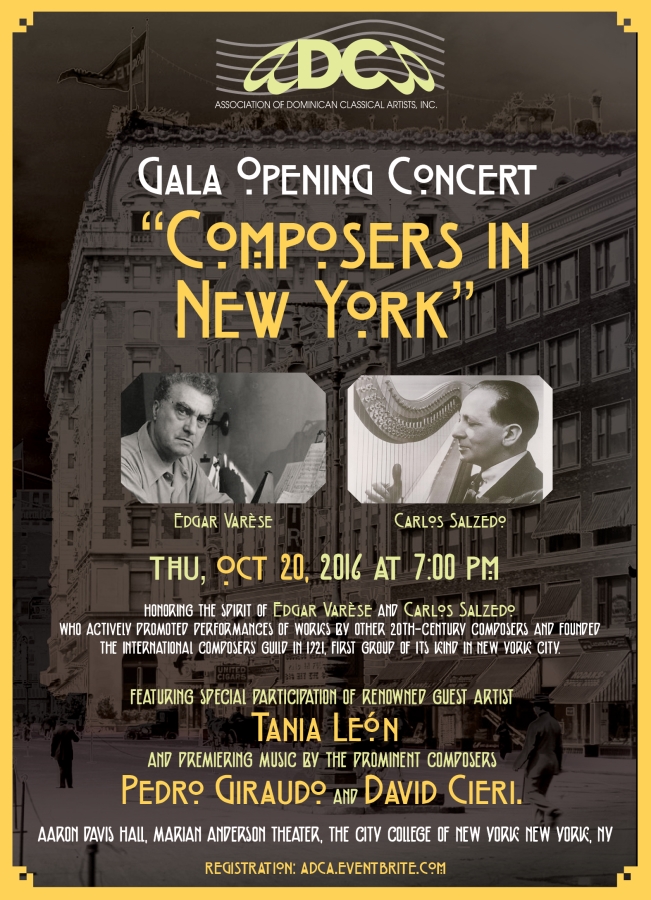 Honoring the spirit of Edgar Varèse and Carlos Salzedo who actively promoted performances of works by other 20th-century composers and founded the International Composers' Guild in 1921, first group of its kind in New York City. ADCA's Gala Concert, perform music written by composers that at some point in their lives were influenced by our great city. 
For the Gala Concert we will count with the special participation of renowned guest artist Tania León and the prominent composers Pedro Giraudo and David Cieri.
Tania León is a Cuban-born composer and conductor who is also an educator and advisor to arts organizations. She has been guest conductor with the Beethovenhalle Orchestra, Bonn, the Gewandhausorchester, Leipzig, the Santa Cecilia Orchestra, Rome, the National Symphony Orchestra of South Africa, Johannesburg, the Netherlands Wind Ensemble, the Netherlands, and the New York Philharmonic, among others.
-
Honrando el espíritu de Edgar Varèse y Carlos Salzedo quienes activamente promocionaron trabajos de otros compositores del siglo 20. Al mismo tiempo fundadores de el "International Composers' Guild" en 1921, siendo el primer grupo de su género en la ciudad de Nueva York. En este concierto gala la Asociación de Artistas Clasicos Dominicanos se enorgullece en presentareles música escrita por compositores que en algún tiempo de sus vidas fueron influenciados por esta gran ciudad. 
En este concierto contaremos con la participación especial de la artista invitada Tania León y los destacados compositores Pedro Giraudo y David Cieri.
Tania León es una reconocida compositora y directora de orquesta de origen cubano, también un educadora y asesora de organizaciones en el arte. León ha sido directora invitada de la Orquesta Beethovenhalle, Bonn, la Gewandhaus de Leipzig, la Orquesta Santa Cecilia, Roma, la Orquesta Sinfónica Nacional de Sudáfrica, Johannesburgo, Conjunto de Viento en los Países Bajos, los Países Bajos, y la Filarmónica de Nueva York, entre otros.