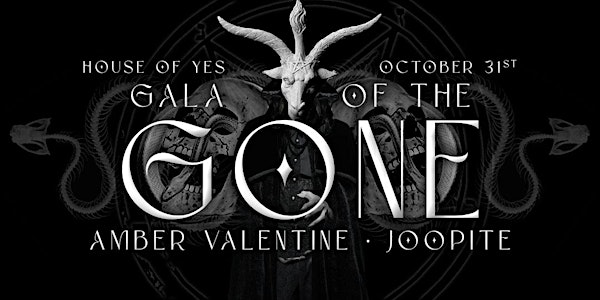 GALA OF THE GONE with Amber Valentine & Joopiter | Halloween
On this Halloween night, the veils are thinnest, the spirits are near and our perceptions are clear. Halloween
When and where
Location
House of Yes 2 Wyckoff Avenue Brooklyn, NY 11237
About this event
Light the candles, burn the fires, dance macabre. Dance for those who have passed and those yet to come. Honor this precious life, the afterlife and everything in between.
: : : LOOKS REQUIRED FOR ENTRY : : :
timeless spirits. healers and heathens. goddexx of the gone. past, present, future fantasies. be your best self. inspire and delight. death and decadance. light up the night. See inspiration HERE.
: : : MUSIC : : :
: : : EXPERIENCES: : : libations & lounges · altars & offerings · seances & spectacles · blessings · healings & holistic happenings · tarot · performance art macabre ·
21+ | No Re-Entry
YES, we have tables!- contact Reservations@houseofyes.org to book yours 🍾
Subscribe to our email list for first access to events & tickets: bit.ly/YESEMAILS
* * * SAFER SPACES POLICY * * *
House of Yes is a space for everyone to feel welcome. We have a zero tolerance policy for harassment, unwanted touch, and discrimination. Always ASK before touching anyone at our events. If someone is making you uncomfortable, speak to a security guard or ask for a manager. We will believe you, and we will help. All restrooms in our venue are gender neutral. The entrance to the venue is ADA accessible. Strobe lights are used during performances and parties. Find out more at houseofyes.org/SAFER