Gala Evening Reception and Dinner with UN Secretary General Ban Ki-moon
Actions and Detail Panel
Gala Evening Reception and Dinner with UN Secretary General Ban Ki-moon
Sun, December 18, 2016, 6:30 PM – 10:00 PM EST
Description
Please mark your Calendars NOW for this historic Rotary Club of New York #6 Event!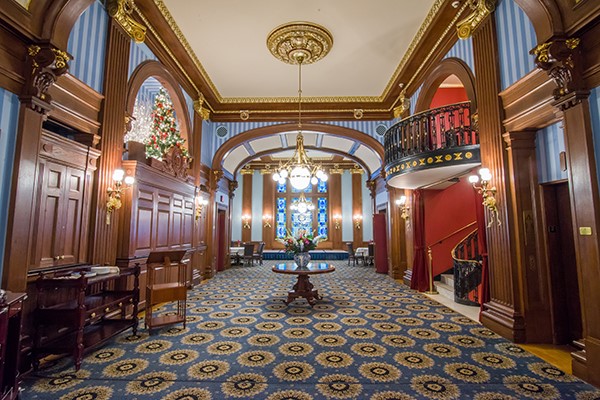 Meet UN Secretary General Ban Ki-moon
Join your fellow RCNY members, guests and friends of our club, at a Gala Evening Celebration and meet Ban Ki-moon, Eighth Secretary-General of the United Nations. The event will be held at the historic Penn Club on Sunday, December 18, 2016 beginning with a Reception at 06:30 pm followed by Dinner at 07:30pm.
We have limited seating, so please reserve as soon as possible. Any questions please reach out to our Executive Director Andreas Runggatscher at executivedirector@nyrotary.org

The Penn Club on West 44th Street

---
Our Gala Evening with Secretary General Ban Ki-moon has a limited number of places.
Please make your reservations early.

---
About Secretary General Ban Ki-moon

Ban Ki-moon (born 13 June 1944) is a South Korean statesman and politician and the incumbent Secretary-General of the United Nations. Before becoming Secretary-General, Ban was a career diplomat in South Korea's Ministry of Foreign Affairs and in the United Nations. He entered diplomatic service the year he graduated from university, accepting his first post in New Delhi, India.

Ban was the foreign minister of South Korea from January 2004 to November 2006. In February 2006 he began to campaign for the office of Secretary-General. Ban was initially considered to be a long shot for the office. As foreign minister of South Korea, however, he was able to travel to all the countries on the United Nations Security Council, a maneuver that turned him into the campaign's front runner.

On 13 October 2006, he was elected to be the eighth Secretary-General by the United Nations General Assembly. On 1 January 2007, he succeeded Kofi Annan. As Secretary-General, he was responsible for several major reforms on peacekeeping and UN employment practices. Diplomatically, Ban has taken particularly strong views on global warming, pressing the issue repeatedly with U.S. President George W. Bush, and on the Darfur conflict, where he helped persuade Sudanese president Omar al-Bashir to allow peacekeeping troops to enter Sudan.

Ban was named the world's 32nd most powerful person by the Forbes list of The World's Most Powerful People in 2013, the highest among South Koreans. In 2014, he was named the third most powerful South Korean after Lee Kun-hee and Lee Jae-yong. António Guterres was appointed by the General Assembly on 13 October 2016 to be the successor of Ban Ki-moon once he steps down on 31 December 2016.