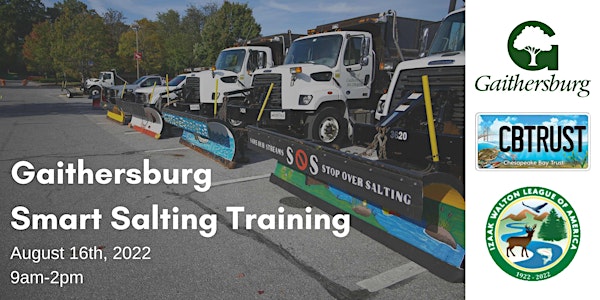 Gaithersburg Smart Salting Training - Parking Lots and Sidewalks
Individual road salt applicators and business owners learn best practices to reduce their salt use while maintaining safety.
About this event
This training will help management-level property managers, applicators, and local government decision-makers learn how to save money and protect water resources using less salt and still maintain safe paved surfaces. The tons of salt used every year to manage snow and ice damages infrastructure and vegetation and pollutes our lakes, streams and groundwater.
Smart Salting training helps improve salt applicator effectiveness and reduce chloride pollution while keeping roads, parking lots, and sidewalks safe. Participating organizations have been able to reduce their salt use by 30 to 70%. And the training has been shown to prevent chloride contamination in bodies of water.
This training has been adapted for Gaithersburg, Maryland from the renowned Smart Salt training in Minnesota, implemented by Fortin Consulting Inc., now Bolton & Menk, Inc. Attendees will learn invaluable information on how to properly salt sidewalks and parking lots to maintain safety, save money, and reduce salt use. After the training, attendees will earn a "Gaithersburg Smart Salt Business" plaque to display.
This project is funded by the City of Gaithersburg and the Chesapeake Bay Trust as part of Winter Salt Watch.