Description
Join us for a Networking Luncheon and C.E. Event on
"G.A.I.N.S. – Getting Along in Society: A program- Based Model for Improving The Interpersonal & Life Skills of Individuals"

Presented by Carol P.M. Tyler, Psy.D.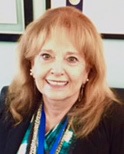 About the Speaker, Dr. Carol Tyler is a Forensic Psychologist transplanted from Canada to Hawai`i, recently landing in California. Early in her career she assisted in opening the first AID's clinic shaping her future passion for working with the underserved. Dr. Tyler's experiences working in the corporate world prior to completing her doctorate contributed to developing her unique view of program development and delivery of services in the mental health field. During her 28 years living in the islands, Dr. Tyler built a private practice focused on working with adolescents and adults from many different cultures, specializing in trauma, sexual abuse, and the severely mentally ill, with a strong concentration in the judicial system.
Course Abstract, Based on the teaching family program developed through the University of Kansas, the G.A.I.N.S. program trains residential counselors in group home treatment procedures, remedial education techniques, juvenile law and the organization of semi-self-government for the youths and community relations. The program is designed to provide maximum instruction and feedback to youths when they are first placed in a residential program and then, as the youths develop skills and self-control, the structured elements of the program are reduced and replaced by a more natural set of feedback conditions. As the youths accomplish the behavioral goals of the program, they and their guardians are prepared for the youths' return to the natural home.
Course Objectives, At the conclusion of the workshop, the attendee will be able to:
Explain the philosophy and the key components of the G.A.I.N.S. program

Explain appropriate and inappropriate behaviors as defined by the program

Explain the purpose, function and use of the daily, weekly and merit systems

Event Schedule:
11:30 a.m. - 12:30 p.m.: Registration & Lunch
12:30 p.m. - 1:30 p.m.: Presentation


For additional information, please contact Jeanette Lisalda | j.lisalda@sovhealth.com | 949-304-3362
---


Continuing Education is approved by:

National Association for Alcoholism and Drug Abuse Counselors (NAADAC) No. 130835 for ( 1 ) Contact Hour.
The California Association for Marriage and Family Therapists (CAMFT) No. 130763 for ( 1 ) Contact Hour.

Provider approved by CCAPP-El, Provider Number 1N-16-254-0818 for ( 1 ) Continuing Education hour.

Sovereign Health Group has been approved by NBCC as an Approved Continuing Education Provider, ACEP No. 6752 for ( 1 ) Contact Hour. Programs that do not qualify for NBCC credit are clearly identified.
Sovereign Health Group is solely responsible for all aspects of the programs.
Please check with your respective boards for their acceptance of these credits.
Queries regarding CE Certificate can be addressed to the Director of Training and Education at y.wilson@sovhealth.com or j.lisalda@sovhealth.com.
ADA accommodations: If you require ADA accommodations, please contact our office at least 7 days in advance of the event so that we can ensure accommodations are made.
There is no commercial support for this program nor are there any relationships between the CE Sponsor, presenting organization, presenter, program content, research, grants or other funding that could reasonably be construed as conflicts of interest.