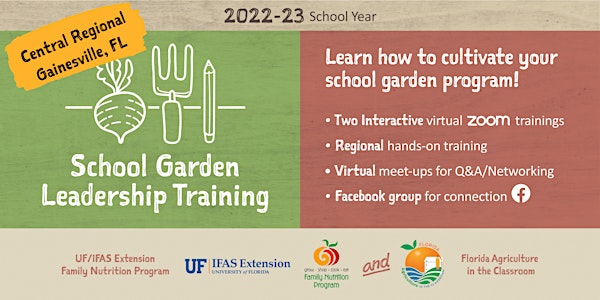 (Gainesville) FL School Garden Leadership Training - Central Workshop
A hands-on training and networking experience to equip school garden leaders in the Central region of FL for success!
When and where
Location
Alachua Farm to School to Work Hub 2802 NE 8th Avenue Gainesville, FL 32641
About this event
Florida Agriculture in the Classroom and UF/IFAS Extension Family Nutrition Program are excited to continue hosting a series of virtual and in-person School Garden Leadership Trainings for the 2022/2023 school year. These training and networking experiences are designed for Florida school garden leaders of all levels to build gardening confidence, foster collaboration among stakeholders, and strengthen garden programs for long-term success. We are proud to partner with local school districts and school garden support organizations to make these events possible!
----------------------------------------------------------
EVENT DETAILS
Join us on as we offer strategies for managing your school garden program this season. Together we will learn how to hold a successful tasting event or harvest celebration with students during the school year.
Together, we'll explore...
Foundations for a Sustainable School Garden Program; Growing your Garden Team with Student Engagement; Gardening with a Goal; Kid Approved Garden Crops; Planning a Harvest Party or Classroom Tasting Event
Fall Harvest Tips; Food Safety; Cooking and Eating from the Garden with Students; Nutrition Education Lessons; Integrating the Garden into School Culture; Group Harvest: Event Planning Ideas + Group Sharing
Who should attend? This experience is designed for direct K-12 educators, Food and Nutrition Services staff who are involved in school garden programming, school garden support organizations, and volunteers working with school gardens. Those engaged in gardening programs in the Early Childcare and Education setting are also welcome to attend.
Educators from surrounding school districts such as Bradford, Marion, Levy, Gilchrist, Columbia, Putnam, Union, and Clay are encouraged to attend!
Registration is limited to 60 participants. Please register today to reserve your spot and receive free garden giveaways! If you register and your plans change, please update your registration accordingly or contact us.
To register, click the red 'Register' button. For questions or assistance with the registration process, contact sponholtz@agtag.org or call (352) 846-1391.
SCHEDULE
8:00 - 9:00 | Registration
8:15 - 8:45 | (Optional) Yoga in the Garden
9:00 - 11:30 | PART I - Hands-on Gardening Skills
11:30 - 12:00 | Lunch + Networking
12:00 - 1:30 | PART II - Curricula Connections + Cooking from the School Garden
1:30 - 2:00 | (Optional) Networking, Tabling, and Resource Distribution
----------------------------------------------------------
ADDITIONAL INFORMATION
SNACKS: Coffee, tea, and light morning snacks will be available.
GIVEAWAYS: Florida Agriculture in the Classroom will provide free nutrition and garden-based curricula and other educational resources for your indoor and outdoor classrooms!
PROFESSIONAL DEVELOPMENT: CEU Credits and Certificates of completion are available.
STAY INVOLVED!
Can't join us in Gainesville? Check out our other in-person workshops this school year!
In-person workshops around the state:
SOUTH
Cape Coral | Sat. Dec 10, 2022 | Location: Island Coast Highschool | Registration closed - please contact kelly.wilson@ufl.edu to be added to waiting list.
Miami | Sat. Dec 10, 2022 | Location: Fairchild Botanic Garden | REGISTER HERE
Sarasota | TBA Feb 2022 | Location: UF/IFAS Extension at Sarasota County | Registration coming soon!
CENTRAL
NORTH
Leon | TBA 2023 | Location: TBA
Virtual webinar recordings can be found on our Youtube Playlist.

MEET THE HOSTS:
This series is brought to you by Florida Agriculture in the Classroom and the University of Florida IFAS Extension Family Nutrition Program. We are proud to partner with school districts, educators, producers, state agencies, and school garden support organizations throughout the state of Florida.
Florida Agriculture in the Classroom (FAITC) is a statewide non-profit organization that connects kids to healthy food and Florida agriculture through educational resources, teacher professional development, garden grants, and other farm to school programming. FAITC has a vision to ensure every student in PreK-12 education is aware of and appreciates agriculture and natural resources in Florida. FAITC is committed to offering technical assistance safely to schools via in-person visits and remotely during the 2022-2023 school year.
UF/IFAS Extension Family Nutrition Program (FNP) works in many counties across Florida to help limited-resource families access more nutritious food choices on a budget and adopt healthier eating and physical activity habits to reduce the risk of obesity and chronic disease. As one of Florida's SNAP-Ed providers, FNP offers direct nutrition education, technical assistance, and garden funding to schools with 50% or more Free/Reduced Lunch status.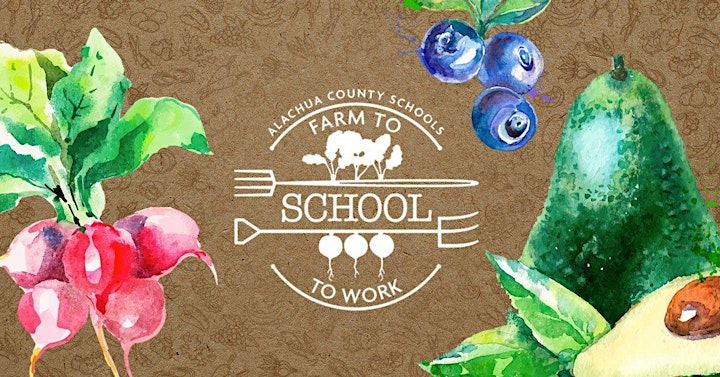 Alachua County Public School's Farm to School to Work Hub is a place where students can learn about the food system by experiencing it. A joint venture between the Food and Nutrition Department (FNS) and the Exceptional Student Education Department (ESE) of the Alachua County Public Schools, the Hub has grown into a school lunch machine, producing over 150 heads of lettuce each week for use in school salads, aggregating and packaging produce from local farms for school lunches district-wide, and operating a school garden demonstration area where students and teachers can learn to grow food for the lunchroom in their own school gardens. The Farm to School to Work Hub is working, and students are receiving valuable training in horticulture, food production, food safety, and nutrition while impacting the local food system they are learning about.