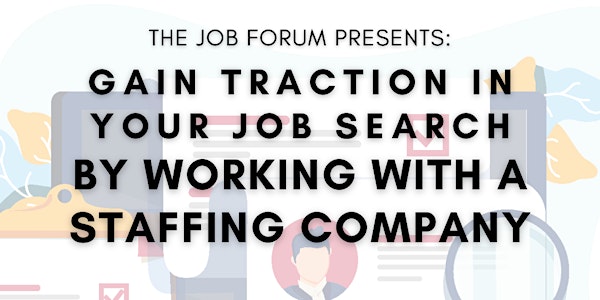 Gain Traction In Your Job Search By Working With a Staffing Company
Working with a Staffing Company Workshop
About this event
You are invited to a workshop on job hunting with help from staffing and recruiting companies
Thursday, March 1 @ 6pm.
If you are looking for a job in a technology company or in healthcare or medical support role in a health-related firm this event is for you! Come and learn how to gain more traction in your job hunt and meet staffing professionals and make useful professional contacts.
There are many advantages for job hunters to work with a recruiter and in this event you will learn how and you will meet some recruiting leaders so you have a connection to a recruiter.
This Job Forum event will have experts from a range of small to larger recruiting companies in addition to an expert on ATS (Applicant Tracking Systems) hiring technology. The event will also include break out groups with time to ask your own individual questions to staffing professionals in a smaller group setting.
Please be sure to choose which small group you would like to join when signing-up.
Topics that will be covered include:
- What do staffing or recruitment agencies do versus what company recruiters and talent managers do?
- For what roles do staffing companies typically and frequently hire?
- There is something called" temp to perm" Is this a good route for a job hunter and what do the terms used in the staffing field mean?
- What are the pros and cons of working through a staffing company?
- Why would a job hunter want to work with a staffing or recruitment agency?
- As a job hunter, how do you succeed with staffing companies and how to best present yourself and your skills to them?
- Do staffing and recruitment agencies and companies nowadays use algorithms and computers to screen and sort candidates (applicant tracking systems) and what advice is there for job hunters/what is important to do or not do given these are used?
Break out sessions:
There are many questions you may have and can cover in the small group sessions. Job hunters may feel free to ask our experts how to deal with any of the following challenges and more:
- A gap in your work history
- No industry experience
- Transferring to a new industry or role
- Lots of years of experience
- Lack of any job experience
- Idea for what role for which you "Might "be qualified
- Which job title shall you focus on?
- And anything else that is "stumping" you
When you sign up please select which breakout room session you want to join:
1. ATS Staffing Technology - implications for your resume and interfacing with the systems
2. Presenting Yourself - for positive impact on a staffing agency
3. Small & Medium Businesses - don't forget the importance of this overlooked sector
4. General Discussion - how best to work with a staffing agency or a recruiter
MAKE SURE YOU SIGN UP ON EVENTBRITE TO SELECT YOUR BREAKOUT ROOM CHOICE.
The Job Forum is the SF Bay Area's longest running job search career service. The Job Forum has been providing career and job advice for 70 years, with up-to-date job search advice and coaching directly from managers who work inside companies here in the SF Bay Area.
Please consider a donation of $10- 25. We need your support to continue our programs for job hunters.
https://thejobforum.org/donate/
By signing up, you agree to receive future emails from The Job Forum. You will be sent the zoom link and we will close the meeting after 20 minutes so please be on time. We look forward to seeing you there.