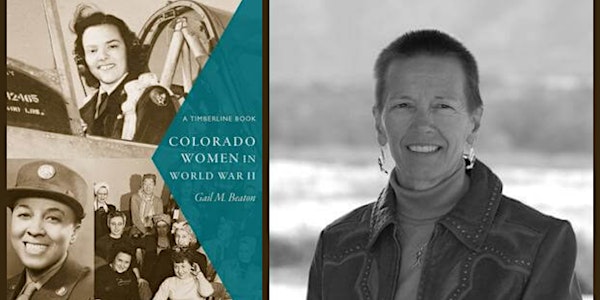 Gail Beaton "Colorado Women in World War II"
Gail Beaton sheds light on women's participation in the war through interviews, historical studies, newspaper accounts and historical photos
About this event
Old Firehouse Books is excited to be welcoming Gail Beaton to our virtual event space! We invite you to join us on Nov. 17th to hear her speak about her new book Colorado Women in World War II. Attendees will enjoy a presentation and photo slide show.
This event will be streamed live to the Old Firehouse Books Facebook page. The event is free but we do request you register in advance. This will allow us to contact you if there and changes to the event as well as to send a reminder about the event a couple days in advance.
You can purchase a copy of Gail's book on our website here.
---
Book Description:
Four months before the attack on Pearl Harbor on December 7, 1941, Mildred McClellan Melville, a member of the Denver Woman's Press Club, predicted that war would come for the United States and that its long arm would reach into the lives of all Americans. And reach it did. Colorado women from every corner of the state enlisted in the military, joined the workforce, and volunteered on the home front.
As military women, they served as nurses and in hundreds of noncombat positions. In defense plants they riveted steel, made bullets, inspected bombs, operated cranes, and stored projectiles. They hosted USO canteens, nursed in civilian hospitals, donated blood, drove Red Cross vehicles, and led scrap drives; and they processed hundreds of thousands of forms and reports. Whether or not they worked outside the home, they wholeheartedly participated in a kaleidoscope of activities to support the war effort.
In Colorado Women in World War II Gail M. Beaton interweaves nearly eighty oral histories—including interviews, historical studies, newspaper accounts, and organizational records—and historical photographs (many from the interviewees themselves) to shed light on women's participation in the war, exploring the dangers and triumphs they felt, the nature of their work, and the lasting ways in which the war influenced their lives.
---
We hope to see you at the event!
The OFB Staff