Gail Anderson: Type Play at TDC – Three Day Workshop

Friday, June 1, 2012 at 8:30 AM

-

Sunday, June 3, 2012 at 5:00 PM (EDT)
Event Details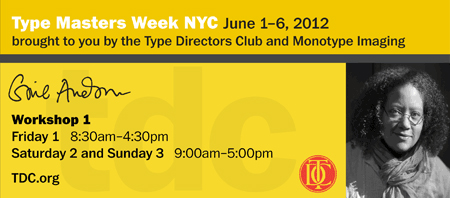 Jealous of those wonderful "type videos" you see in the TDC annual year after year? Spend a long weekend with SVA instructor Gail Anderson and her always-cheerful co-teacher, Josh Hester, and create your own short motion piece in After Effects. A basic understanding of the software is helpful, but you can amaze your colleagues and children just by making a letter move across the screen, so don't worry!
DAY 1
Morning:
 - Show videos from past Type Play classes at SVA
 - Students play audio samples, we decide which one to use
 - Students create mood boards/storyboards
Afternoon:
 - Teach students basic After Effects animation (keyframing, basic motion, lighting, basic 3D)
Assignment:
Create basic animatic (animated storyboard) for next class
DAY 2
Morning:
- Show videos from past Type Play classes at SVA
- Students present animatics, critique
- Followup After Effects lesson, answer questions, Render lesson
- Students start animating
Afternoon:
- Students continue animating
- Students render before end of class; if there is time after rendering, we will view rendered work
Assignment: Create first animation for next class
DAY 3
Morning:
- Students present animation of work so far, critique
- Students continue animating
Afternoon:
- Students complete animating
- Students render final animation
- Students show final animations
Requirements (What to bring)
1. 3 audio clips to choose from (15-30 sec in length) – nothing too slow, upbeat/humorous works best
a. audio can be from a commercial, chorus from a song, comedy sketch/stand-up, spoken word piece (the moth - http://themoth.org/, etc)
b. we will provide copyright-free audio clips for everyone if you don't have anything
c. audio doesn't necessarily need lyrics – we expect that you will create the narrative, not depend on the audio track to provide one
2. Fonts to use
3. Laptop with After Effects (oldest version of AE to be determined)
4. Sentence, limerick, poem (optional) if you prefer to animate words and use audio as soundtrack
- No images (photographs, drawings, etc) unless it's made out of type
- All final videos will be black and white
About the instructor
Gail Anderson is a New York-based designer, writer, and educator. From 2002 through 2010, she served as Creative Director of Design at SpotCo, creating artwork for Broadway and institutional theater. From 1987 to early 2002, she worked at Rolling Stone magazine, serving as designer, deputy art director, and finally, as the magazine's senior art director. 

Anderson is co-author, with Steven Heller, of the upcoming New Modernist Type, as well as New Ornamental Type, New Vintage Type, and several other design and illustration books. She is a contributor to Imprint <http://imprint.printmag.com/gail-anderson/>  and Uppercase magazine. Anderson teaches in the School of Visual Arts MFA, undergraduate, and high school design programs, and is the recipient of the 2008 Lifetime Achievement Medal from the AIGA.
Details
Date: Friday 1 to Sunday 3 June
Fees and deadlines
Early Bird (register by May 11): TDC members $595; non-members $695.
Regular Fee (register by May 30): TDC members $745; non-members $845.
Location: TDC Conference Center, 347 West 36th Street, Suite 603, New York, NY, 10018
Cancellation Policy: If you must cancel, please notify us via e-mail at director@tdc.org by Friday, May 25 2012.. Your registration fee will be refunded less $50 processing fee. No refunds will be made after this date. Based on student registration the TDC will reserve the rights to cancel the workshop.
Seating is limited. Reservations will be accepted with payment only.
When & Where

Type Directors Club
347 W 36th St
Ste 603
New York, NY 10018


Friday, June 1, 2012 at 8:30 AM

-

Sunday, June 3, 2012 at 5:00 PM (EDT)
Add to my calendar
Gail Anderson: Type Play at TDC – Three Day Workshop