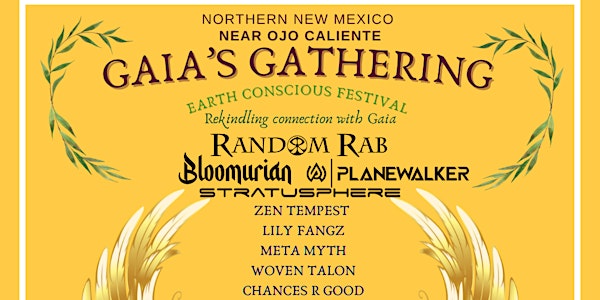 Gaia's Gathering
On August 5th-7th 2022, we will be gathering over the common cause of living in harmony with the Earth.
When and where
Location
34503 US Hwy 285 34503 US Highway 285 Velarde, NM 87582
Refund Policy
Contact the organizer to request a refund.
Eventbrite's fee is nonrefundable.
About this event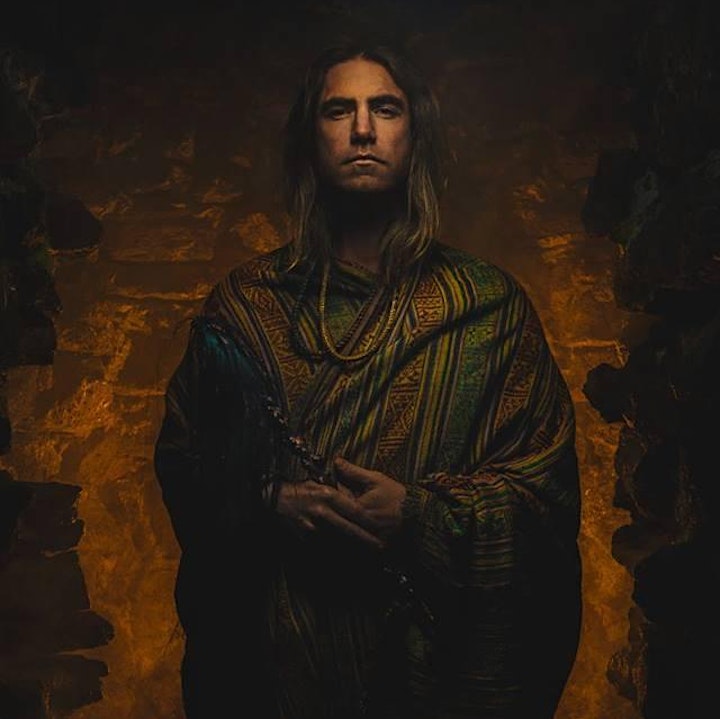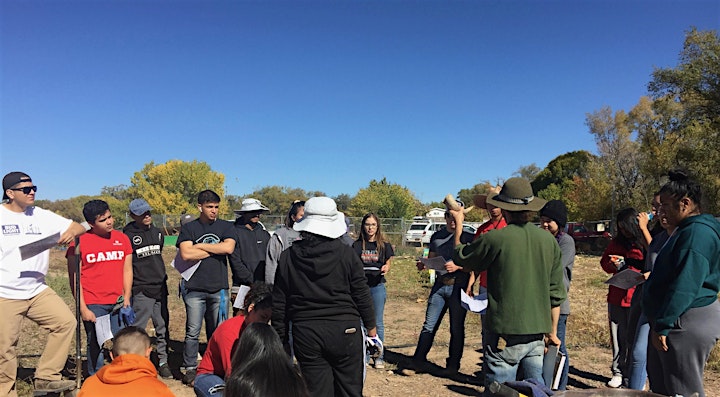 Gaia's Gathering is for all of humanity to rekindle our connection to Nature.
This transformational New Mexico based festival will be a celebration of culture and creativity. This is a Family Friendly Gathering and alcohol-free event. Offering yoga, workshops, ceremony, and music all weekend.
Camping comes with a GA pass
Parking onsite is $25
Learn More About why Gaia's Gathering is not just another Festival.
We will be gathering over the common cause of living in harmony with the Earth. By carrying this intention together our conscious unity creates a wave of possibility for all of humanity. We will come together just as the elements come together to support life. Each of us carries the power of nature and together we amplify our intention. During this gathering we will grow, evolve and elevate consciousness. We will have several projects before and during the festival to build soil and create an earthen amphitheater. From the soil to the depths of our souls we will cultivate life-giving energy.
Gaia's Gathering is a fundraiser event to support the development of a permaculture eco-village and to support local communities.
Gaia's Oasis eco-village will be yet another example of what is possible for our future. To learn more visit our website: www.GaiasOasisNewMexico.org
This gathering is to unite the people over a common cause of reunification with the Goddess of Earth, as known as Gaia. She has many names and ultimately she is the sustainer of life as we know it. She is the ground under our feet and the trees that shade us, she is the flowing rivers and towering mountains. Come to connect to the Earth and learn ways to build soil, energize your body, clear your mind and go beyond sustaining life.
Come as you are, leave transformed.
All ticket sales are final, they may be transferred with email confirmation.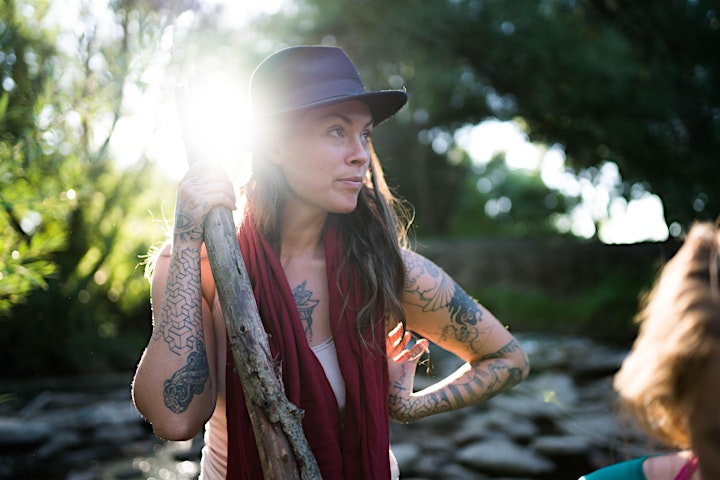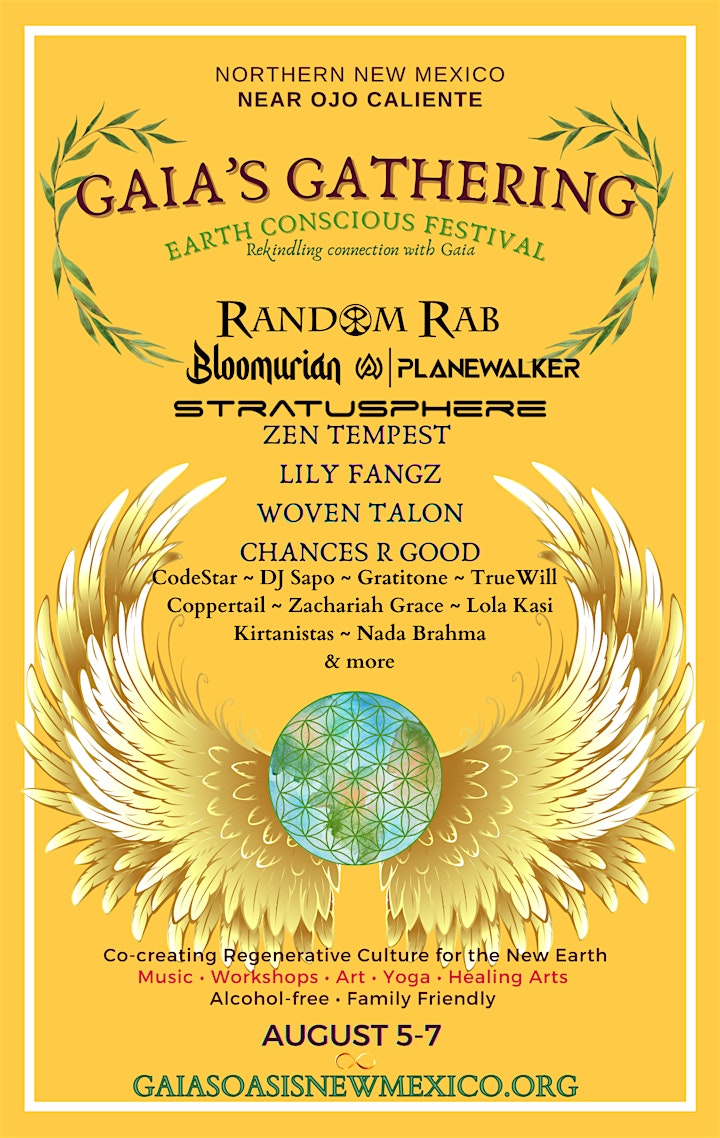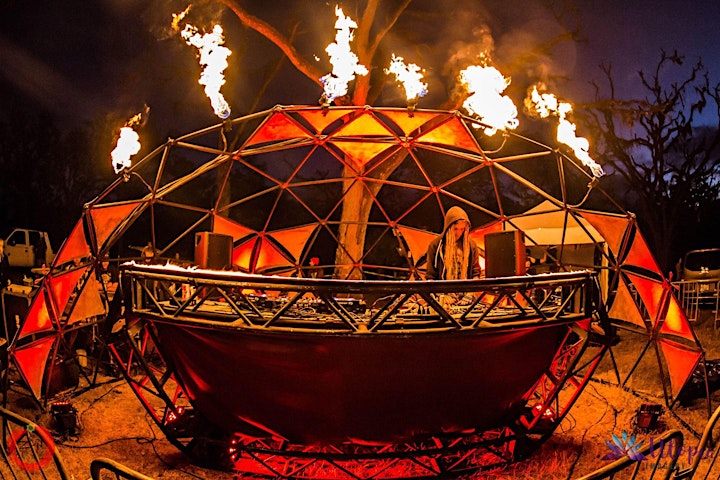 Headliners at Gaia's Gathering
Random Rab
The multi- instrumentalist and singer offers a powerful and unique contribution to the West Coast electronic music scene, with his work having diverse influences ranging from trip-hop, classical, Arabic, jazz, and more
Stratusphere
His music is just as much for the trees and spirits that inhabit these ancient lands as it is for the listeners that are physically present. A deep presence is invoked through sounds of nature and healing vibrations.
Lily Fangz
Activates those around with passion, perspective, and perhaps asking the questions that aren't posed enough. Realizing making music and art is the only thing that can quench her thirst Lily Fangz is here to sink her teeth in and invites all to join the feast of engaging with this human experience.
Planewalker
Bringing through the light codes with interdimensional tunes. A reminder that this human experience is multidimensional and we can all travel through the planes of existence.
ZenTempest
A musical master of lyrical poetry and nonphysical matter. He offers a journey through space and time. A man born in New Mexico that has traveled far and wide and comes to bless us up with his time and rhymes.
Woven Talon
An eclectic musician weaving drums, voice, and instruments from all over the world into a potent medicinal experience.
Chances R Good
A lyrical genius offering potent music to revive the soul from the slumber of whatever and jump-start the knowing in the heart that we are all one.