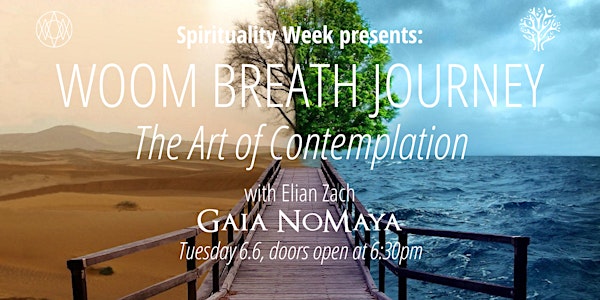 GAIA NOMAYAxWOOM CENTER: WOOM BREATH JOURNEY-The art of contemplation
An evening of exploration of the middle way, or the path of Truth, a balanced approach to self-inquiry, which resides in the center of two.
Date and time
Tuesday, June 6 · 6:30 - 10:30pm EDT
Location
Gaia NoMaya 510 Flatbush Avenue Brooklyn, NY 11225
Refund Policy
Contact the organizer to request a refund.
Eventbrite's fee is nonrefundable.
About this event
Tuesday 6.6
Doors open: 6:30pm
Experience: 7-10:30pm
Cost: $75 early bird, $85 general admission
GAIA NOMAYA X WOOM CENTER Present:
WOOM BREATH JOURNEY:The Art of Contemplation
An evening of exploration of the middle way, or the path of Truth, a balanced approach to self-inquiry, which resides in the center of two known polarities; meditation (yin) and concentration (yang). Illuminated by The Gene Keys, we will investigate our relationship to both our shadows and challenges, as well as our gifts and inspirations, through this prism, both powerful and subtle. The breath will serve as the conduit for our intentions.
Inspired by the work of legendary psychiatrist and psychedelic researcher, Dr. Stanislav Grof's Holotropic Breathwork Technique, the breathing patterns explored in this session are designed to move us closer to the threshold of the great mystery and out of the illusion of separation.
The session will include:
An informative talk on what you should expect, the practice, the science, the benefits, and shared tips and techniques on how to maintain presence and make the most of the experience
A guided contemplation
3 breathing patterns
An evocative playlist
Release into live sound/music
Journaling
Aromatherapy
Sharing circle
How to prepare:
Set aside 10-20 minutes and observe what comes up. Perhaps jot your feelings down.
CONSIDER THE FOLLOWING
What would you like to let go of?
Attachments, unhealthy habits or thought patterns, fear, pain, grief, addictions, or anything that weighs heavy and doesn't serve your greater purpose. What has ended? What is in the process of ending? Are you experiencing any resistance?
What would you like to welcome in?
Self-love, compassion, equanimity, discipline, pleasure, acceptance, or anything you believe might enhance your experience of being your best self. What is your vision for your resurrection?
What would you like to receive clarity about?
Relationships, work, the human experience, or the workings of the universe!
HOW TO PREPARE
To increase your sensitivity and openness, it is recommended that you refrain from alcohol intake and other substances for about 48-72 hours. Please, arrive on a fairly empty stomach (3-4 hours minimum).
WHAT TO BRING
Comfortable clothing (layers recommended)
Eye mask or a scarf (very important!)
A mat
Pillow and blankets to make the journey extra comfy
A refillable water bottle
A journal and a pen
PLEASE KNOW
This is a deep and powerful experience into extraordinary states of consciousness.
Upregulated breath patterns are not recommended for anyone who is pregnant, suffers from acute asthma, severe cardio-vascular disorders, or has experienced a hypervigilant/dysregulated nervous system in recent months.
About the Facilitator
Elian Zach is the founder of WOOM CENTER, New York's first multi-sensory yoga and meditation studio, based primarily on the therapeutic and psychedelic properties of sound vibration. She received her formal training in sound therapy under the guidance of world-renowned sound researcher, practitioner and ethnomusicologist, Alexandre Tannous.
An advanced, E-RYT yoga teacher, Elian completed her movement and breathwork trainings and continuing education in New York with a variety of master teachers from different yogic disciplines, including Nevine Michaan of Katonah Yoga, Colleen Saidman and Rodney Yee of Yoga Shanti, Leslie Kaminoff, Ramanand Patel, Sam Chase and Kevin Gardiner.
These days, Elian is focused primarily on being the voice, guide and mystic behind Lila Journey, an electro-acoustic voyage through extraordinary states of consciousness, which she co-creates all over the country and the world with masterful musician, Noah Katz-Appel.