Event Information
Location
Danzhaus
1275 Connecticut St
San Francisco, CA 94107
United States
FRIENDLY FIRE - REDvsBLUE is now a 2 Night Event!!! Dore Friday, July 23, 2021 AND Dore Saturday July 24, 2021 Both nights are from 10p - 3a
About this event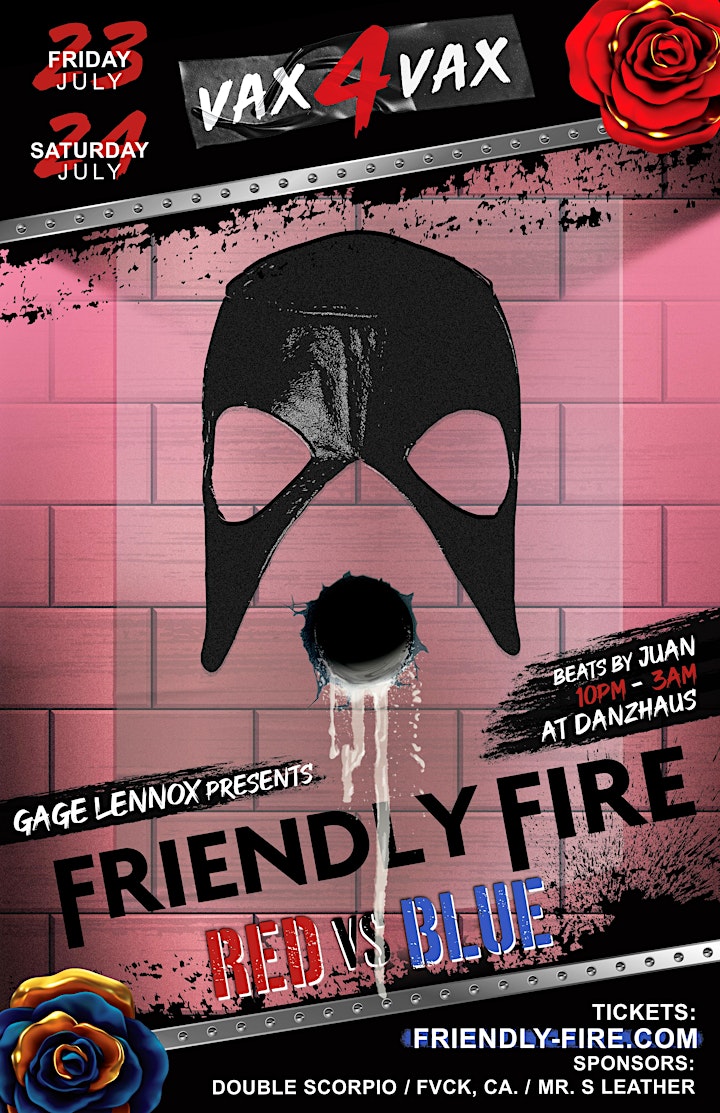 It's been too long since we've seen you!
We are very excited to return to events- and to finally celebrate
GAGE LENNOX PRESENTS' 10TH EVENT!!!
To make things extra special we are having 2 NIGHTS of Friendly Fire!
A Coded Fetish Weekend,
Gage Lennox Presents: FRIENDLY FIRE - REDvsBLUE
Team on FIRE: Beats by JUAN and Visuals by '3' Both Nights!
at DANZHAUS 1275 Connecticut St. SF, CA 94107
DORE FRIDAY- July 23, 2021 // 10pm-3am at DANZHAUS
AND
DORE SATURDAY- July 24, 2021 // 10pm-3am at DANZHAUS
21+/ VAX4VAX/ GEAR-LEATHER/ COATCHECK (Cash Only)/ SNACKS/ TOUCH-UP SHOWER AVAILABLE/ SLINGS & SLINGS & SLINGS
STRICTLY ENFORCED:
**Completed Vaccination Card REQUIRED For Entry To Both Nights!
We Recommend Saving A Picture Of Your Vax Card On Your PHONE!
THE NAME ON YOUR PHOTO ID / PASSPORT MUST MATCH THE NAME ON YOUR VACCINATION CARD**
Given the intimate nature of this event, these protocols apply to everyone including volunteers/staff of Friendly Fire. Thank You for helping us keep healthy and safe!
RED VS WHAT???
Wouldn't it be nice to look at that hot stranger on the other side of the room and know exactly what kind of play he is up for tonight?
At Friendly Fire we give our guests color-coded armbands at the entrance when you arrive, to make sure ALL the Pigs know what's on YOUR menu for the night!
Do you Code RED or Code BLUE? or BOTH?
Blue - for the men who like to play Classic 🍆
Red- for the men who like to play Hands-On 👊 🌹
On what side should I wear my armbands?
Left- are Tops
Right- are Bottoms
Both Sides- are Versatile
For the men who are hungriest, PIG OUT and sport BOTH colors!!!
That's my style :)
Did he say, MEN !? That's what I like!
- WE ALL DO at this party, and the spectrum of men caught playing in the Fire include Cisgendered Men, Trans-Men (F2M), and Queer Men
We bring out ALL types: ages, races, and body types.
We are a very diverse crowd and we're DAMN PROUD OF IT!
We have a lot to celebrate, we carved out a community with the idea that fetish SHOULD be FRIENDLY. After all, Friendly is in the party's name!
Keep up the good vibes SF :)
TICKET PACKAGES
Straight-forward ticketing, we absorb all credit card and Eventbrite Fees! Information on Piggy Packer Tickets Below. No Refunds.
General Admission Friday
Piggy Packer Friday
General Admission Saturday
Piggy Packer Saturday
WEEKEND PASSES
GA Weekend Pass FRI +SAT*
Piggy Packer Weekend Pass FRI+SAT*
*Weekend Passes both are valid for one adult, must be the SAME person both nights! If you wish to purchase a Piggy Packer Weekend Pass you will receive ONE play bag that weekend, please specify what night you'll be wanting your bag in the prompt question when purchasing!
**PIGGY PACKER PLAY BAG + EXPRESS LINE**
Coming from out of town? New to the community? Enjoy convenience?
We got you! The Piggy Packer Play Bag features all the tools in a Pig's arsenal for a fun night! This year's bag features:
1 Drawstring play bag designed by Fvck, CA.
1 VHS cleaner of Double Scorpio Emerald
1 Sports bottle filled with fresh J Lube (blended w/ love by yours truly)
1 Personal size Bodyglide silicone lubricant by Mr. S Leather
- PLUS your own express entrance line to the event. Less waiting, more playing!
***If you decide to gift your ticket to someone else PLEASE let them know they MUST bring their photo ID and picture of their Completed Vaccination Card on their phone! The names MUST match up!
We are 100% enforcing this rule. ***
Join us on Friday, Saturday, or both nights! Gage Lennox Presents is celebrating our 10th Event in the biggest way possible! THANK YOU to all the Pigs that attend, and THANK YOU to our Helping Hands Crew for helping to create this very ambitious event! It could only happen in San Francisco!
CREDITS
Produced by Gage Lennox Presents
Event Video Design by '3'
Beats by JUAN
SPONSORS: Mr. S Leather / Double Scorpio / Fvck, CA.
FOLLOW ONLINE
Facebook: Gage Lennox Presents
Instagram/Twitter @Gage_Lennox
www.Friendly-Fire.com
RSVP on Facebook
Location
Danzhaus
1275 Connecticut St
San Francisco, CA 94107
United States
Refund policy