Description
Gaga/dancers workshop with Chen-Wei Lee
3-5th/Sep/2018
10-3pm (Daily)
Dancebase, 14-16 Grassmarket, Edinburgh, EH1 2JU
Early Bird: £80 till 7th/July
Full Price: £90
Come and join us for a three day intensive Gaga workshop in Dance Base, Edinburgh.
Gaga/dancers are open to professional dancers or advanced dance students ages 16+.
Attendance is required for the 3 days. Spaces are limited.
We are also hosting Gaga/people class on the 1st/Sep for anyone interested to experience Gaga. No previous dance experience is needed.
To book please go to following Eventbrite link: Gaga/People Class with Chen-Wei Lee
Daily Schedule:
10:00-12:00 Introduction + Gaga
12:00-13:00 Lunch Break
13:00-15:00 Further Exploration
Description:
Gaga is the movement language that was developed by Ohad Naharin throughout many years. The language of Gaga originated from the belief in the healing, dynamic, ever-changing power of movement.
Gaga provides a framework for discovering and strengthening the body and adding flexibility, stamina, agility. It is a workout that investigates form, speed, and effort, the skills including coordination and efficiency while stimulating the senses and imagination.The language of Gaga is in a continual process of evolution, and the classes vary and develop accordingly.
In these three days we will start with Gaga in the morning, in the second half of the day we will take the impressions of Gaga and extend it into a detailed partner work.
To find out more about Gaga, please check the following link:
Article: Gaga/dancers
Video: Gaga training and groove at Batsheva Ensemble
Video: Ohad Naharin on the language of gaga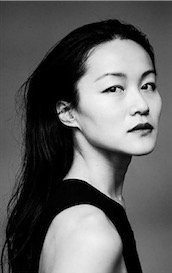 Instructor Biography:
Chen-Wei Lee is a Belgium based Taiwanese artist who began her career as a dancer with Batsheva Dance Company in 2009-2014, during which she worked closely with Ohad Naharin, Sharon Eyal, and Yasmeen Godder. She was also a guest dancer at GothenborgsOperas Danskompani in 2015-16, Tanztheater Wuppertal Pina Bausch in 2017 and VOETVOLK/Lisbeth Gruwez in 2018.
She is a freelance dancer, choreographer and Gaga teacher

For more information and update about Chen-Wei:
Website / Facebook
----------------------------------------------------------------------------
Special thanks to Dance Base Edinburgh and their team for making it possible.
----------------------------------------------------------------------------
For Booking/Information please contact Lucas Kao
cplkao@gmail.com/07765605708
----------------------------------------------------------------------------
Instruction for participants: (From Gagapeople.com)
We work continuously: The class is one session without pauses, based on a series of overlapping instructions. It is important not to stop while the teacher is giving instructions or in the middle of the session. This allows us to develop our ability to listen to our body while receiving the instructions. If need be, you can always play with the volume of your effort, but without losing sensations that were already awakened.
Layers of information: Each instruction is added to the previous one, layer upon layer, and we continue to attend to the instructions already introduced – and to their impact on our bodies – throughout the duration of the class.
Listen to the body before you tell it what to do: Gaga's instructions guide us to first listen to the body and to discover its range of sensations. We listen to and work with gravity, the flow of information and energy through the body, textures of the body, and the layers of skin, flesh, and bones. We encourage you to connect to pleasure as you move and to find pleasure especially during effort (effort is different than pain).
We work with our eyes open: We give ourselves the license not only to listen but also to watch and imitate the teacher. You are invited to be inspired by the teacher and by other people in the room. Please be aware of people around you and the space that they need. Additionally, keeping our eyes open during the class strengthens and develops the brain.
Speaking: If you have any questions or remarks, please save them for after class, and then you are welcome to speak with the teacher and other participants. Make sure to turn your phone off before class.
Classes start on time: It is advised to arrive 15-20 minutes early. There is no entry for latecomers.
Injuries and illness: If you have any limitation, restrictions, or physical pain – permanent or temporary – talk to the teacher before the class starts. The only pain welcome in Gaga is the burning sensation in our muscles.
We work without shoes.
We will be happy to hear any thoughts you have about your experience.