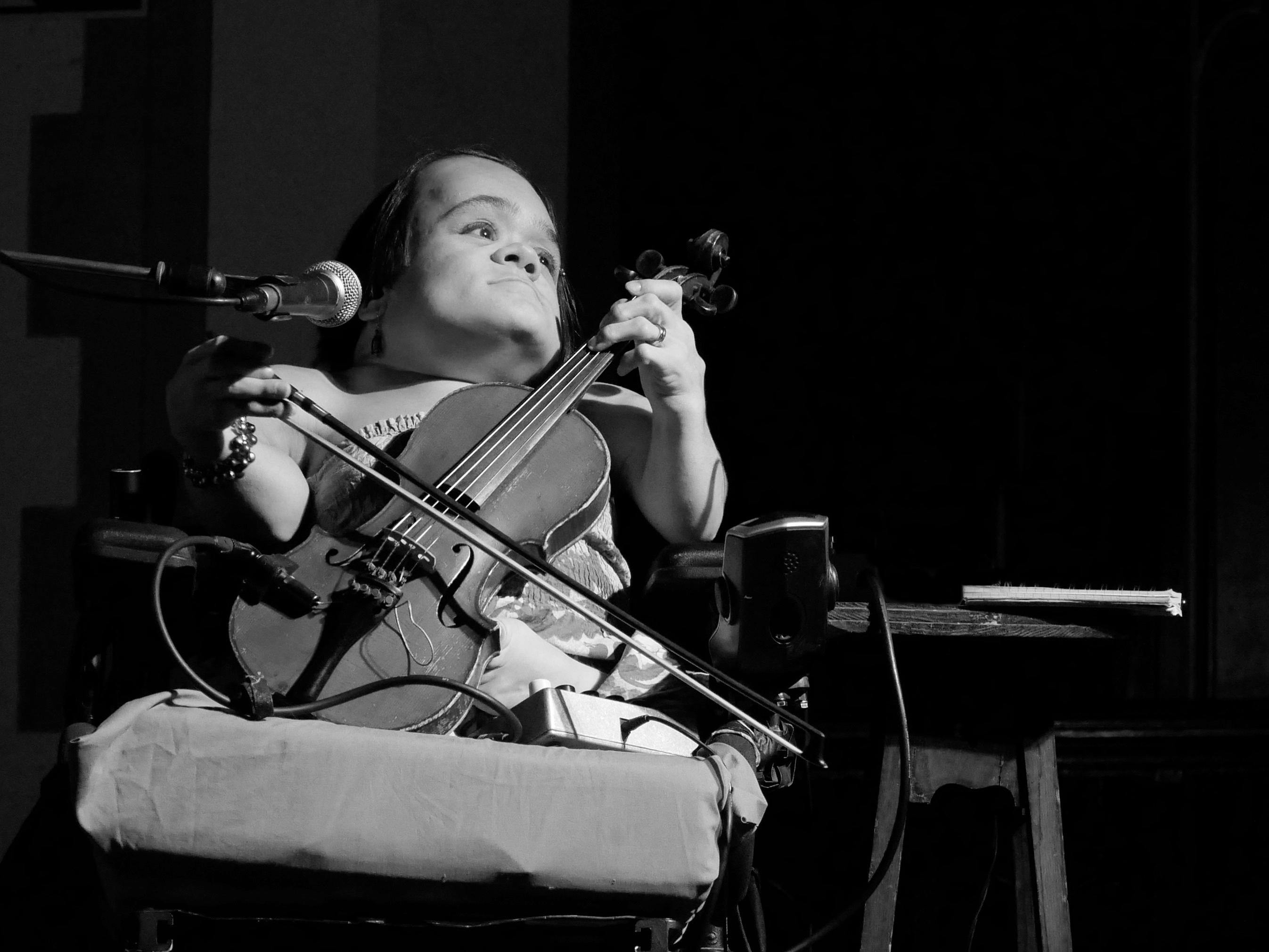 About this Event
KC Turner Presents 
$20 ADV / $25 DOOR
FULLY SEATED (ADA ACCESSIBLE) 
7pm Doors / 8pm Show (All Ages)
—
Gaelynn Lea
"Karen Dalton and Joanna Newsom melt together in the form of Gaelynn Lea and set about absolutely obliterating your heart." - Dan Auerbach (Grammy-winning artist and producer, The Black Keys)
When Gaelynn Lea won NPR Music's 2016 Tiny Desk Contest, her two decades as a hardworking and talented musician finally crystallized in a beautiful moment of national recognition. It was also just the beginning of a grand adventure. With the wind of her award at their backs, Gaelynn and her husband Paul sold their house in Northern Minnesota, quit their jobs, bought a van, and hit the road.
Since then, Gaelynn has played over 250 shows in 42 states and seven countries, adding nearly 100,000 miles to their Ford Econoline's odometer. The singer-songwriter and violinist has performed everywhere from coffee shops, bars, schools and festivals; she's graced the stage of renowned venues like Nashville's Music City Roots, The Kennedy Center, House of Blues and even BBC World News. This June she was featured at arts festivals in Iceland and Switzerland, and she's set to appear at the Winnipeg Folk Fest in July and Travelers' Rest Fest (curated by The Decemberists) in August.
Yet somehow between this perpetual blitz of performances, Gaelynn also recorded her third full-length album set for release in September. Until this point Gaelynn Lea has presented most of her songs using only a few tools: a violin, a voice, and a looping pedal. But for her latest, Gaelynn Lea enlisted the help of some musical friends to bring her new album to life. Several of Minnesota's heavy-hitters—including Al Church, Dave Mehling, Marty Dosh, Andrew Foreman and Alan Sparhawk—lent their creative influence and musicality to this recording. The result is a powerfully emotive effort of confidence and purpose which captures the poignancy and presence of Gaelynn Lea's crafted repertoire.
Her forthcoming album , Learning How To Stay, is an 11-song collection that runs the gamut sonically from pensive and luscious to aggressive and intentioned, from folk to decidedly pop, and even includes a couple of traditional fiddle tunes. Undoubtedly the connecting thread of this album is Gaelynn Lea herself. With her singular voice and deeply-affecting violin, she guides the listener through a journey that explores the contrasting nature of existence: dark and light, birth and death, anger and forgiveness, sorrow and joy. Learning How to Stay encourages the listener to stay present for it all.
The album opens with a droning cascade of strings and a lone piano setting the tone on "Bound By a Thread," then abruptly shifts to the bright country twang of guitars through a lesson of literal biology and figurative heart on "Dark to Light and Dark Again." This contrast is indicative of the record as a complete thought, presenting the listener with an ever-widening spectrum of themes and musical moods. The sparse indie-rock vibe of "I See It Too" is then juxtaposed with the Celtic-like pastoral build of the instrumental, "Jim and Judy's Wedding" (Larry Unger).
Mid-tempo grooves are broken down and piled back up on both "Lost in the Woods" and the backstreet rocker "Someday We'll Linger in the Sun". Carefully, patiently, the music unfolds with a myriad of tasteful choices: a Hammond B-3 organ harmonizing briefly with the heartbreak vocal of "The Last Three Feet;" the polyrhythmic art rock sensibility and sheets of violin coursing through "I Wait."
Bright, bare minimalism adorns the Irish-tinged original "Grace and a Tender Hand," while a foreboding darkness inhabits the Finnish traditional instrumental, "Metsakukkia". This genre-defying album winds down with some welcomed serenity during the ballad "Moment of Bliss", which is a fitting end to this emotionally satisfying listening experience.
In addition to performing and recording, Gaelynn Lea loves to do speaking engagements about disability awareness, inclusion in the arts, and leading an enriching life. Gaelynn has a disability called Osteogenesis Imperfecta (Brittle Bones Disease) and she is a strong voice in the disability community. Gaelynn Lea believes society must prioritize accessibility so people with disabilities can participate in their communities and use their gifts without barriers or discrimination.
Jeffrey Martin
As a babe Jeffrey Martin sought out solitude as often as he could find it.  He's always been that way, and he has never understood the whole phenomenon of smiling in pictures, although he is a very happy guy.   One night in middle school he stayed up under the covers with a flashlight and a DiscMan, listening to Reba McEntire's 'That's the Night that the Lights Went Out in Georgia' on repeat until the DiscMan ran out of batteries.  That night he became a songwriter, although he didn't actually write a song until years later. After high school he spent a few years distracting himself from having to gather up the courage to do what he knew he had to do. 
Eventually he found his way to a writing degree, and then a teaching degree.  He wrote most days like his life depended on it, all sorts of things, not just songs, but songs too.  He fell in love with teaching high school English, which was fantastic because he never thought he'd actually come to truly love it.  His students were fierce and unstoppable forces of noise and curiosity, and for all that they took from him in sleep and sense, they gave him a hundred times back in sparks and humility.  
 All the while he was also playing truckloads of music.  There was one weekend where he flew to LA while grading essays on the plane, played two shows, and then flew back home, still grading essays, and woke up to teach at 5 am on Monday morning.  It was around this time he started wondering if such a life was sustainable.
Alas, music, the tour life, was a constant raccoon scratching at the back door.  Jeffrey spent nights on end sitting up in bed, and then sitting on the front porch, staring off into the dark, wondering if he could bear to leave teaching to go on tour full time.  Eventually his brain caught up with what his guts had known for months.  With tears in his eyes he announced to his students that he wouldn't be back the following year, and that he didn't feel right hollering at them to chase their dreams at all cost if he wasn't going to do the same.  
Jeffrey Martin tours full time now.  He is always making music, and he is always coming through your town.  He misses teaching like you might miss a good old friend who you know you'll meet again.  
Jeffrey has put out bunches of music since 2009, but he's most proud of the more recent stuff.  He's fortunate to be a part of the great and loving family that is Fluff and Gravy Records in Portland, OR.   "One Go Around," due out in October 2017, will be his 3rd full length album. At his luckiest, he's shared shows with the likes of Sean Hayes, Gregory Alan Isakov, Jeffrey Foucault, Joe Pug,  Peter Mulvey, Amanda Shires, Tracy Grammer, David Wilcox, and others.  
He currently lives in Portland, OR but feels lately that it has become a secret that someone figured out how to monetize.  And since he has no money of any kind, everything beautiful about the city is marred by the quiet ticking of a countdown toward the day that he'll have to find somewhere to live that doesn't require a steady bleeding fortune.   
Performers
Date and Time
Location
Refund Policy