GACACF's 44th Republic Ball - Celebrating our 10th Anniversary

Saturday, February 22, 2014 at 7:00 PM

-

Sunday, February 23, 2014 at 2:00 AM (EST)
Event Details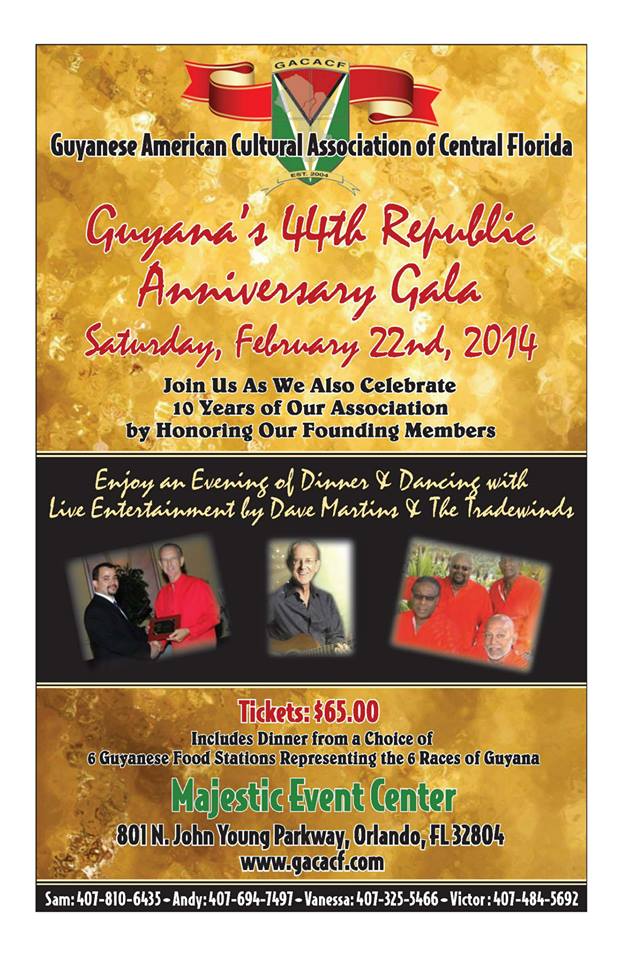 GACACF - 407-246-4570
The Guyanese American Community in Central Florida will celebrate Guyana's 44th Republic anniversary with a fundraising Gala to be held on Saturday February 22nd, 2014 at the Majestic Event Center, 801 N. John Young Parkway, Orlando, Fl. 32804.
This fundraising event, hosted by the Guyanese American Cultural Association of Central Florida (GACACF) has been held annually since 2005 and this year also celebrates 10 Years of the Association.
Over the years, proceeds from this event have helped the Dharam Shala in New Amsterdam, Berbice with the construction of a kitchen and the provision of beds, the Uncle Eddie's Home in Georgetown with the repair of its roof and fence, a children's sanctuary on the Soesdyke Linden Highway with the provision of potable water and a donation of medicines valued at $20,000 (US) to a medical outreach mission to Guyana. In the US, proceeds from this event have in the past assisted Guyanese American victims of Hurricane Katrina and other worthy causes. Last year part of the proceeds from the Gala went towards the Linden Fund and the GACACF Scholarship Fund.
Previous guests of honor and keynote speakers have included:
Dr. Vincent Adams.
CCH. Pounder.
Alvin Kallicharan
Dave Martins.
E.R. Braithwaite.
We invite you to attend the 2014 Republic Anniversary Gala on February 22nd as we honor our Founding Members. 
Please save the date and pass on the word.
When & Where

Majestic Event Center
801 N. John Young Parkway
Orlando, FL 32804


Saturday, February 22, 2014 at 7:00 PM

-

Sunday, February 23, 2014 at 2:00 AM (EST)
Add to my calendar
Organizer
Guyanese American Cultural Association of Central Florida
 

Guenet Gittens-Roberts is the Chair of the Planning Committee of the Guyanese Republic Anniversary Celebration.  She is the Publisher of Caribbean American Passport News Magazine, CEO of GGR Marketing & Public Relations,  2013 President of the Caribbean American Chamber of Commerce of Florida and a proud member of the Guyanese American Cultural Association of Central Florida (GACACF).  She can be contacted at 407-427-1800 or at

guenetroberts@yahoo.com

.

 

GACACF is an organization built on the platform of the preservation of our culture, the support of all peoples and the building of strength and unity within our community and society at large. We plan, organize and present a few signature events each year to showcase both our culture and our people to our brothers and sisters in Florida. GACACF was established in 2004 to serve, preserve and pr

...

omote the Guyanese culture in Central Florida. Our membership believes that we, as a community based organization, must work diligently to introduce and expose the Guyanese-American and wider local community to our unique and diverse culture. We are currently working to establish our signature events in the Orlando area that will serve as our platform to expose our culture and unite us as a community through participation, appreciation and greater understanding. Since its founding, GACACF has contributed to numerous organizations, institutions and families. We have contributed to Back to School programs for deserving students here in Central Florida, assisted Guyanese victims of Hurricane Katrina, we donated to Guyanese writer Wordsworth Mc Andrew. We raised and donated over $13,000 and two boats for flood relief in Guyana, donated US $2,500.00 to Uncle Eddie's Home for destitute seniors, donated US$1,800.00 to the Dharm Shala in Guyana. We donated $300.00 to the Deskin Institute towards a medical mission and $800.00 to Dr. Anna Lizama enabling the purchase of US$20,000.00 worth of Medical supplies for a medical mission to Guyana.
GACACF's 44th Republic Ball - Celebrating our 10th Anniversary