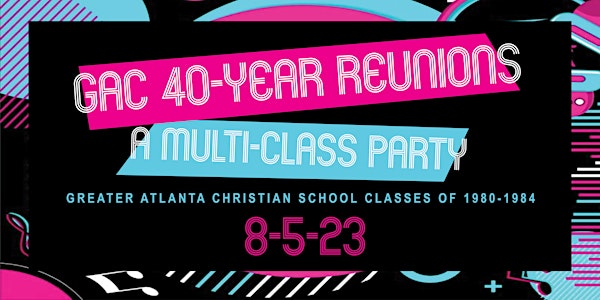 GAC 40th Reunions Event
Join us for a GAC reunion party with old friends, great fun, and catching up where you left off!
Date and time
Starts on Saturday, August 5 · 7pm EDT
Location
550 Trackside 550 North Clayton Street Lawrenceville, GA 30046
About this event
DO YOU REMEMBER when WE WERE THE CHAMPIONS, MY FRIEND?
Back in the days before there was ANOTHER BRICK IN THE WALL and we ate lunch in Quonset huts?Many of us were ON THE HIGHWAY TO HELL when the DEVIL WENT DOWN TO GEORGIA LOOKING FOR A SOUL TO STEAL.
Well, let's not do all of that again.Instead, put on your DANCING SHOES and let's CELEBRATE GOOD TIMES at a multi-class reunion!JOIN US FOR A PARTY WITH OLD FRIENDS, GREAT FUN AND CATCHING UP WHERE YOU LEFT OFF.
Saturday, August 5 at 7 pm
550 Trackside550 North Clayton StreetLawrenceville, GA 30043DJ, DANCING, CASH BAR
EARLY BIRD TICKETS: $65 per person ($100 per couple)
TICKETS AFTER JUNE 3O: $75 per person ($110 per couple)
RSVP and purchase tickets through the GAC reunion form and upcoming event page. Let's do this before ANOTHER ONE BITES THE DUST!
CLASS REUNION COMMITTEE:Allyson Greene Edenfield, Chad and Tammy Drinkwalter Dykes, Cindy Maddox Kahn, Alan Malone, Susan Fox Lawson, Jim Newton, John Wild, and Leah Jones O'Brien
Contact: Alan Malone (404-307-8356) or Cindy Maddox Kahn (770-309-7687)
Follow Along With Oldies But Goodies, Facebook 80's Reunion, Instagram GACS 80's Reunion
We encourage and welcome classmates from 1978-1985 to join us on Saturday night! Let's get the word out!
About the organizer
The GAC Alumni community is network of nearly 5,000 business professionals, college students, gifted athletes, ministry leaders, inspired artists, and moms and dads raising future generations serving from Atlanta to across the world. Our initiatives invite you cultivate meaningful relationships, expand your career network, give back, share your expertise, impact the lives of students, and continue to further the mission of your alma mater. Your insights build the foundation for our programs and events, so let us know how we can support what you care about. Contact us at alumni@gac.org or 770-243-2229.