Description
"It's Not Personal. Strictly Business: Preparing Your Personal Finances for Business Advances."
A 3-part series with Bank of America to prepare your personal finances for small business ownership.
Each session includes business knowledge shared by a SHS (Side Hustle Saturday) Facilitator, an Office Hours/Q&A session, and light refreshments.
---
Session 1 is about preparing your personal finances to start a small business.
Session 2 is how your personal finances can work well to grow your business.
Session 3 is keeping it strictly business to avoid mixing and misusing your personal and business accounts.
---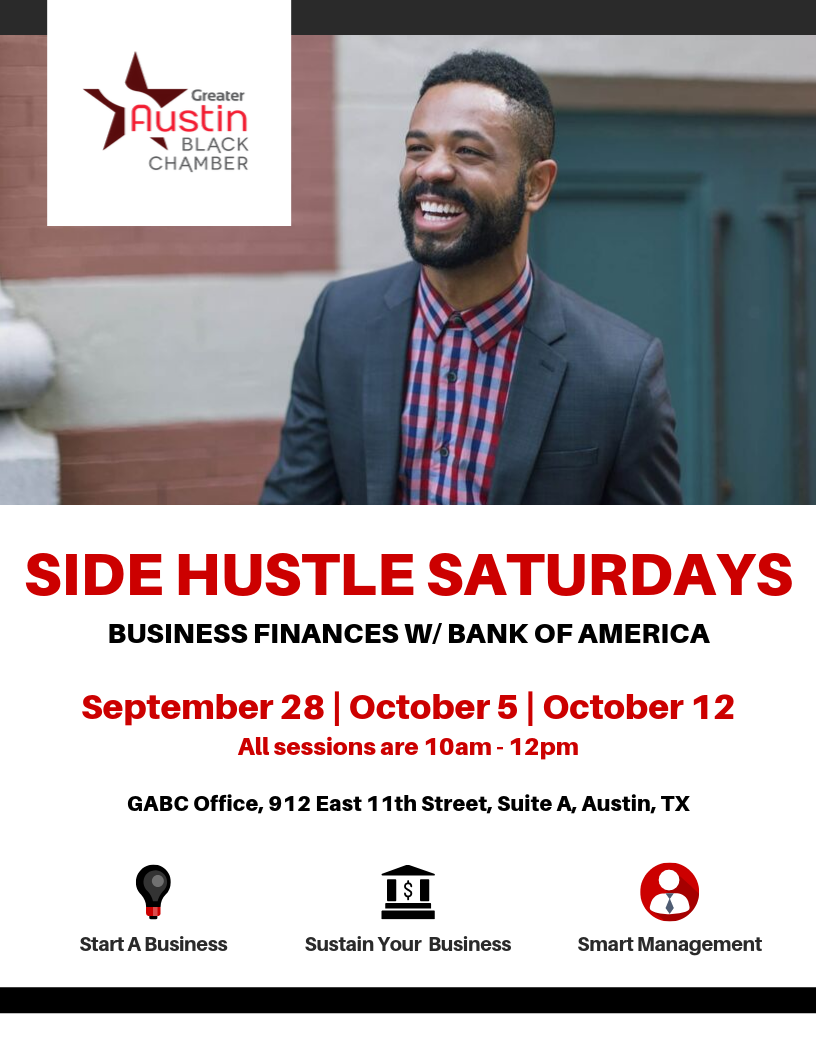 ---
Making it as an entrepreneur is not as easy as pie. Whether you're working a day job you'd love to quit, or struggling to get by in the early stages of a startup, staying financially afloat can be a challenge. One solution: Find a side hustle.
A side hustle is a way to make some extra cash that allows you flexibility to pursue what you're most interested in. It can also be your true passion – a chance to delve into fashion, travel, food, or whatever it is you care about the most without quitting your day job. Furthermore, if all goes well, you can eventually replace your day job with your side hustle.
Join us for Side Hustle Saturdays to hear business experts provide sage advice on all of those parts of business, and eventually transitioning to full-time entrepreneurship.
---
Greater Austin Black Chamber of Commerce (GABC) reserves the right to use any photograph/video taken at any event produced, or sponsored by GABC, without the expressed written permission of those included within the photograph/video. GABC may use the photograph/video in publications or other media material produced, used or contracted by GABC including but not limited to: brochures, invitations, books, newspapers, magazines, television, websites, etc.