Description
The GAAM Show is the award-winning, fun, adult night-life gaming art-show and charity event in Duuuuvaaaal (jax, fl), run by a bunch of passionate, nerdy, creative people who live by the credo of "Be Original. Do Good."

You can check out a video of what it's like here!
For the first time, GAAM will be putting together a show with a dedicate to space and sci fi....SPACE GAAM!
Full of video games, DJs, free beer hours, a gaming charity art auction, drinking, dancing, Cosplay, food trucks, giant inflatables, selfie spots, themed rooms, a VIP lounge, accessible gaming and more! We hope to see you all there!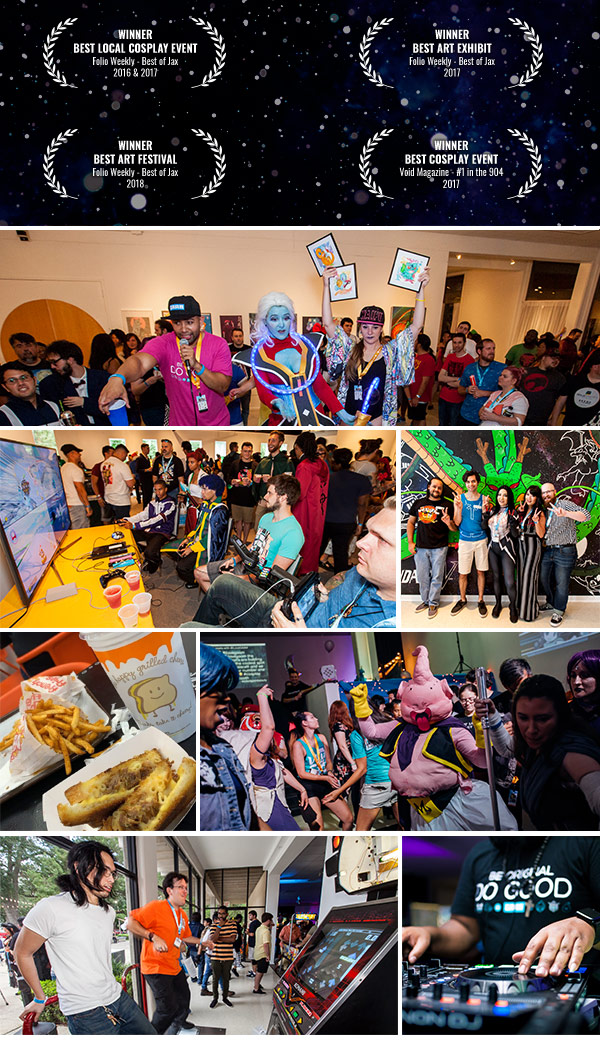 A night full of top 40, EDM, Indie, 80s, 90s and game remixed music!
Curated, Mini Food truck rally with Jacksonville's favorite Food Trucks
Free Beer from 6-7pm
Selfie Photo Spots and themed rooms from your favorite games!
Music from multiple DJs!
Live musical performances!
The GAAM Charity Art Invitational Auction: A live art auction from art all over the world where the hosts roast the crowd, give out prizes, and surprises!
Art exhibits dedicated to video games
Outdoor activities like cornhole, giant jenga, and more
Competitions for artists, photographers, cosplayers and more!
Costumes and Cosplaying from the 2019 GAAM Cosplay Cast (And the attendees!!)
GAAM Styled gaming tournaments! That means it's about fun!

Arcade, casual, and retro games!
Halo, Metroid, Starfox, DragonBall FighterZ, Mario Kart, Halo, Tetris, Overcooked and tons of other fun games!
Prizes and swag from gaming companies!

And tons of other surprises! :D So get your tickets early, save a ton of money, RSVP at http://bit.ly/RSVPGAAM2019 and get ready for one of the best nights of your life! :D