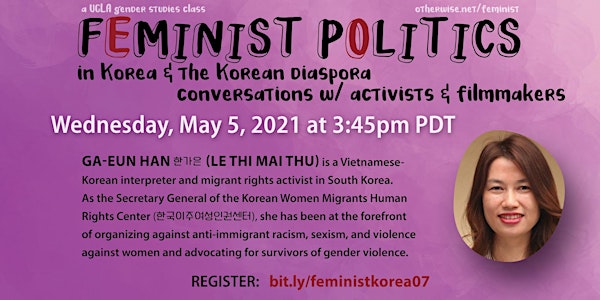 Ga-Eun Han (Le Thi Mai Thu) - Feminist Politics Conversations series
Conversation with Ga-Eun Han (Le Thi Mai Thu) about feminist politics in Korea and the Korean diaspora
About this event
Please join us for a conversation with Ga-Eun Han (Le Thi Mai Thu), Ju Hui Judy Han (UCLA Gender Studies), and gender studies students at UCLA.
This event is part of a series of public-facing conversations with social justice activists and filmmakers invited to a UCLA undergraduate course (Gender Studies 131, Feminist Politics in Korea and the Korean Diaspora). With topics ranging from queer and transgender politics to reproductive justice, from transnational adoption and anti-violence activism to prison abolition and migrant justice, the conversations emphasize intersectional feminist praxis and the transformative power of solidarity. For more information about the series and other speakers, please visit otherwise.net/feminist.
Ga-Eun Han 한가은 (Le Thi Mai Thu) is a Vietnamese-Korean interpreter and migrant rights activist in South Korea. As the Secretary General of the Korean Women Migrants Human Rights Center (한국이주여성인권센터), Han has been at the forefront of community organizing and educating the public about anti-immigrant racism, sexism, and violence against women. She trains migrant women leaders to fight against discrimination and bigotry and advocates for survivors of domestic violence and sexual assault. Her short film, THE STORY OF OUR SOJOURN (2011, 11m), screened at the Seoul International Women's Film Festival. Han's writings appear in A STORY NOBODY KNEW (2018), a groundbreaking collection of stories about migrant women's struggles against gender violence, in which she emphasizes the need for more migrant women-led organizing and advocacy. Han received the 2019 Women Leaders of the Future Award from The Women's News in Korea.
Ju Hui Judy Han is a cultural geographer and Assistant Professor in Gender Studies at UCLA, where she teaches classes on gender and sexuality, Korean studies, (im)mobilities, and comics. Her research and publications concern conservative religious formations, queer activism, and protest cultures. Judy grew up in Seoul and has lived and worked in Los Angeles, Berkeley/Oakland, Vancouver, and Toronto.
This conversation will be in Korean. Simultaneous interpretation in English will be provided through live closed captions.
Co-sponsored by the UCLA Department of Gender Studies, UCLA Center for Korean Studies, UCLA Center for the Study of Women, UCLA Asian American Studies Center, and GYOPO.