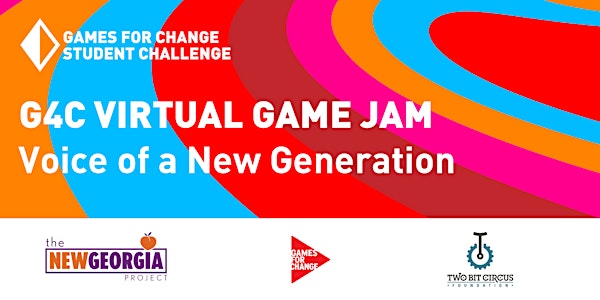 G4C Virtual Game Jam: Voice Of A New Generation
Learn how to design a game that changes the world!
About this event
CALLING ALL GAMING ENTHUSIASTS!
Do you love playing video games? Have you always wanted to learn how to make one? Then this game jam event is for YOU!
Games for Change (G4C) and Two Bit Circus Foundation invite middle and high school students (grades 5-12) from Los Angeles and Seattle to make games at our upcoming Virtual Game Jam! During the jam you'll get support from professional game designers who will teach you the basics of game design and guide you through the creation process. No experience with game design or computer science is needed! Whether you're a seasoned game designer or a total newbie, you'll be able to develop your skills and make great games that can make the world a better place!
Students will use a Student Challenge Theme to inspire their games: "Voice of a New Generation''. Supported by the New Georgia Project, this topic is all about your right to vote, how to be an informed and civically engaged voter, and voter suppression. Students will use this game design prompt as a guide:
Think about real-life situations youth encounter when they vote in elections. Make a game that demonstrates the importance of voting, proposes solutions to make the process more accessible, and encourages more young people to participate.
The New Georgia Project, the Peach State's leading civic engagement organization, organizes with and for communities of color to build power and hold our elected officials accountable. Since their founding in 2014, they've helped nearly 600,000 individuals register to vote. In the 2020 election cycle, organizers knocked on voters' doors over two million times on the way to helping elect the first Black Senator in state history.
To learn more about their work, visit www.NewGeorgia Project.org or visit @NewGeorgiaProject on Instagram, Twitter or Facebook.
This event is one of the Virtual G4C Game Jams taking place during Spring 2022. Each jam explores a different social impact theme and is facilitated by Two Bit Circus Foundation in LA, professional game designers and theme topic experts. Students do NOT need prior experience with game design or computer science to participate.
PLEASE NOTE: A Student Release Form must be signed / submitted for each participating student. Forms can be signed by a parent, teacher or guardian over the age of 18 years old.
How to Get Ready for the Jam:
Make sure you have reliable internet connection
Students must have access to a laptop/computer (preferable), Chromebook or Tablet (iPad or Android). Devices w/ camera and microphone are best
Make sure your device has the latest version of Zoom installed (free download here)
Create a Student Account in Scratch (if you don't already have one)
Tell a friend! All students grades 5-12 can participate
ABOUT THE G4C STUDENT CHALLENGE:
The Games for Change Student Challenge is a national game design program and competition that reaches thousands of public middle and high school students each year. The Challenge inspires students to express themselves by creating original digital games about topics relevant to their lives and communities. In Spring 2022, students can submit their games to G4C's annual game design competition for the chance to win cool prizes, such as games, technology, career-related experience - and a $10,000 scholarship, generously provided by Take-Two Interactive. Learn more about the competition here.
The 2021-22 program runs in cities across the country (NYC, LA, Atlanta, Detroit, Pittsburgh, and Seattle) as well as nationally through online/virtual opportunities. Now in its 7th year, the program has engaged over 35,000 students, trained more than 700 educators in game design, and resulted in the creation of nearly 4,000 original student games.
To learn more about the program and future opportunities, visit the G4C Student Challenge website and follow us on social media:
FAQs
Q: How can I contact the event organizer?
A: Please email the Two Bit Circus Foundation team at whit@twobitcircus.org
Q: What is a G4C Game Jam?
A: Game Jams are half-day events during which students hone their game-making skills, explore social impact themes, and prototype digital games. The events in LA are run by Two Bit Circus Foundation, professional game designers, and theme content experts.
Q: Who can attend the event? What does it cost?
A: This event is free and open to all middle and high school students (grades 5-12) in Los Angeles and Seattle.
Q: Do I need a computer for the event?
A: Yes, students need a computer/laptop to participate in the virtual game jams. Tablets and Chromebooks are also acceptable.
Q: I have never made a video game before. Can I attend the event?
A: Yes! The event is open to students with different experience levels, including complete newbies!
Q: What platform or programming language will we use to make games?
A: For this game jam, students will learn how to build games using a free block-based programming tool called Scratch. Scratch is a free content creation tool that lets you build, explore and share projects with millions of other users worldwide.
NOTE: If you are new to Scratch, please create an account in advance of the event.
Q: I already started making a game. Can I still attend and get help with my project?
A: Absolutely! Participants can start a new project or continue working on an existing project during the jam.
Q: I am a parent or a teacher! Can I participate in this game jam?
A: Game jams are student-facing workshops, specifically intended for middle and high school students. While you are welcome to observe, we leave the jamming and participation to the students!