G2KWorld Movement: International Travel Chat and French Dining
Description
My first G2KWorld (Getting to Know the World) Movement International Travel Chat and Dining event is scheduled for Wed, November 19th. Join me to talk about the places that we've all traveled to, want to go to. And of course we'll reminisce about our trips to France. Feel free to bring your passport-less friends so we can inspire travel!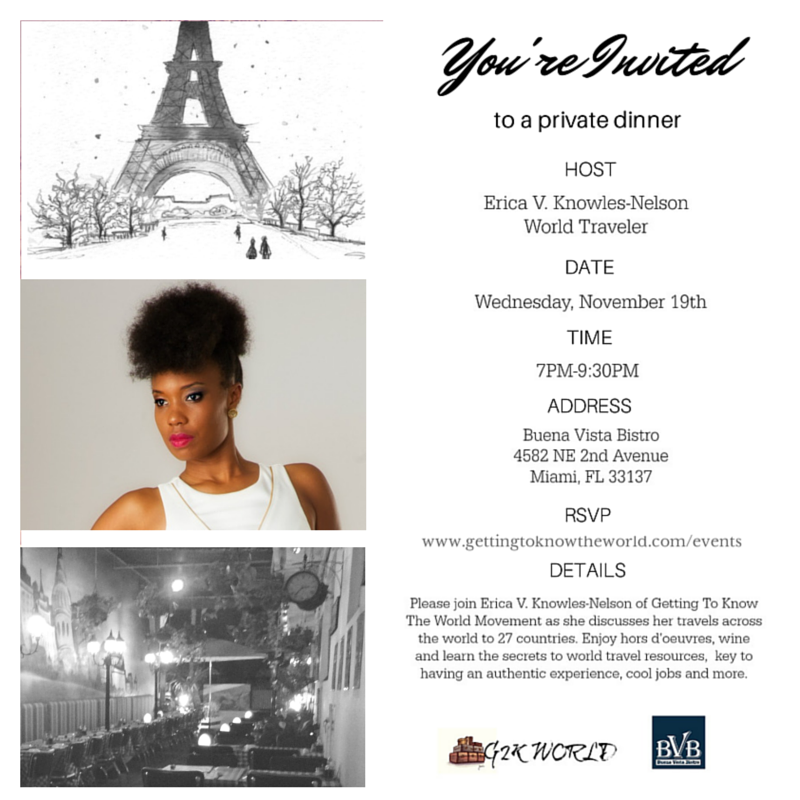 "Parlez-vous français?" We'll be dining in France - well, really in the lovely Buena Vista Bristo http://buenavistabistro.com/ We will be served a family style meal. Also, you will have the option to purchase a bottle of international wine from Buena Vista Chocolate and Wine prior to dinner and not be charged a corking fee (the corking fee is $5 if you byob - the Buena Vista Bristo also has wine for purchase).
I hope to see you there,
Erica
Buena Vista Bristo
1950s-inspired setting that does not distract from the food.
When renowned French Chef Claude Postel moved to Miami, a couple things were certainties: the weather was unbeatable and he wanted to create a true neighborhood eatery where discerning diners gather for a taste of authenticity—and value. After a five-year stint on South Beach, Claude opened Buena Vista Bistro, a small, intimate eatery that very quickly became the neighborhood spot.
And because freshness is so important, Claude goes to the market everyday, selecting only the freshest ingredients for use in that day's dishes. It's a difference you can taste; frozen ingredients are simply not welcomed at BVB.
BVB's décor is simple. Picture a laidback, 1950s-inspired setting that does not distract from the food. It is indeed a place where people come for great food at a great price. As one diner puts it: "Miami has too few places like this. Small, charming, lots of little details and great food. This is exactly the kind of place that NYC-ers coming to Miami are missing!"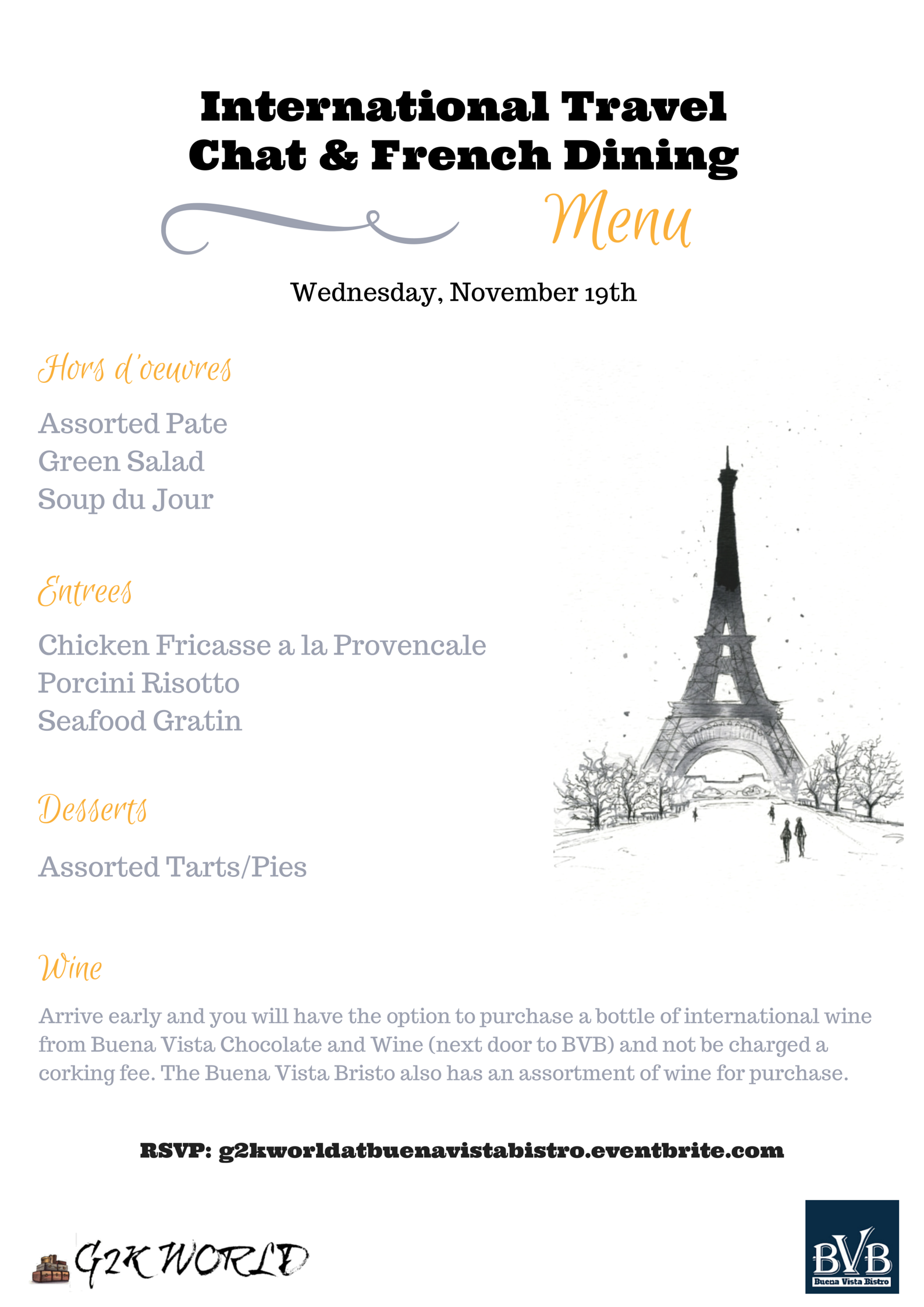 Favorites include homemade duck pâté and signature jumbo scallops that are simply delicious and beautifully plated. And that's just the beginning. BVB, located just north of Miami's Design District, consistently churns out favorites like:
"Best Dish of 2009: Tuna Tartare" —Miami Ranking
"Best Late Dining"—Miami New Times
"On My Radar: Escolar with Mash Potatoes"— Suzy Buckley, Ocean Drive Magazine
"Best Curry Chicken"—America's Favorite Bites
*** Proceeds will go towards Getting to Know the World International Culture Workshops that are taking place in partnership with the Overtown Youth Center and Sheye's Learning Centers. Learn more at www.gettingtoknowtheworld.com
Organizer of G2KWorld Movement: International Travel Chat and French Dining

The G2KWorld Movement is all about Getting to Know the World! Let's get together at a fun, inspiring, delicious, and authentic international restaurant and talk about our past travel adventures and future travel plans, meet people from different cultures and embrace the world. Invite your friends without passports also and be an inspiration to travel! Each month we will visit a different country via a restaurant in Miami.